A Guide to Getting a Divorce After 1 Year of Marriage
Many people think that getting a divorce after a short time can't be as stressful, costly, or lengthy as getting one after, for example, ten years—but that is not true. Any divorce is a painful and tiring experience, especially if it ends up in court.
Are you getting a divorce after 1 year of marriage? If so, you're in the right place! DoNotPay will teach you all about your divorce options after a short-term marriage.
If you opt for an uncontested divorce, we will present the instructions on how to create a divorce settlement agreement, which is one of the most important uncontested divorce papers.
What Are Your Options for a Short-Term Divorce?
Spouses who have been married for a year often think that not having children or joint assets makes them qualified for an annulment. In reality, not many couples—regardless of the simplicity of their case—can ask the court to "erase" their marriage.
To get an annulment, you typically need to prove that the marriage wasn't legal. Since those cases are relatively rare, you may need to file for a traditional divorce. Check the table below to find out more about the most common grounds for annulment and traditional divorce:
Options
Explanation
Annulment
Grounds for annulment may differ from state to state, but the most common ones are:

One or both spouses were of unsound mind, mentally incapacitated, or under the influence of alcohol and drugs at the time of the marriage
The marriage is between blood relatives
One of the spouses was underage at the time of marriage
The marriage happened due to fraud
One spouse was already married

In more complex cases that qualify for an annulment, the judge decides how issues such as alimony, child custody, child support, division of assets, and allocation of debts, will be handled

Traditional divorce
Unless the above-mentioned circumstances are at play, couples will have to file for a traditional divorce on the following grounds:

No-fault grounds—Both parties agree that none of them was responsible for the breakdown of the marriage. They usually state irreconcilable differences
Fault-based grounds—In at-fault divorces, one spouse has to prove that the other one is responsible for the breakup of the marriage
What Types of Divorce Are There?
If you must get a divorce instead of annulment, you should know which types of divorce you can get. There are two main ones:
Contested
Uncontested
What Is a Contested Divorce?
If you and your spouse can't agree on all terms of the divorce, then the divorce is contested. The judge is the one who will decide on all important terms of the divorce instead of you and your spouse.
The key distinction between a contested and uncontested divorce is the cost and duration. A contested divorce can cost up to $15,000 and may last for months—or even years.
What Is an Uncontested Divorce?
An uncontested divorce implies that you and your spouse see eye to eye on all terms of your divorce. You may be able to get a divorce without hiring lawyers and attending court hearings. This type of divorce typically takes less time and costs less than a contested one.
If you want to get an uncontested divorce, you and your spouse will have to agree on all of the following:
Child custody
Alimony
Child support
Allocation of assets and debts
Getting Divorced After 1 Year—How To File for an Uncontested Divorce
In most cases, getting a divorce after one year of marriage won't involve children, joint assets, and debts. That is why an uncontested divorce may be the best option for you.
Follow the instructions below to file for an uncontested divorce:
Attend mediation (optional)—If you and your spouse want your divorce to be uncontested but can't agree on all terms, you should consider mediation. A mediator will guide you and your partner through the negotiations and help you reach a mutually acceptable agreement
Obtain and fill out all the necessary divorce papers—You can find the divorce papers in the county clerk's office or download them from the court's website
Create a divorce settlement agreement—Spell out all the terms of your divorce in this document after you reach an agreement with your spouse. You can subscribe to DoNotPay and draw up your marital settlement agreement in under five minutes
File the divorce forms and pay the filing fee—You will need to file your divorce papers with the court and pay a filing fee. If you can't afford it, you can request a fee waiver
Serve your spouse—You can hire a professional server to deliver the divorce papers. In most states, it will have to be a sheriff, constable, or any third party that's over 18 and impartial to the case
Appear in court—The last step of getting an uncontested divorce is to attend the final hearing, where the judge will review your divorce papers and issue a divorce decree
How To Draft a Divorce Settlement Agreement With DoNotPay
Getting a divorce settlement agreement can be expensive if you hire a lawyer to draft one for you. If you want to avoid costly lawyer fees, you should opt for DoNotPay. Our app is pocket-friendly and easy to use. All you need to do is follow the instructions below:
Select the Divorce Settlement Agreement tool
Tell us everything about yourself, your spouse, your marriage, and the way you want to split your assets
Notify us if you need a notary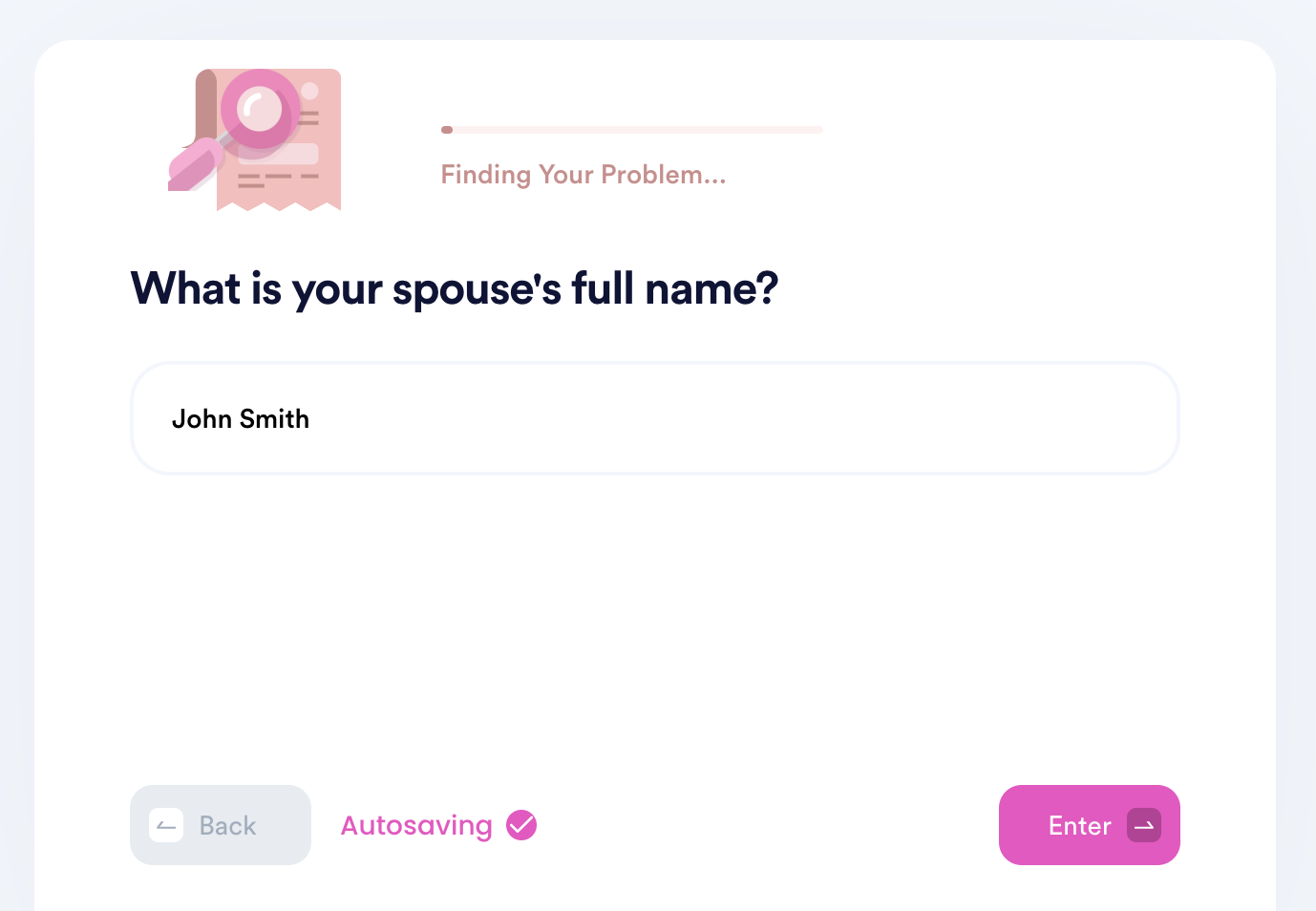 We will make a professional and fully personalized document in a few minutes and send it to you. All you need to do is download it and sign it with your spouse.
If you decide to get it notarized with DoNotPay, we will connect you with an online notary so they can witness the signing over a live video call!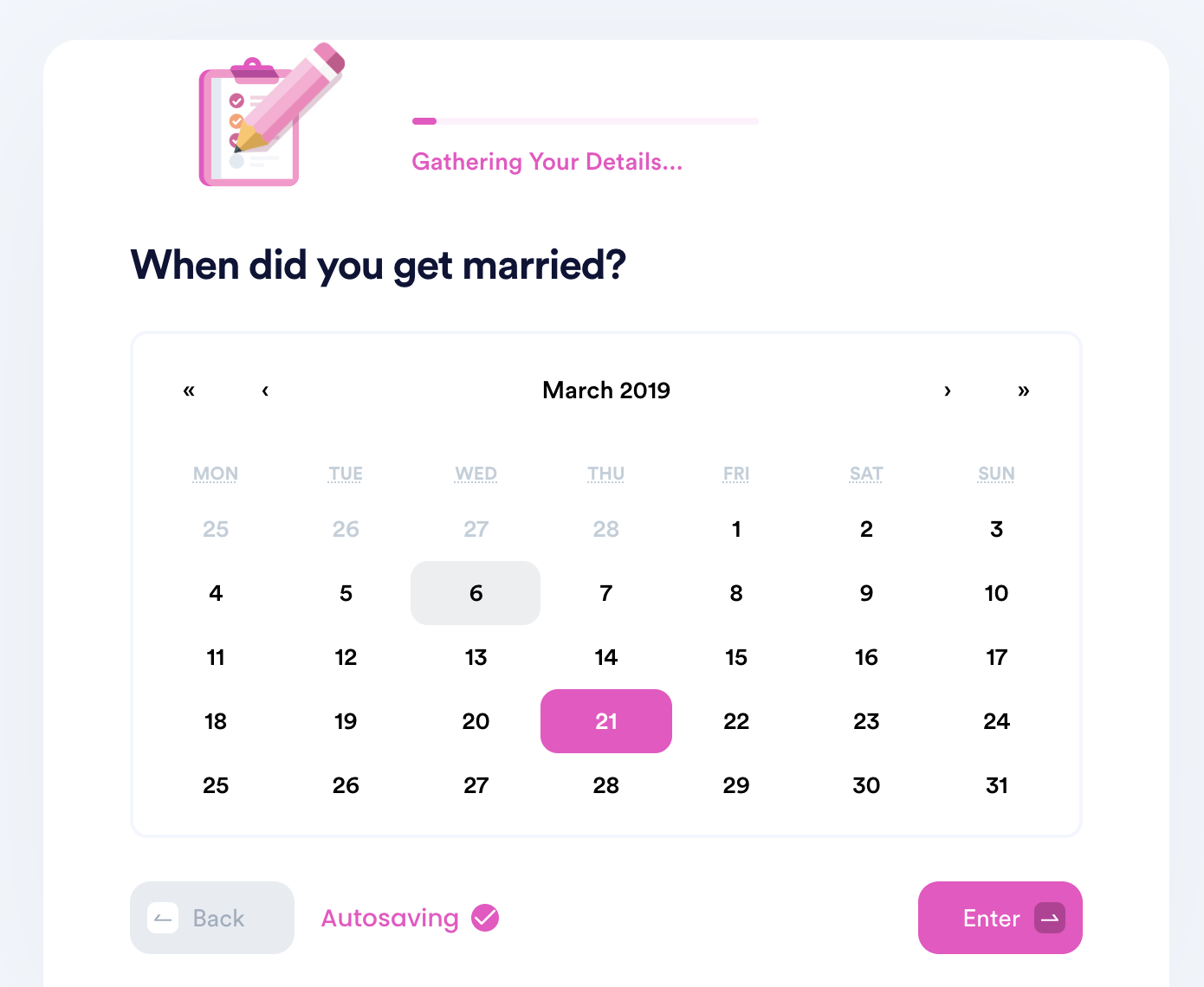 If you still have some questions about divorces, DoNotPay will answer them for you. We have a comprehensive knowledge base that will provide information about everything, including how to:
Use DoNotPay To Deal With a Plethora of Bureaucratic Tasks!
Tired of dealing with bureaucracy? We understand the struggle, and that is why our app makes handling administrative tasks a breeze!
Regardless of whether you need to compose a legal document, such as a power of attorney or a child travel consent form, appeal property taxes or your parking tickets, file a financial aid appeal and a FOIA request, or get a document notarized, DoNotPay has got you covered!
In case you also need to submit anonymous HR complaints, our app will provide you with the easiest way to do so!
Go on a Stress-Free Shopping Spree With DoNotPay
Do you like to shop until you drop? With DoNotPay, you won't have to worry about dropping! We'll make sure you can:
If you need more money to continue your shopping spree, let our app help you find any unclaimed funds under your name and enter numerous giveaways and sweepstakes!