Germany Tourist Visa—Do You Need It?
What if you are preparing for your trip to Germany but are not sure what documents you need or what rules you must adhere to? Do you have to request a Germany tourist visa, and how can you do it? Did the ongoing COVID-19 pandemic make visits to this country more complicated?
Getting the right info doesn't have to be a painful procedure if you skim through our guide. We will assist you in discovering all about entering Germany without difficulties and requesting all types of tourist visas using DoNotPay!
Do U.S. Travelers Need a Tourist Visa for Germany?
Germany is a part of the Schengen area, which adopted a visa-free policy for several countries, including the United States. It means that U.S. citizens and passport holders can explore Germany or any other country from this area without a visa for up to 90 days within six months.
If you want to extend your stay period, getting a regular Schengen tourist visa isn't an option. In such cases, you must apply for a German residency permit.
Are There Any U.S. Traveler Categories That Must Apply for a German Visa?
Yes—some tourists coming from the USA may not be eligible for a visa-free trip to Germany. These can be:
U.S. green card holders whose residence permit is shorter than three months at the moment of travel
U.S. passport holders that were denied entry without a visa for any reason—it's a decision made by the immigration officers at the customs
These travelers must submit a Schengen visa application to enter Germany for tourist or any other purposes.
What Criteria You Must Meet To Enter Germany as a U.S. Tourist
If you don't belong to the category of travelers that must get a Schengen visa, all you need for visiting Germany as a tourist is:
U.S. passport that will remain valid for three months or more after your intended stay period and two blank visa pages in it
A justifiable reason for traveling to Germany—family visit or recreational purposes, for example
Evidence of sufficient financial assets showing that you have enough money to cover all the costs of your stay in the country
Should you decide to visit another Schengen area country during your three-month stay period, study the entry requirements for that destination. They can usually be found on local embassy or consulate websites and are subject to regular changes. Make sure you get the latest updates before you set off on a journey.
How Do U.S. Travelers Who Need a Tourist Visa for Germany Apply for It?
Tourists who need a Schengen visa to visit Germany must go through a regular application procedure. The table below shows its basic elements:
Propositions
Details
German tourist visa requirements

Valid passport or travel document
Valid U.S. green card or residence visa if applicable
Two passport-like photos taken within the last 90 days
Completed Schengen visa application form
Proof of:

Flight reservation—a copy of your plane ticket
Booked accommodation—hotel booking confirmation email, for example
Sufficient financial means—a bank statement or a letter of sponsorship
Schengen Travel Insurance
Civil status—a marriage certificate, spouse's death certificate, or divorce decree

Cover letter explaining the purpose of travel and preferred activities during your stay

Additional paperwork

Letter of invitation—for family or friend visits
Income Tax Return (IRS), employment contract, and bank statement from the previous six months—for employed applicants
Form I-2 and a letter from the educational institution—for students
Pension statement from the past six months—for retired applicants
Child travel consent form and parent's passport—for underage children

Germany tourist visa fee

$96.00 for adults
$48 for children between six and 12 years of age
Free for:

Children under the age of six
Students and teaches
Researchers
EU/EEA nationals family members
Diplomatic, service, or official passport holders

You can submit your application form for a tourist visa to Germany at

Embassy of Germany in Washington, DC

Germany tourist visa processing time
Around ten days
What Are the COVID-19 Restrictions for U.S. Tourists Visiting Germany?
Here's a table showing the presence or absence of specific COVID-19 restrictions in Germany:
| Restrictions/Requirements | Yes/No |
| --- | --- |
| Negative COVID-19 test | Yes (PCR or antigen test) |
| Vaccination certificate acceptable | Yes |
| Health screening | Yes |
| Quarantine | No (unless you come from high-risk areas) |
| Active curfews | No |
| Active intercity/interstate travel restrictions | No |
| Regular commercial flights | Yes |
| Regular public transport operation | Yes |
Struggling With Your Tourist Visa? DoNotPay Can Help!
Are you having trouble looking for a suitable tourist visa request form or finding enough time to submit one in person? With DoNotPay, you don't need to worry about such problems because our app can help you tackle the application process the easy way!
Here are the instructions:
Find the Tourist Visa Guide product
Verify your U.S. citizenship or passport ownership
Tell us where you want to go
We will:
Initiate some checks to see if you need to apply for a tourist visa when traveling to the specified destination
Help you discover what documents and forms you need to submit along with your visa request
Check if you can submit an email application on your behalf
Help you access an appropriate type of visa request form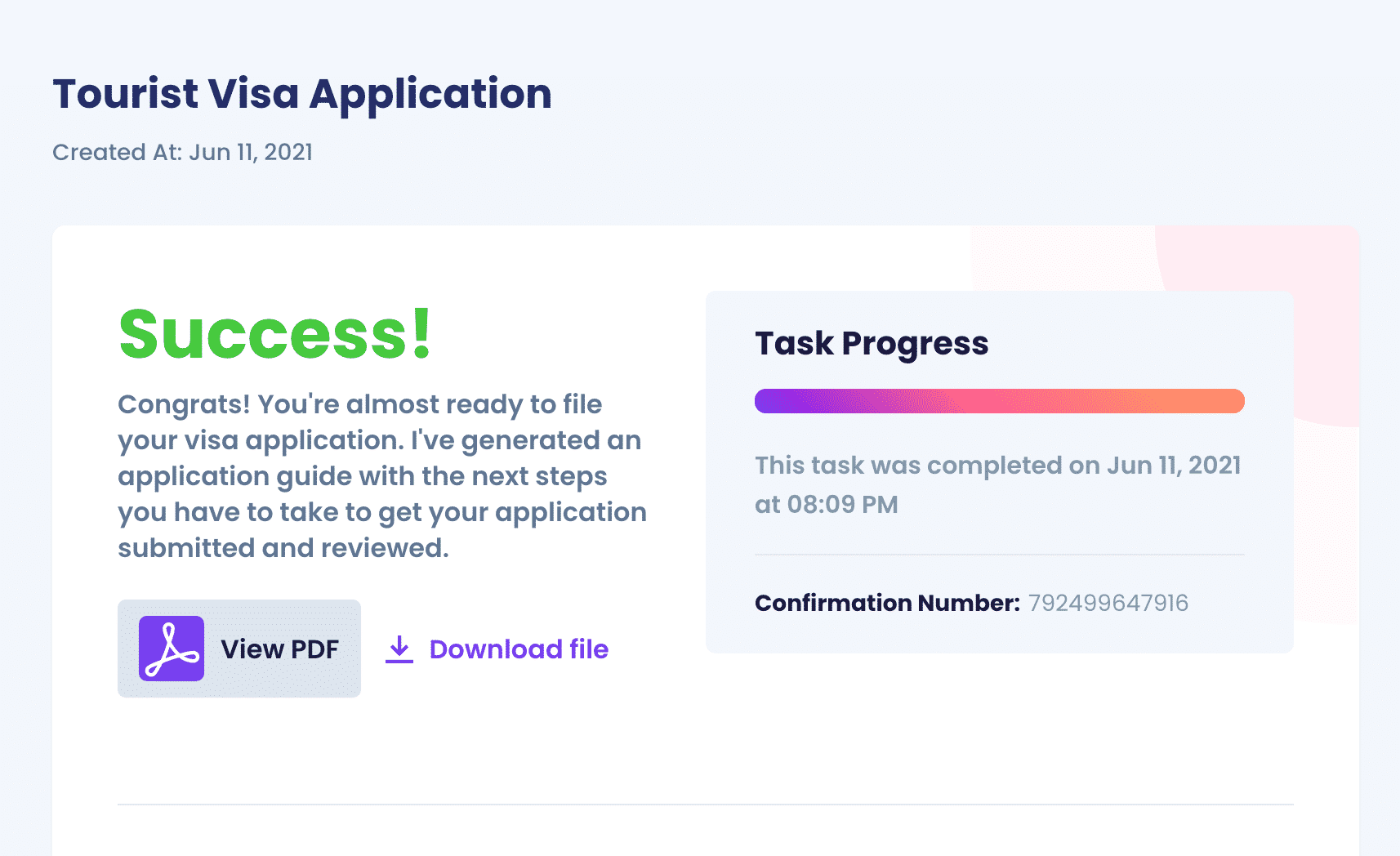 This isn't the end! Are you wondering what criteria you should meet to enter other European countries or whether you need a tourist visa for visiting them? Check out some of our detailed guides listed below:
DoNotPay Is the Best Solution for Your Bureaucratic Problems!
A wide range of handy features DoNotPay offers can assist you in resolving administrative issues without breaking a sweat! Our app provides the easiest way to:
Get What You're Owed in a Few Taps!
Shopping is fun, but retailing companies can sometimes be difficult to negotiate with, especially when things go wrong. With DoNotPay, you can reach their customer service without spending hours on hold and get a refund fuss-free! Should the merchant refuse to collaborate, we can help you get justice by suing them in small claims court.
Our app can also file an insurance or warranty claim in your name, request gift card cash back, or initiate returns for dissatisfying products.
If you want to check whether you have any unclaimed money in old bank accounts, using DoNotPay is the easiest way to do it!