A Detailed Guide to Georgia Small Business Loans
Small businesses are a fundamental part of Georgia's economy, making up approximately 90 percent of businesses in the state. Because of that, many public and private institutions offer small business loans to businesses and startups to help cover their costs.
How do small business loans work, and where can you apply for one?
In this article, DoNotPay will provide detailed information about Georgia small business loans. We can also help you draft a professional loan request letter for your application. All you have to do is subscribe to our app, answer a few questions, and leave the rest up to us!
Types of Small Business Loans in Georgia
Different lenders provide a variety of loans to small businesses. Here are the best small business loans in Georgia you can choose from based on your budget:
Small Business Loan
Description
Business lines of credit
A business line of credit works like a credit card. You can draw funds whenever you require them and repay them with interest.

You can use funds up to the credit limit assigned to you. Once you pay it back, you can start reusing it

Short-term loans
These loans cater to short-term expenses and usually need to be paid back within six to 18 months
Merchant cash advance
A repayment term of these loans is between three and 18 months with a fixed or variable interest rate. You can use the loan to finance both short- and long-term expenses
Equipment loans
You can take out an equipment loan to finance equipment repair, upgrade, or purchase
Can You Get a Small Business Administration Loan in Georgia?
The federal government provides Small Business Administration (SBA) loans via banks or credit unions to help entrepreneurs start or expand their businesses. The following types of SBA loans are available in Georgia:
SBA 7(a)—This loan helps businesses pay for short-term and long-term expenses and has:

A variable interest rate
A loan term of up to 25 years

SBA 504—Small businesses opt for this loan when they need to buy fixed assets. It has both fixed and variable interest rate options, and the repayment period can last for up to 25 years
Economic Injury Disaster Loan—If your business has been impacted by a disaster, such as a hurricane, wildfire, or tornado, you should consider taking out an EIDL loan
Bear in mind that SBA loans require a good credit history and have strict qualification requirements. Your business must:
Be a for-profit entity located in the United States
Provide collateral
Have been operational for at least two years
Where To Get a Small Business Loan in Georgia
Once you have selected the most suitable loan type, you need to figure out where to apply for it. Although most entrepreneurs prefer to apply for loans in banks, such as Wells Fargo and TD Bank, there are several government entities and nonprofit organizations that you can turn to, such as:
Georgia State Small Business Credit Initiative—You have the following options to apply for financial assistance:

Georgia Loan Participation Program
Georgia Small Business Credit Guaranty

ACE—Access to Capital for Entrepreneurs (ACE) is a nonprofit organization that offers up to $50,000 loans with a three- to 72-month repayment term
Invest Atlanta—Invest Atlanta offers funds to different focus groups, such as businesses operating in distressed neighborhoods, startups, and street vendors
Atlanta Micro Fund—Atlanta Micro Fund provides funding to underserved small businesses around Atlanta
Albany Community Together—This is a lending institution that bridges gaps between funding. If a lender has approved an amount lower than your requirements, Albany Community Together will help you with the rest
Small Business Assistance Corporation—SBAC offers loans to small businesses and startups in Savannah, Georgia, southeastern Georgia, and parts of South Carolina
Documents Required To Apply for a Small Business Loan in Georgia
When applying for small business loans, you are required to submit various documents, such as:
Business and income tax returns
Bank statements
Business incorporation documents
Business licenses
Cash flow statements
Income statements
Balance sheets
You should include a loan request letter with your documentation. The letter should contain information about your business and the loan you want to get, and it should convince the lender that you're a reliable borrower. Do you need help writing a loan request letter? DoNotPay can assist you!
DoNotPay Can Help You Secure a Small Business Loan Without a Hassle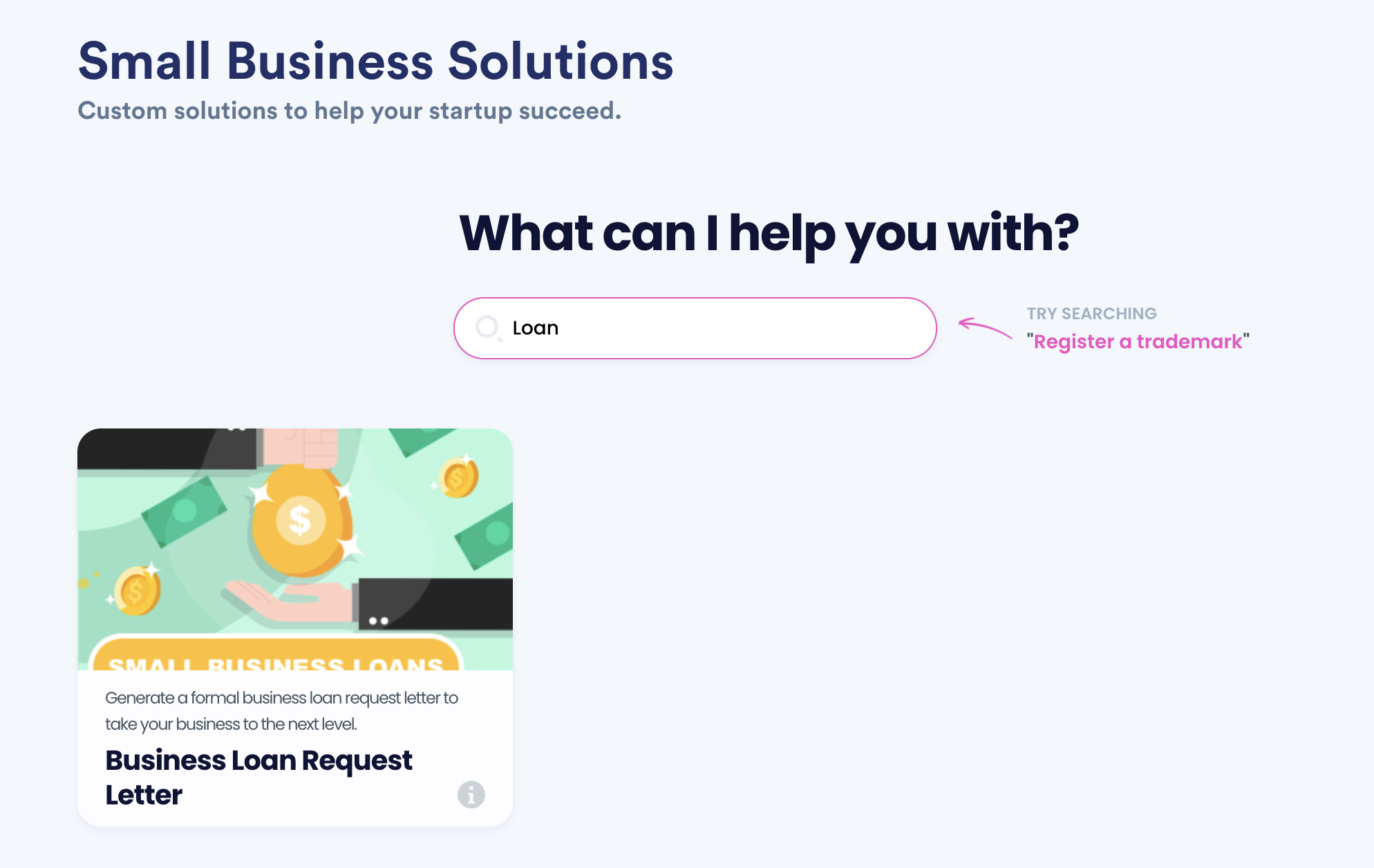 Are you finding the loan application process intimidating? Let us make it easier for you. With our Business Loan Request Letter product, we can help you submit a compelling, mistake-free loan request letter with all the necessary information.
All you have to do is follow these instructions:
Navigate to the Business Loan Request Letter tool
Provide answers to our chatbot
Upload your financial documents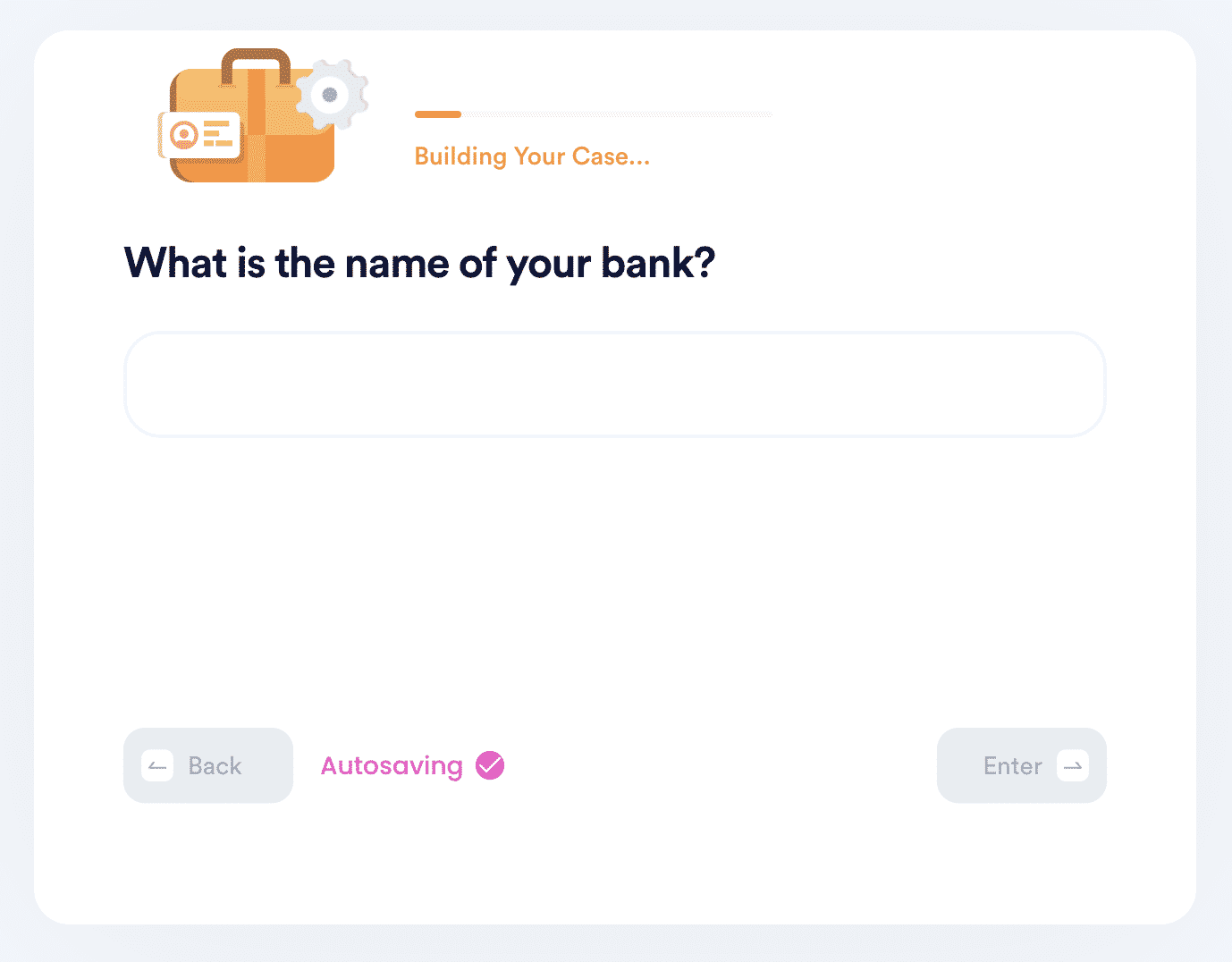 And that's it! We will generate and send a tailor-made request letter to the lender of your choice.
If you face difficulties in choosing a lender, our Find Online Business Loan Lender feature can provide suggestions on the best ones for your business.
DoNotPay Helps You Do Everything by the Book!
Are you confused by the numerous business-related laws and procedures? If you cannot seem to get the hang of all of the processes, you should rely on DoNotPay. Allow your robot lawyer to help you take care of Employer Identification Number (EIN) and DMCA agent registration in a matter of minutes!
Once you handle those tasks, you should consider using DoNotPay to register your business slogan, name, or logo as a trademark and protect your brand by allowing us to check for trademark violations regularly.
Not sure how to handle 83(b) election forms? Automate the entire process and have your employees fill out and submit the forms in a few clicks! We can even help you protect the privacy of your clients by filing a self-certification request with the Privacy Shield program on your behalf so your website complies with data protection requirements.
Running a Business Is Smooth Sailing With DoNotPay
DoNotPay has a solution for any business issue. We can help you:
Draw up a professional and convincing small business loan request letter and get the necessary funds for your business
Report unjustified negative reviews that could damage your brand until they are taken down
Request payment from clients who break the contract
Dispute chargeback requests when they are unfair
Send letters or paperwork without going to the post office