Learn What the
Georgia Property Tax Exemptions
Are
States provide a way for citizens to lower their property taxes, and this is known as a property tax exemption. Some states have low property tax, but you should look for possible tax relief despite the amount. We'll tell you what Georgia property tax exemptions are and how to reduce your expenses using DoNotPay.
What Are Property Taxes and Why Should You Pay Them?
Georgia, like any other state, requires you to pay property tax each year. Tax regulations vary among the states, but you will have to cash out some money in accordance with the property's value and the land around it.
Why is the state charging you for something that's already yours? The money you and every other person pays in taxes funds various areas, such as:
Law enforcement

Road constructions

Libraries

Education

Hospitals

Fire protection
How Do You Assess Property Tax?
A tax assessor is the one who determines how much you are going to pay for your property. Several factors affect the cost of these expenses, such as the size of the property, location, neighborhood, etc. The tax assessor will either come to your property or use remote software to perform a property tax assessment.
Best Options for Lowering Property Taxes
You don't have to settle for whatever price the property assessor decides you should pay. To lower your property taxes, you can try some of these methods:
Don't renovate your house right before it gets assessed

Look for possible inaccuracies on your tax bill

Be there when the assessor is doing their job to avoid unfair assessment

Search for property tax exemptions

File a

property tax appeal
You should try and see how each option can help you pay property taxes.
Types of
Property Tax Exemptions
in
Georgia
To be granted a property tax exemption in Georgia, you have to be the owner of the property from January 1 of that taxable year. There are several property tax exemptions in Georgia, and most are pointed towards senior citizens and service members. Here's a brief overview in the table below:
Property Tax Exemption Type
Explanation

Standard Homestead Exemption

Any Georgia resident can be granted a $2,000 exemption from county and school taxes

Individuals 65 Years of Age and Older

People who are 65 or older can get a $4,000 exemption from county taxes in cases when the individual and their spouse don't have an income larger than $10,000 for the previous year

Individuals 62 Years of Age and Older

Individuals who are 62 or older and live in a school district have the option of claiming an additional exemption for educational purposes if the total income of that person and their spouse is not more than $10,000 for the previous year

Floating Inflation-Proof Exemption

People who are 62 or older can get a floating inflation-proof county homestead exemption if the value of the home has increased by more than $10,000. People living in the house cannot have a total income of more than $30,000

Disabled Veteran or Surviving Spouse

Disabled veterans, their

widows

, or minor children can get an exemption of $60,000

Surviving Spouse of U.S. Service Member

If a member of the armed forces dies on duty, their spouse can be granted a property tax exemption of $60,000 as long as they don't remarry

Surviving Spouse of Peace Officer or Firefighter

A spouse of a firefighter or a peace officer who has died on duty has the right to get a property tax exemption as long as they still live in the house
Property Tax Exemptions in Georgia
—Use DoNotPay To Lower Your Taxes!
People pay a significant amount for property taxes, and they are not aware that it is possible to lower these expenses. The problem is that you have to find a way to do so on your own.
DoNotPay has a great feature that can help you figure out if you qualify for a tax exemption in Georgia or any other state.
These are the only steps you need to follow:
Access DoNotPay from a

web browser

Find the

Property Tax

feature

Provide us with some answers about your property and yourself

Wait for DoNotPay to generate your personalized guide to property tax reductions
When you complete the simple questionnaire, DoNotPay will tell you how to collect the forms and submit your applications.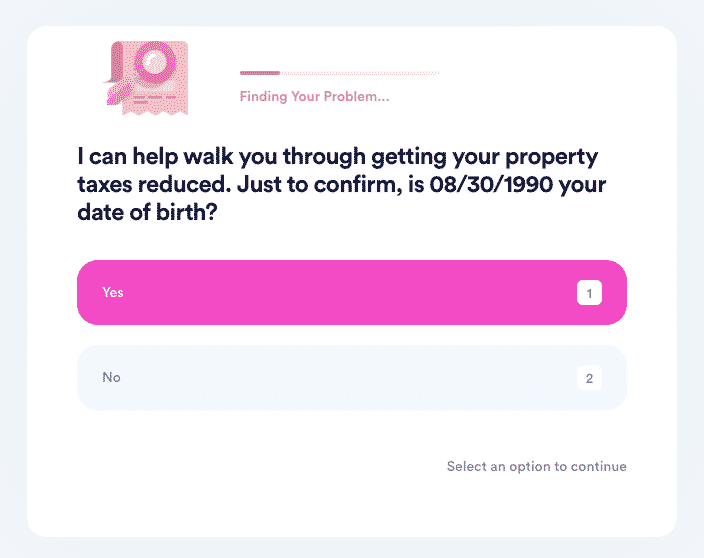 What You Should Know About Property Tax Appeals
If your property taxes seem too high, you have the right to file an appeal. This is the option you should turn to in case none of the other techniques for lowering your taxes worked. There are numerous reasons for you to be unsatisfied with the amount of money the state asks you to pay for property taxes. Some of them are:
Your taxes were a lot higher than the previous year

The assessor evaluated your property twice

The valuation included property you no longer own
Whatever the reason for your dissatisfaction, the good news is that you may file an appeal easily using DoNotPay. We will also help you negotiate with your assessor.
DoNotPay Is the Champion of Customer Advocacy
If you've never experienced an issue with a purchased item, you should consider yourself extremely lucky. When shopping goes wrong, you usually have to brace yourself for unpleasant and annoying exchanges with customer support centers. 
DoNotPay is here to make exercising your consumer rights easy. Long holds when calling customer service reps and incessant marketing spam emails can stay in the past. We will help you avoid irritating text messages from online retailers by teaching you how to bypass phone verification when signing up. 
Ask for refunds, claim warranties, fix credit card issues, or sue retailers in small claims court—these are just some of the services our platform provides. 
With DoNotPay, you can start free trials for new services risk-free. If you want to get out existing subscriptions, canceling them has never been easier!
Wait, There's More!
Our full portfolio includes features as diverse as contacting inmates and requesting college application fee waivers for students from low-income families. 
If you have a problem with bureaucracy, the chances are DoNotPay knows how to fix it with your minimal involvement. 
Leave the grunt work and unnecessary expenses behind. We will help you pass various government tests with flying colors, find unclaimed money in all states, or get out of parking tickets before you know it!