Georgia Jury Duty from A to Z
When you are called for jury duty in Georgia, you must come to the court which summoned you and fulfill your civic duty. Serving on a jury is an essential part of the U.S. legal system because it enables a fair and unbiased trial for everyone.
This article will cover everything you need to know about Georgia jury duty, including how to prepare for it, what happens if you skip it, how much you can expect to be paid, and how to be exempt from service.
Some employers give their employees a hard time for serving on a jury, but you must know that they have no right to fire you—you are entitled to time off for serving, but you must inform your employer on time. DoNotPay can help you by creating a formal leave request letter—all you need to do is .
Who Qualifies for Jury Duty in Georgia?
Qualifications for jury duty are straightforward in Georgia. To qualify, you must be:
A U.S. citizen and resident of the summoning county
At least 18 years old
Able to understand English enough to discuss the case
You can't qualify if you:
Have served on a jury in the last 12 months
Are currently on a grand jury or a trial jury
Have been convicted of a felony and hadn't had your civil rights restored
Are under conservatorship
Jury Duty in Georgia—The Selection Process
Once you receive your summons, you will have to go through a selection process. During this process, you will have to:
Complete a questionnaire that the court will use to see whether you qualify
Show up in court at the date on your summons wearing adequate clothes
Answer a series of questions that will help the judge and attorneys determine whether you can be objective about the case
How Much Does Jury Duty Pay in Georgia?
For your first day of jury duty, you will receive $15. For every subsequent day, you will get $25. Grand jurors will be paid $40 per day of service.
Federal jury duty pays $50 per day.
The Consequences of Missing Jury Duty in Georgia
If you fail to report for your jury duty, you might be served an Order To Show Cause. You will have to appear before a district judge or a magistrate judge to demonstrate a good cause for ignoring jury duty. If you are unable to do it, you will be penalized either by a fine of no more than $1,000 or imprisonment for no more than three days.
How To Get Out of Jury Duty in Georgia
Check out the table below to see who can be excused from jury duty:
Who
Yes/No
Explanation and Exceptions
Military official on active duty
Yes
You can be excused if you show a valid military identification card. A spouse of a military member can also be excused
Elected official
No
An elected official can be excused only when legislation is in session
Student
Yes
Full-time students may request to be excused or deferred from jury duty
Breastfeeding mother
No
If the mother is a primary caregiver of a child of six years, she may be excused
Police
Yes
You are exempt from serving on a federal jury if you have any of these jobs
Medical worker
Yes
Firefighter
Yes
Disabled person
Yes
You must provide a doctor's note
Elderly person
Yes
You must be at least 70 or older
Can You Be Exempt From Jury Duty in GA for Work?
You cannot be excused from jury duty just because you have a job. If you're worried about how the duration of your service might influence your job, you can ask the court to excuse you—you will need to show that serving on a jury will cause you or your employer undue hardship. Otherwise, the court will keep calling you for jury duty.
If you aren't excused from jury duty, you'll be happy to hear that your employer can't fire, demote, or penalize you in any way for serving. It is forbidden by law, and you can sue them if they cross that line.
Use DoNotPay To Submit a Leave Request Letter
Preparing for jury duty will require you to inform your employer about it in a timely manner. If you don't know how to bring up this topic with them, DoNotPay is the app for you.
We will create an official leave request letter that complies with Georgia jury duty laws so that you can inform your employer of your absence.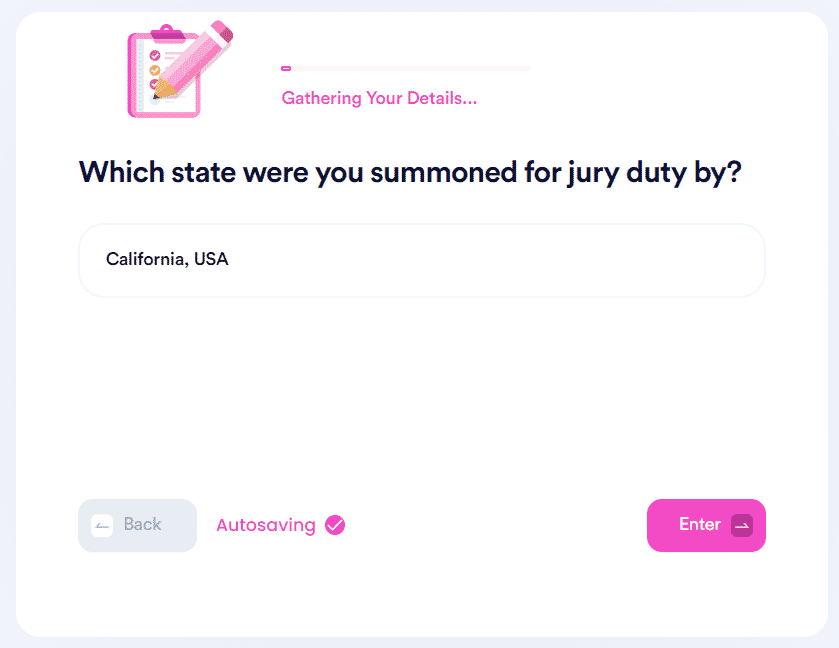 To draft your letter immediately, and follow these steps:
Open the Request Jury Duty Leave feature
Answer a few questions
Provide a picture of your summons
Interested to know how often you can be called for jury duty in Fulton County? Our learning center provides an answer to this question and many more!
Deal With Administrative Issues With Ease
Drafting contracts and agreements, getting your documents notarized, disputing parking tickets, and creating passport photos will become a breeze once you sign up for DoNotPay.
We can also help you:
DoNotPay Helps You Protect Your Consumer Rights
Don't let companies take advantage of you! With our help, you'll be able to cancel any subscription or membership and request a refund.
As a consumer, you may be overwhelmed with endless steps and piles of paperwork you need to go through to get what you're owed. This is where DoNotPay comes in—let us be your assistant and fast-track the following:
Have you forgotten about a free trial you signed up for? Avoid being charged by using our app! With DoNotPay's virtual credit card, you'll get unsubscribed automatically without the company taking any money from you.
Are you getting spammed via email or text? Get rid of spam for good with our nifty app!