Georgia Jury Duty Exemptions—How Does It All Work?
Jury duty is the aspect of the U.S. legal system that helps maintain the integrity of the judicial process. Georgia has several districts with different rules on:
While jury duty is an important service for citizens of Georgia, not everyone is available to serve when they are summoned.
What are the Georgia jury duty exemptions? Are there penalties for not honoring a jury summons? DoNotPay will show you how to legally opt out of jury service and if you plan to serve.
Georgia Jury Duty Exemptions—Who Can Apply?
Whether impaneled or still in the jury selection phase, prospective jurors may defer their jury service or be excused entirely. You may qualify for excusal or deferment in Georgia if you are:
At least 70 years old
Suffering from a mental or physical ailment that is permanent
Residing outside Georgia or the summoning county
A person without U.S. citizenship
A felon or have misconduct on your record
The sole caregiver of a six-year-old or a younger child
The sole caregiver of a permanently disabled person who is over six years old
A full-time student
A primary teacher in a home study program
Working as a service member on ordered military duty
The spouse of a service member on ordered military duty
For the court to grant you excusal or deferment, you'll typically have to submit an affidavit, a written exemption request, or other supporting documentation.
Special Definitions of Some Exemption Categories
Some of the exemption categories have specific definitions and conditions that help jurors better assess their eligibility. These have been clarified in the table below:
| Exemption Category | Definition/Conditions |
| --- | --- |
| Full-time student | This refers to a student enrolled in some form of post-secondary education with a class or exam schedule that conflicts with the date and time on the summons |
| Caregiver or home study program teacher | People in this category have to be fulfilling their duties in a sole or primary capacity. They also have to attest that they cannot find a reasonable alternative to replace them at their job |
| Service member on ordered military duty | A service member is a regular or reserve member of the U.S. Armed Forces, U.S. Coast Guard, Georgia National Guard, or Georgia Air National Guard who has been on a federal assignment at least 50 miles away from home for at least 90 days |
Skipping Jury Duty in Georgia
Seeking exemption from service via the official channel is the only method provided by the courts of Georgia. You must respond to the summons first even if you have a valid exemption reason—for example, being summoned too often. Intentionally skipping jury duty without the court's knowledge and consent carries legal consequences.
This action will see you held in contempt of court, and you will be required to appear before a judge to explain your absence. Typically, skipping jury duty is punished with:
Fines
Community service
Incarceration
Let DoNotPay Generate a Professional Jury Duty Leave Request Letter for You in Minutes!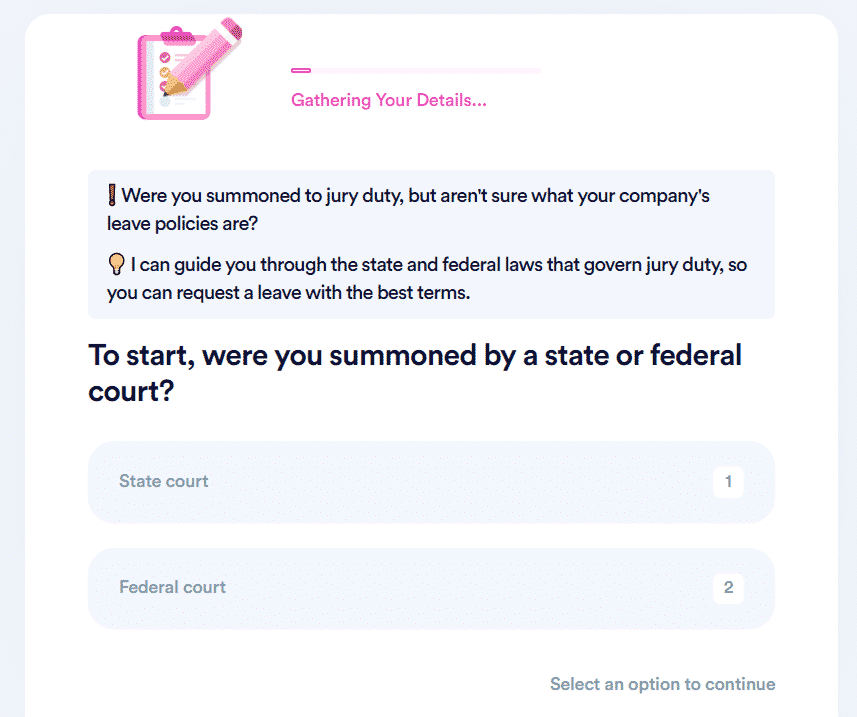 If you don't qualify for an exemption and end up serving jury duty, DoNoyPay can help. Telling your employer about your jury summons is one of the first steps when preparing for jury service. You'll need to have everything in place to prove your summons and to request time off work. While employers don't like losing a paid employee for a few days, they are legally constrained from taking any action against a summoned employee.
DoNotPay's leave request letter can help you with both needs:
and click the Request Jury Duty Leave product
Specify whether your summons is from a state or federal court and identify the summoning state
Select the days of your jury service and upload a photo of your jury summons
State whether you would like DoNotPay to email the request letter to your employer and sign it electronically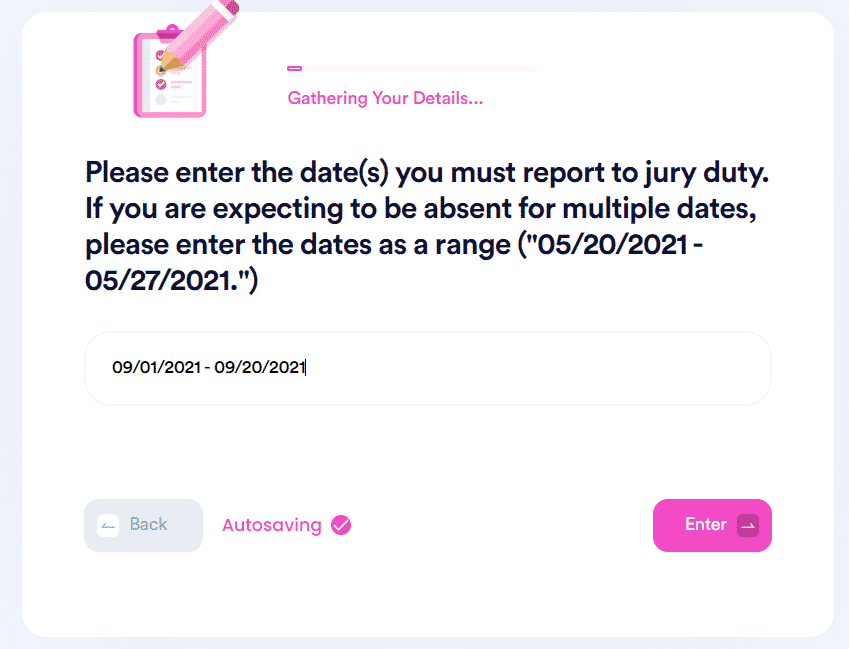 To submit your request in person, download the letter from our platform.
You can get more details about jury service in Fulton County and juror's pay at federal and state levels in our learning center.
Turn to DoNotPay and Remove Bureaucratic Issues in a Snap
Does paperwork bring you to the edge of a nervous breakdown? With our help, you will skip all administrative impediments and get ready-made legal documents before you know it! No failed drafts or huge legal fees!
DoNotPay can generate:
Once you create the desired document, you can fax it online without a faxing machine or have it notarized with zero complications in the same app!
Your Info Is Safe With Our App
You don't need to leave your credit card info or personal details if you want to start free trials that won't turn into paid subscriptions without notice. DoNotPay will create a virtual credit card with a fake name and generic credit card number for you in just a few clicks. This way, greedy companies won't take a single penny from your account without your authorization!
Our app can also help you file anonymous HR complaints or create burner phone numbers to avoid disclosing your real info when signing up for apps and platforms.