Get the Required Georgia Divorce Forms and End Your Marriage Hassle-Free
Getting divorced in Georgia can be a tedious task as it requires you to be familiar with the whole process and the required papers. If you want to know which Georgia divorce forms you need to file, DoNotPay has got your back!
Divorces in Georgia—The Basics
Before filing for divorce in Georgia, you need to decide whether you're filing for a no-fault divorce or a ground-based divorce. You must also meet the Georgia residency requirements by living in the State for six consecutive months prior to filing your case.
Ground-Based Divorce
Georgia state laws allow you to file for a divorce based on your spouse's misconduct. By stating the grounds (reasons) for the divorce, you help the judge when deciding on certain aspects of your divorce (e.g., alimony or child custody). The grounds for divorce in Georgia are:
Adultery by one of the parties
Illegal intermarriage between people with the prohibited degrees of kinship (cousins)
Mental incapacity
Impotence or sterility
Cruel treatment (willful infliction of pain or mental harassment)
Wilful desertion for one year
Pregnancy of the wife by another man
A conviction for an immoral crime with a jail term of at least two years
Drug or alcohol abuse
Incurable mental illness proven by a doctor
For any of these grounds to be valid in court, you will need to bring proof.
No-Fault Divorce
A no-fault divorce is a more popular option of ending a marriage in Georgia as it shortens the process and lowers the costs of the divorce. To get this type of divorce in Georgia, you only need to state that you're requesting the divorce because the marriage is irretrievably broken.
Divorcing on no-fault grounds means that the action will be uncontested (friendly). The average length of a friendly divorce in Georgia is 60 days if:
The spouses agree on:

Child custody and support
Parenting time
Division of marital assets

The party who is served with the papers responds to them in time
If there's an agreement between you and your spouse, there is no need for you to hire a lawyer. You can go through with the divorce without any legal help.
When the parties are unable to reach a middle ground, divorce mediation is recommended.
A mediator will help you come up with solutions to the issues in question.
Uncontested Divorce Forms in Georgia
Once you agree on the terms of your uncontested divorce with your spouse, you will need to prepare certain forms. They can be found on the official government website or your local courthouse. Check out the table below for more details:
Divorce Forms
Details
Petition for divorce
This form states that the marriage is irretrievably broken
Summons
This document gives your spouse (the defendant) 30 days to file an answer or face a judgment by default. It needs to be signed by the county clerk and dated by the deputy sheriff in the county where it was filed
Sheriff's entry of service
This page needs to contain a written record that the county sheriff delivered a copy of the divorce papers and the summons to the defendant
Acknowledgment of service (optional)
When signed by the defendant, it can help bypass the need for formal service of summons
Domestic relations financial affidavit
This four-page form needs to be filled by both parties and should contain their:

Income
Expenses
Assets
Liabilities

Disclosure statement
This form needs to be filled out by the serving party. It indicates whether the parties have achieved a marital settlement agreement or not
Report of divorce, annulment, or dissolution of marriage
This document holds the particulars of the divorces in the State of Georgia
Marital settlement agreement
This is one of the crucial divorce papers you'll need to file. It includes the specifics regarding every aspect of your divorce process. To get a divorce settlement agreement, you can pay a pricey lawyer to draw one up for you. A more affordable and easier solution is to use DoNotPay.
Final judgment and decree
Once signed by the judge, this page ends the marriage
DoNotPay can help you figure out the specifics of divorce forms in the following Georgia counties:
Get a Professionally Drafted Divorce Settlement Agreement the Easy Way—Use DoNotPay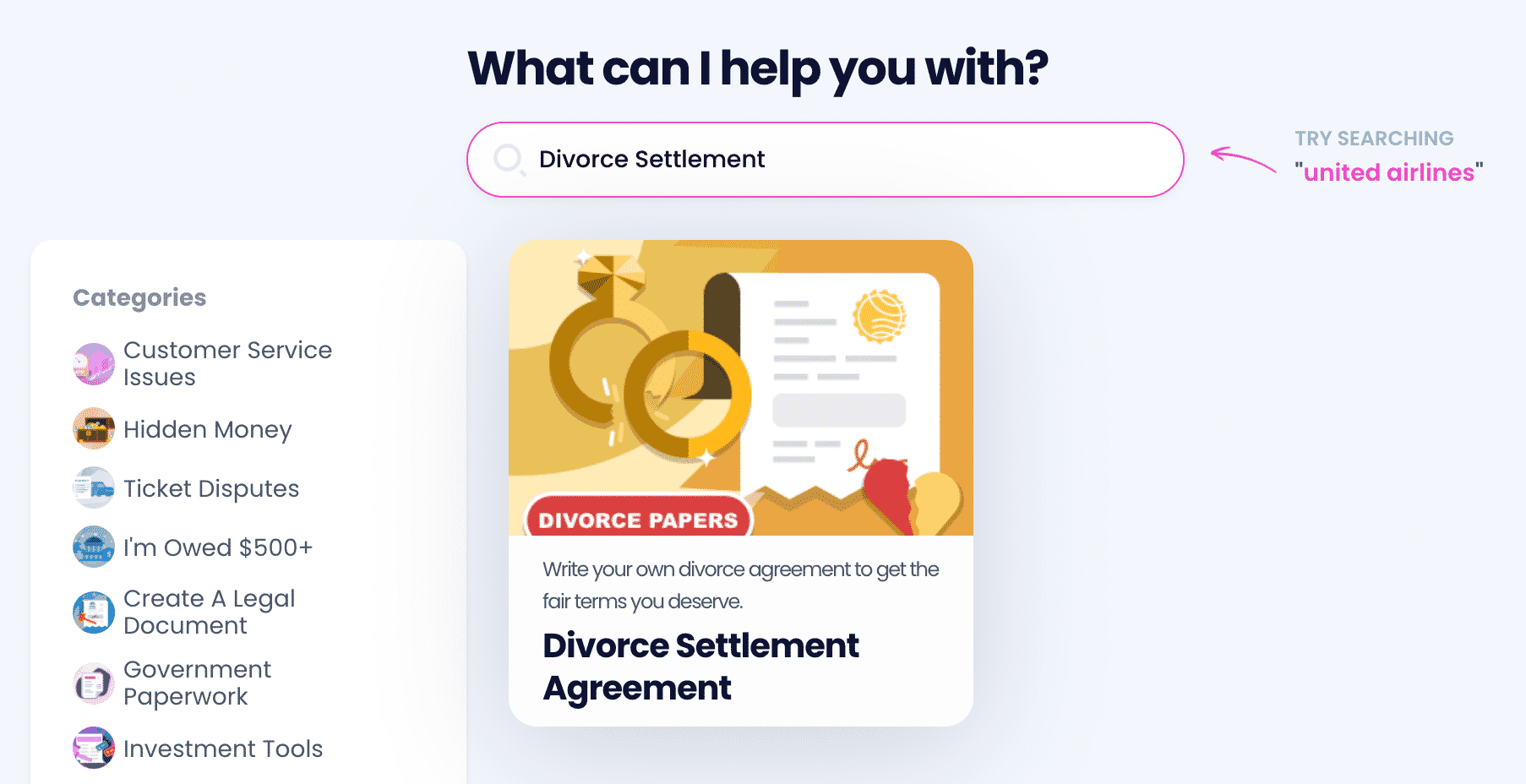 Getting a professional divorce settlement agreement with DoNotPay is possible in a few clicks! Here's what you need to do:
Select the Divorce Settlement Agreement feature
Answer our chatbot's questions regarding your case
Choose whether you want to get your document notarized via DoNotPay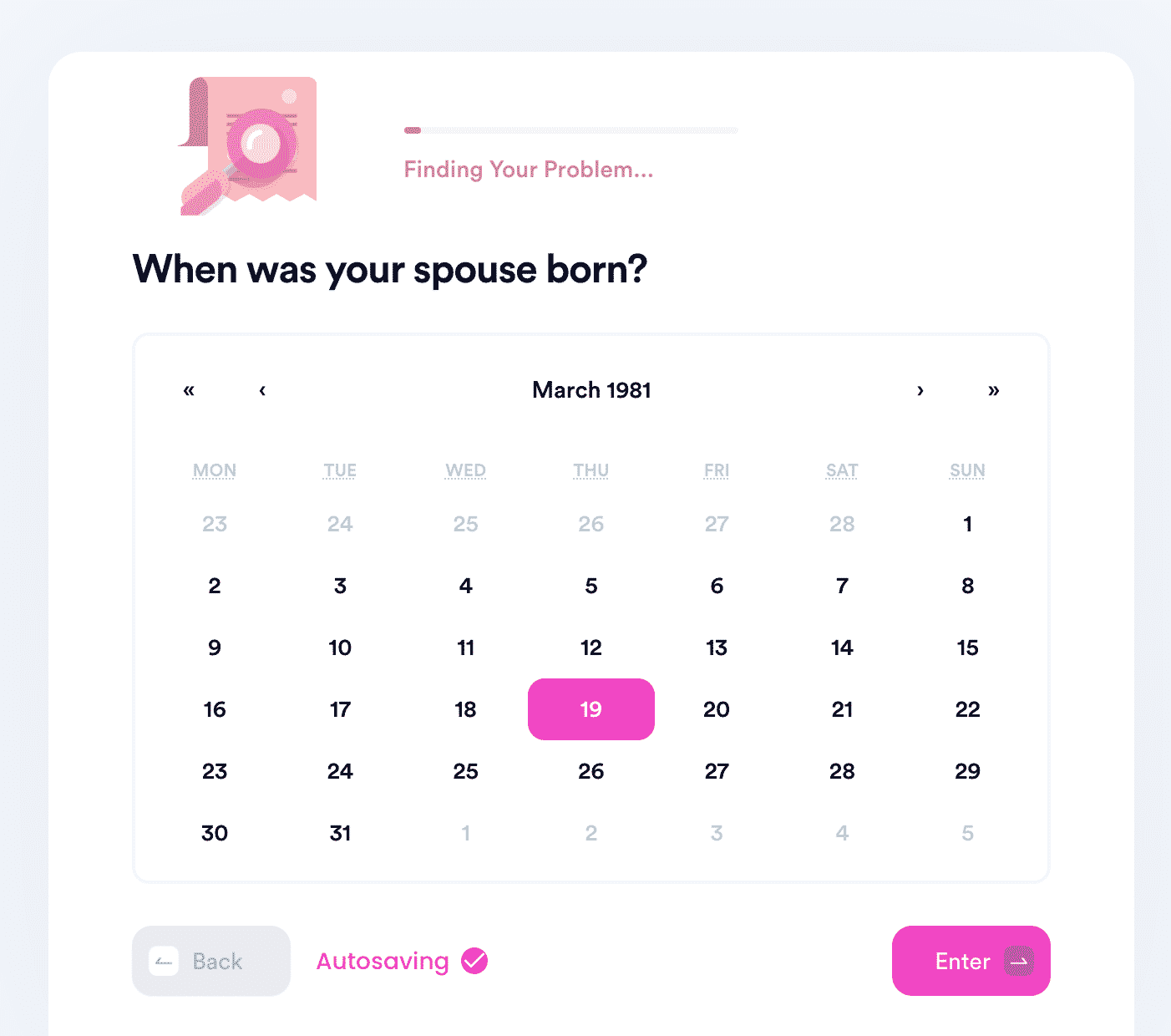 We will use the details you provide us with to create a divorce settlement agreement that will be valid and fair to you and your spouse. If you choose to get your document notarized with our help, you will receive an email with a link to schedule an appointment with an online notary.
Need more help regarding divorces in Georgia or divorces in general? Check out the articles DoNotPay has prepared for you:
Use DoNotPay To Resolve Administrative Tasks in Minutes!
Tired of brainstorming the easiest way to deal with administrative issues? We know how you feel, and we're here to take the burden off your back!
Once you subscribe to our app, you'll be able to resolve an abundance of bureaucratic issues with ease.
Taking a valid passport photo, reporting workplace discrimination, reducing property taxes, preparing for a government test, applying for a college fee waiver, and appealing a parking ticket are some of the many tasks we assist you with.
In case you need a quick way to draft a legal document, such as a power of attorney, divorce settlement agreement, or a child travel consent form, DoNotPay will do it for you!
Learn How To File Claims the Easy Way
Are you dissatisfied with a certain company and/or its products? You don't have to stay quiet! Use DoNotPay to file your insurance, warranty, or missing/late parcel claim effortlessly! We'll also show you how to request an item return in a few steps.
If you want to cancel a subscription or request a refund or chargeback, you can do it with our assistance without breaking a sweat. Use one app to deal with countless issues!