Sacrifices Are Honored With a
Georgia Disabled Veteran Property Tax Exemption
Georgia is proud of a military tradition that stretches back to the beginning of the 19th century. The state continues to be a source of volunteers for the armed forces to this day, some of whom pay the penultimate sacrifice of a disability as a result of their service.
The State of Georgia honors its disabled veterans in many ways, but most importantly, by helping them reduce their property tax bills.
If you are one of these heroes living in Georgia, DoNotPay is here to help you claim your rightful Georgia disabled veteran property tax exemption.
How Does Georgia Property Tax Work?
Georgia leaves the calculation and collection of property taxes up to individual counties and is considered a state with a low average property tax.
The method for calculating property tax in Georgia is based on two factors, namely:
Tax rate

Property assessment
Tax Rate
The tax rate for each county is determined by the level of funds required by:
Schools districts

Cities for municipal services

Counties for administrative functions

Water districts

Transport districts

Other local, voter-approved projects
By far, the largest portion of your property tax rate goes towards funding education, which can claim as much as 55% of the total revenue generated.
Each taxing district submits an annual budget, based on which the county determines how much money is needed in total and creates a tax rate accordingly.
The tax rate in Georgia is 0.87% on average, which is considerably lower than the U.S. median of 1.07%.
Property Assessment
Georgia assesses your property to determine its value every year but relies on mass appraisals to avoid having to physically inspect every property in the state.
The appraisal system uses the sales-value approach, which measures your property against sales data from your area. If similar properties to yours have been sold recently, the sale prices determine the market value of your property.
This approach is slightly flawed due to your property not having been physically appraised. You could fall victim to a booming property market in your area that sends average property prices up, meaning that your property is assessed at a higher rate than it may be worth. This would result in your property tax bill increasing without any true justification.
Once your property's market value has been determined, your county applies a tax ratio to reach an assessed value, on which your property tax calculation is based. In most counties in Georgia, a property's assessed value is 40% of its market value.
If you are a disabled veteran living in Georgia, it is good to know that your property tax bills are not going to be excessive. Even better to know is that you can apply for exemptions to further reduce your property tax liability.
What Is the
Georgia Disabled Veterans Property Tax Exemption
?
Georgia offers its disabled veteran residents an opportunity to significantly reduce their property tax bill through the Georgia disabled veteran exemption.
The exemption works as follows:
Eligibility

Duration

Scope of exemption
Eligibility
You are eligible for the Georgia disabled veteran property tax exemption if you are:
An honorably discharged veteran

Certified 100% and permanently disabled

Less than 100% disabled but certified unable to work

The surviving unremarried spouse or minor child of a qualifying veteran
Duration
The exemption, once granted, is renewed each year automatically and passed on to your surviving unremarried spouse or minor child if you pass away.
Scope of Exemption
If the exemption is granted, it entitles you to:
A reduction of $60,000 on the assessed value of your home (40% of its market value in most counties)

An additional sum determined by the county of residence and dependent on your disability grade and circumstances

The maximum exemption is currently $85,645, and this figure is revised every year
What Other Property Tax Exemptions Are Available in Georgia?
Georgia offers several other property tax exemptions for homeowners resident in the state:
Exemption

Explanation

Amount

Basic homestead exemption

All homeowners who live in their property as their primary residence are eligible

$10,000 off county taxes

$4,000 off school taxes

$7,000 off recreation taxes

Senior citizen

school exemption

Residents over 65 can apply for this exemption, subject to their income being below $100,552 per year

100% off school taxes

$10,000 off county taxes

$7,000 off recreation taxes

Regular school exemption

Residents over 62 earning less than $10,000 net income may qualify

$10,000 off county taxes

$10,000 off school taxes

$10,000 off school bond taxes

$7,000 off recreation taxes

Disability exemption

100% disabled persons of any age can apply for this exemption

$10,000 off county taxes

$4,000 off county bond taxes

$4,000 off school taxes

$4,000 off school bond taxes

$7,000 off recreation taxes

$20,000 senior exemption

Residents over 65 with a household net income under $10,000 a year may be eligible

$20,000 off county taxes

$20,000 off school taxes

$20,000 off recreation taxes
Whatever your circumstances, DoNotPay can help you get property tax relief and discounts in Georgia.
How Can DoNotPay Help Claim a Georgia Property Tax Exemption?
DoNotPay is the expert at helping you reduce your property tax in Georgia.
We can create a personalized property guide with all the information you need to claim exemptions in your county.
The property guide has two sections:
| | |
| --- | --- |
| Section | Explanation |
| Property tax exemptions | This contains information on the exemptions available in your area, the required documentation, and the places to lodge your application |
| Property assessments | This offers advice on how to reduce your property valuation through negotiation and where you can launch an appeal |
Where Is DoNotPay's Property Guide Available?
Getting our customized property guide is a simple matter—here's how:
Navigate to DoNotPay's website,

sign up

, and search for the

Property Tax

feature

Fill in a few details about yourself and your property

Wait while we generate your personal guide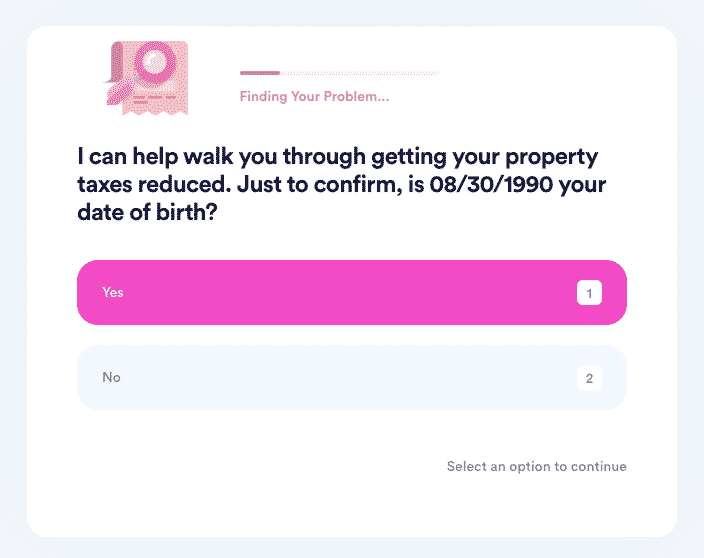 Appealing a Property Assessment With DoNotPay
If you believe your property has been valued too high, you can appeal the assessment with DoNotPay's help.
DoNotPay can give you information on:
How the appeal process works in your area

What documents you need

Where you can lodge your appeal
DoNotPay Breaks Down Communication Barriers
Communication and new technologies walk hand in hand, and DoNotPay can smooth out any bumps on that road. On our platform, you can find useful tools for avoiding phishing emails and text messages, sending faxes online, stopping annoying robocalls, or signing up for new services without phone verification.
Contacting customer support is no party, but DoNotPay can make the process so much easier, whether you need to request a refund, demand compensation for a canceled flight, or file a warranty claim.
You can even use our platform for locating your loved ones in prison and sending them letters the proper way!
Can Your Virtual Assistant Do This?
Hey, Siri! Make me ready for my upcoming small claims court appearance. No luck? OK, Google! Prepare a DMCA notice for that website that uses my photos without authorization. Still nothing?
DoNotPay is the virtual assistant that won't back away from issues that require legal expertise. Our lawyer bots work around the clock to get you due date extensions for utility bills, reduce your property taxes, or stop stalking and harassment before it gets ugly.
The world's first robot lawyer will provide assistance even with securing compensation for victims of crime!