A Complete Guide to Applying for Georgia Crime Victims Compensation
Violent crimes are a common occurrence, unfortunately. As if enduring physical injuries and emotional trauma isn't enough, victims of violent crimes in Georgia have to deal with crime-related expenses.
If you are a victim of a crime or your loved one is, DoNotPay will help you file for Georgia crime victims compensation.
All About the
Georgia Crime Victims Compensation Program
The Georgia General Assembly established the Crime Victims Compensation Program in 1988. The program has two main goals:
Reimbursing victims for the financial loss that resulted from the crime

Encouraging victims to cooperate with law enforcement and participate in the criminal justice system
Who Funds the
GA Crime Victims Compensation Program
?
The Criminal Justice Coordinating Council is in charge of administering victim compensation to individuals in Georgia.
Like with other victim funds for violent crimes, the main source of funding for the Crime Victims Compensation Program is the Victims of Crime Act (VOCA) Fund. Besides the VOCA Fund, the Georgia Crime Victims Compensation Program uses other sources of funding, including:
DUI fines

Parole fees

Probation fees
Additional
Georgia Victims Compensation
Programs
Aside from the Crime Victims Compensation Program, there are more specific programs for victims and their families. You can find the brief overview of these programs in the table below:
| | |
| --- | --- |
| Victim Compensation Program | What Does It Provide? |
| Unclaimed Restitution | Access to court-ordered offender's restitution that you haven't yet claimed for you or your business |
| DUI Memorial Sign | Reimbursement for putting up a memorial sign in honor of the victim of an impaired driver on the Georgia highways |
| Officers Initiative | Compensation for expenses to law enforcement officers or their families, in case they died or got injured in the line of duty |
| Forensic Interviews | Reimbursement for the expenses of forensic interviews for minors or incapable adults who experienced or witnessed a crime |
| Forensic Medical Examination | Repayment for the forensic medical examination for victims of sexual assaults |
Who Qualifies for the
Crime Victims Compensation Program
in
GA?
You are eligible to obtain victims compensation in Georgia if you:
Suffered physical injuries or witnessed a crime

Got hurt while helping a victim

Suffer severe mental or emotional trauma from being a victim or witnessing a violent crime

Are a parent or legal guardian of someone killed or injured in a crime

Are a dependent of someone who was murdered

Have been paying crime-related bills, but you aren't the victim

Are a

domestic violence

victim who depended on the offender for financial support

Have a child that was a victim of a violent crime and relied on the offender for financial support
To be considered for reimbursement, you have to report the crime to law enforcement within 72 hours and meet the registration deadlines:
For crimes before July 1, 2014

—you must submit the application within one year of the crime

For crimes after July 1, 2014

—you have to file a claim within three years of the crime or death of the victim. If you are a minor at the time of victimization, you can file a claim within three years after turning 18
The crime victims compensation board in Georgia may extend deadlines for any of these cases if the good cause is shown.
What Does
Victims Compensation
in
Georgia
Cover?
Crime victims compensation amounts can vary depending on the costs they cover. The most common expenses and maximum benefits are:
Medical bills—$15,000

Funeral and burial costs—$6,000

Mental health counseling—$3,000

Lost wages—$10,000

Loss of support—$10,000

Crime scene sanitization—$1,500
Compensable crimes may include:
Homicide

Sexual offenses

Child abuse or molestation

Domestic violence

Hit-and-run

Human trafficking

Robbery
Georgia Crime Victims Compensation Program does not compensate expenses caused by identity theft or property crime unless they included other crimes as well.
Georgia Crime Victims Compensation Program Application
Process
If you experienced or witnessed a violent crime, here is the step-by-step application process:
Go to the official website of the Georgia Crime Victims Compensation Program

Open the

Victims Compensation

page

Complete the eligibility quiz

Download the application

Read the application instructions

Complete the application and provide legible signatures

Provide a copy of the official police report that has the name of the victim or witness

Send the complete application via mail to the Georgia Crime Victims Compensation office at

104 Marietta Street NW, Suite 440 Atlanta, GA 30303
You can avoid all the hassle by submitting your application with .
DoNotPay Can Help You Apply for
Georgia Crime Victims Compensation
Effortlessly
The world's first robot lawyer created a user-friendly method of filing for crime victims compensation anywhere in the U.S., with zero trouble and in no time. Our AI bots can even help you file for victims compensation with the 9/11 Victim Compensation Fund.
The process of applying for victims compensation in Georgia is fast and straightforward:
Locate the

Compensation for Crime Victims

product

Define whether you're the victim or victim's representative

Respond to our chatbot's questions regarding the crime and expenses

Verify your signature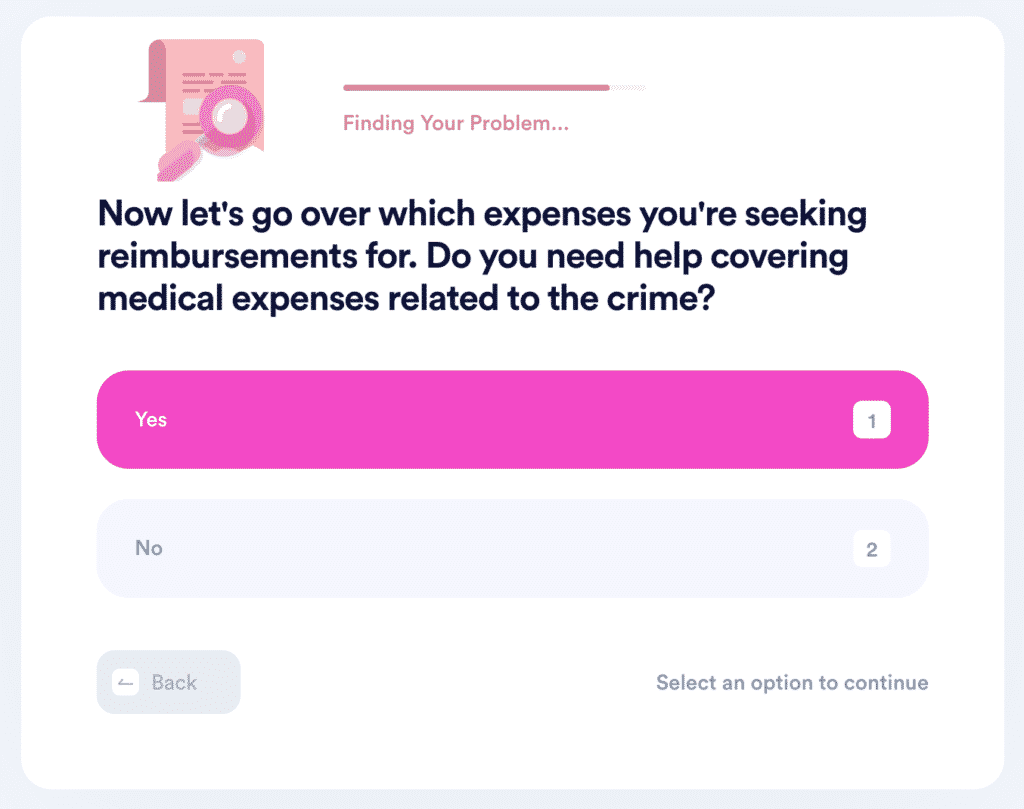 We will complete your application and file it immediately with the Georgia Crime Victims Compensation office.
Keep Your Money Safe With DoNotPay
Don't let greedy companies threaten your consumer rights by holding back refunds, refusing to cancel your subscriptions, or charging you after your free trial ends.
DoNotPay helps you try out different services without providing your credit card info or phone number—you will never again have to deal with unexpected post free trial charges!
Our app also helps you avoid paying unnecessary parking tickets, delay challenging bills, or waive your college application fees.
If any company refuses to issue you a refund or an airline won't compensate for canceled flights, we can help you sue them in small claims court.
DoNotPay Is a Time-Saving App
How many customer service reps do you have to deal with only to file an insurance claim or book your DMV appointment?
DoNotPay helps you sort out these tasks and much more in only a few clicks.
Get your revenge on robocallers, report text scammers, find validated clinical trials, claim your warranties, get in touch with your loved ones in prison, and protect your creative content—all in less than five minutes.
No more hours-long phone calls, emails, or in-person visits.
We cover everything from freeing your inbox from spam to providing excellent prep tests for government exams! Save time with your all-in-one app!