What to Do When You Need a Georgia Birth Certificate
Replacing a lost Georgia birth certificate can be frustrating. It isn't always easy to know who to call. Birth certificates are held by the county of birth for a while and then sent to some centralized area. It means that you may end up spending your time making phone calls or searching the internet to find who will help you the most.
Doesn't the state of Georgia realize that your time is valuable, too?
With DoNotPay's automated, faster, and more convenient way of getting birth certificates in Georgia, you will not have to struggle anymore. Within just a few minutes, you will know that your birth certificate copy is on its way, whether it is for a new baby or an already grown one.
Understanding Birth Certificate Copy Types: Which Do You Need?
You need a GA birth certificate to do basically anything. Kids need them to get enrolled in school and adults need them for:
Getting Passports
Applying for a Job
Getting Driver's Licenses
Applying for Government Benefits
Getting Married
And More
They are one of the most important documents you will ever have in your file cabinet. Though they are also one of the most difficult to find since you may go years without touching them, and then, they become the one thing you need.
Birth certificates are proof of your birth date, identity, and citizenship status - ensuring that it is the ultimate form of identification. Even more valid than a driver's license, you will need it to get the other documents listed above.
Though many states allow some people to get an unofficial copy of their birth certificate, Georgia does not allow anything other than a certified copy. This can make things easier because you do not need to know which is best for your needs. However, it also means that you cannot get a copy of a birth certificate without proof that you have reason to get it.
Who Can Request a Birth Certificate in Georgia?
Whether you are requesting a birth certificate for a newborn , yourself, or another adult, you will need to prove that you have reason to request it. This means you must be:
1. The Person Named on the Certificate
Without a valid ID showing that your name matches the one on the birth certificate, you will not be able to receive a copy of it.
2. The Parent(s) on the Certificate
Either parent can request a copy of their child's birth certificate. However, your name must be on it as a parent, and you must provide ID to prove it.
3. Grandparents
As a grandparent, you can get a copy of the birth certificate. However, you must show your child's birth certificate, whose name would appear on the grandchild's birth certificate, and your ID. The link between you and the child must be proven.
4. A Legal Guardian
If you are the legal guardian and need a birth certificate copy, you will need to show your ID and proof that you are the legal guardian. The easiest way to prove this is with a court order.
5. Spouse
If you need to request your spouse's birth certificate, you will need to show proof of your ID and of your marriage to that person. Your spouse must provide a notarized letter stating that they want you to request the birth certificate.
6. Adult Child or Siblings
For this, you will need to show your ID and birth certificates proving that everyone's name matches up.
What Does a State of Georgia Birth Certificate Cost?
When you make a Georgia birth certificate request, there are a few things you will need before you can send off the form. As mentioned before, proof of your identity and/or why you need it is the top priority. Beyond that, you will also need to provide a check or money order.
Are you curious about how much is it to get a birth certificate in Georgia? The cost for having one copy of the birth certificate is $25. If you would like additional copies to be included, the cost is $5 each.
Most people also want to know, "How long does it take to get a birth certificate in Georgia?" You should know the wait is faster than in some other states. You can also take advantage of expedited services, for an additional $10 fee. This will ensure that your wait drops some from the average 2-4-week delivery.
How to Request a Birth Certificate Online
Requesting a certified birth certificate in Georgia is easy enough but can be frustrating if you do not have everything in order.
Complete the Form
You can print out the online form ensuring that you provide all information as accurately as possible. Otherwise, you could get into trouble for requesting it.
Mail the Form
You will need to mail it, along with your ID and a check or money order to:

STATE OFFICE OF VITAL RECORDS

1680 PHOENIX BLVD. SUITE 100

ATLANTA, GA 30349.

PHONE 404.679.4702

Depending on your relationship to the person named on the birth certificate, you may need to include other proof that you are entitled to the copy. This may include notarized letters, other birth certificate copies, and more.

Wait for the Birth Certificate to Arrive
You will need to wait up to four weeks for standard delivery unless you pay more for expedited services. Either way, you will likely spend this time hoping that you did not mess up in some way, which could prevent you from receiving it.
What If You Cannot Get the Copy Yourself?
If something serious prevents you from obtaining a copy of a birth certificate that you should receive, your next and only real option is to contact an attorney. State and federal officials can also acquire the information.
An attorney is justifiable when they represent an immediate family member and can provide a notarized letter showing they have a reason for requesting the birth certificate. Government officials can have access if conducting their official duties, but the request must come from State Registrars or other entities.
DoNotPay Can Make It Easier to Track Down Georgia Birth Certificates
With DoNotPay, you will not have to download and print your forms. With our services, getting a birth certificate online in Georgia is easy. This means you will not have to chase down a check or a money order. You simply have to tell us key information about who you are and whose birth certificate you need. Once you confirm that the information is accurate, we will take care of the rest. Just look at how easy it is!
If you want to order/get a birth certificate copy in Georgia but don't know where to start, DoNotPay has you covered in 8 easy steps:
1. Go to the Birth Certificates product on DoNotPay.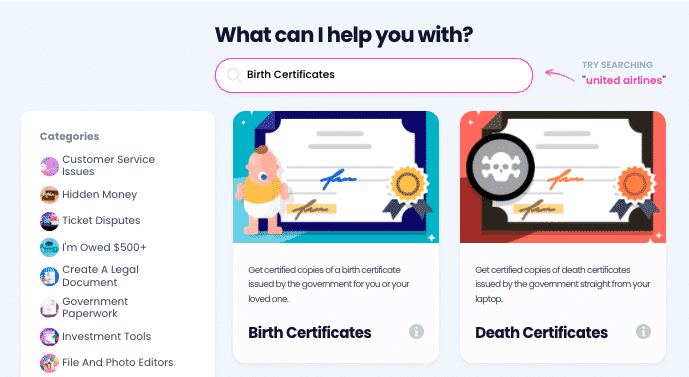 2. Select who the certificate is for (you or a loved one). If you are requesting a copy of someone else's certificate, enter their personal details, and upload evidence that proves your relationship.
3. Enter the location you or your loved one was born in, so we can complete the form specific to your state.
4. Enter the name(s) of the parent(s) as displayed on the certificate.
5. Indicate what you will be using this certificate for, and choose whether you need an authorized or certified copy.
6. Enter your contact information and shipping address. Upload copies of your government-issued identification, such as a driver's license.
7. Choose whether you would like to electronically sign this form or not. Once we generate the form, verify that all of the information is correct.
8. If you need the document to be notarized, schedule a notarization appointment using our Notary product. Otherwise, proceed to our Mail Checks product and let DoNotPay mail in your request form with a check on your behalf.
Let DoNotPay Simplify Your Life
As the world's first robotic lawyer, DoNotPay is dedicated to making your life easier. This includes giving you the ability to order fast birth certificate copies in Georgia. We also offer a variety of other services that will make other parts of this search faster.
No matter what services you choose to use, you can expect a process that is:
Fast
Easy
Secure
And Finished
At DoNotPay, we are ready to start when you are! Simply give us a call to find out how we can speed up the time it takes you to get your DoNotPay birth certificate.