The Nitty-Gritty of a Georgia Advance Directive
Are you concerned about your health and want to put some pressure off of your friends and family? Decide about your own treatment (or lack thereof) with an advance health care directive.
Make your wishes known—learn about the specifics of a Georgia advance directive and discover the easiest way to create one from the comfort of your home—!
What Is a Georgia Health Care Directive?
With a health care directive, you can make decisions regarding the medical treatment you want (or don't want) to receive once your assigned physician estimates you're nearing the end of your life.
Before 2007, this legal document was also known as:
In 2007, the best features of the living will form and the medical power of attorney form were combined to make it easier for the declarant to decide about their end-of-life medical care.
The use of a health care directive remains the same as that of its predecessors, and that is to regulate:
End-of-life health care the declarant wishes or does not wish to receive
After-death procedures, such as an autopsy or organ donation
Final disposition of the declarant's body
The document never was, and still isn't valid in cases, such as:
Suicide of the declarant/assisted suicide
Homicide
Euthanasia
The Four Parts of a Complete Georgia Advance Directive for Health Care
Every advance directive form in Georgia must contain the following four parts:
| Part | Purpose |
| --- | --- |
| Part A | This part requires you to provide information about your designated health care agent and two alternate agents |
| Part B | In this part, you can declare your wishes regarding medical treatment in case of inevitable death |
| Part C | This section regulates the designation of a guardian, if necessary |
| Part D | The final segment of an advance directive contains signatures of the declarant and two witnesses |
Who Should Receive a Copy of Your Georgia Health Care Directive?
Your health directive won't serve its purpose if it doesn't reach your:
Health care agents
Family members and closest friends
Health care provider and their employees
Always keep extra photocopies of your health directive with you and leave one in your medical record. Medical practitioners in the State of Georgia abide by and accept other health care forms (even those from other states), which is why you should keep at least one photocopy of your health directive with you at all times.
The Benefits of Having an Advance Directive in Georgia
Here are some of the reasons you may want to consider completing an advance directive form in Georgia:
You decide about the life-sustaining and after-death procedures performed on your body
You can inform your designated agent about your wishes so they can carry them out if you're unable to speak for yourself
Your family and friends can prepare for the worst-case scenario
Drafting a Georgia Advance Directive Was Never Easier With DoNotPay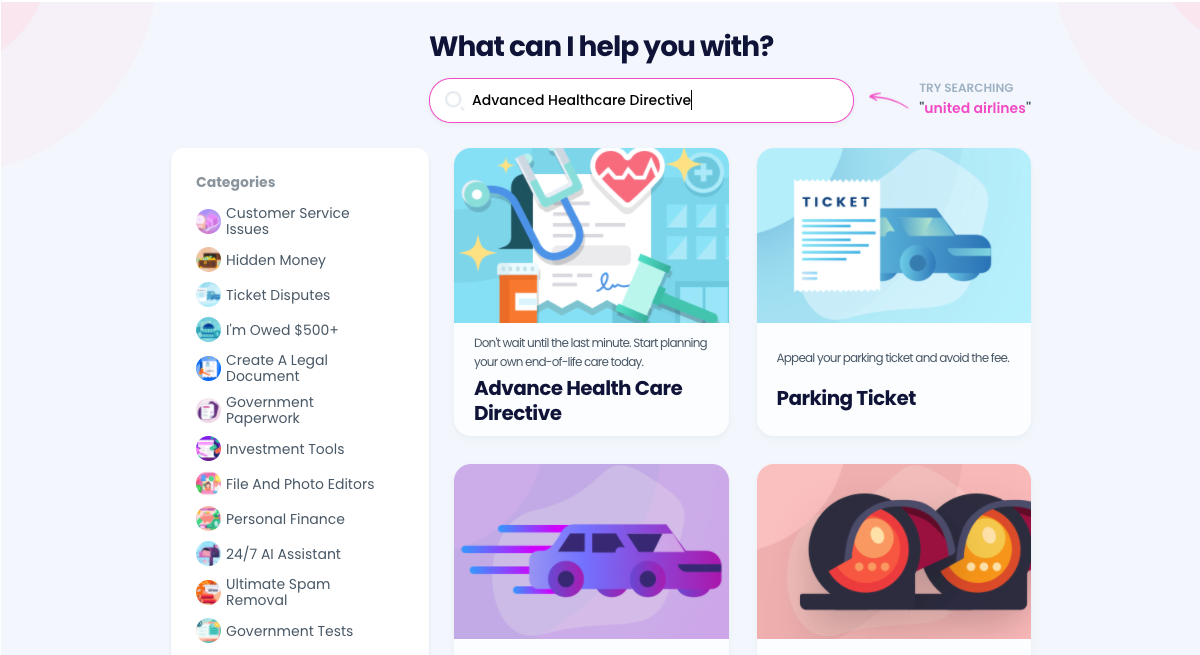 Our app requires the least bit of your time and effort to create a personalized advance directive in Georgia for you. Avoid pricey lawyer fees and don't wait for the worst to happen—prepare in time for any unfortunate outcome by following these steps:
Search for Advance Health Care Directive
Inform us about your wishes regarding end-of-life health care
Designate an agent and name your witnesses
Once you complete all steps, you will receive a custom document that ensures your wishes are respected.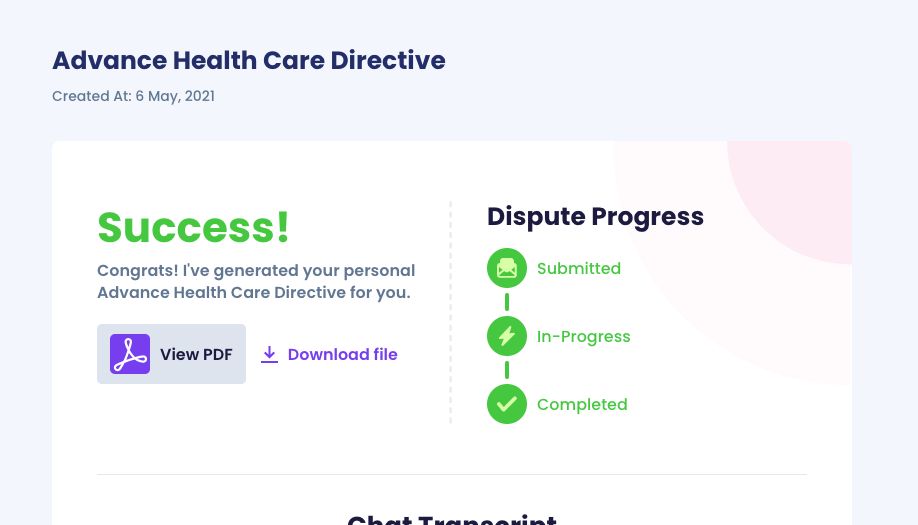 If you need more information about advance health care directives, check out our extensive knowledge base to find out:
With DoNotPay, There's Always a Way
There's so much more we can do for you! As soon as you sign up for our AI-powered app, you will have a myriad of nifty products at your disposal. We can do any of the following and more:
Help you get a tourist visa
Tired of Companies Mistreating You?
If you're sick of dealing with greedy companies, subscribe to DoNotPay—we'll assist you with any issue at hand.
If you want to get a refund, send an item return request, file a complaint, claim insurance or warranty, get a free trial without getting charged by using our virtual credit card, or put an end to robocalls, your AI-powered assistant will be there to help.
When you decide to take legal action, our app will support you along the way. Sue any company in small claims court worry-free!