The Ins and Outs of a General Power of Attorney
There are many types of power of attorney, and if you don't know which one covers your needs the most, we can help with that.
In this article, you can learn about the most important aspects of a general power of attorney. Aside from getting all the necessary information, you can use DoNotPay to create the most suitable general power of attorney document!
What Is the Power of Attorney?
A power of attorney (POA) is a legal document that gives the authority to an individual or organization to act on another person's behalf regarding important matters—property, finances, or medical and personal affairs.
Two parties are involved in creating a power of attorney:
Principal—the person granting a power of attorney
Agent or attorney-in-fact—the person authorized to make the decisions on the principal's behalf
A power of attorney is not only for mentally or physically incapable individuals. You can authorize a person to handle legal issues that you might find complicated or take care of financial and personal matters while you're away.
Power of attorney types differ from one another based on what they cover, how long they last, and what decisions they grant. Depending on your needs and preferences, you can choose between these types of POA:
General
General Power of Attorney Definition
A general power of attorney (GPA) allows the principal to appoint an agent who will handle their personal and financial matters while they're alive and competent. Also known as an ordinary power of attorney, a GPA is a perfect option when you need someone to make your decisions for a limited amount of time. People usually opt for a GPA when they have to travel or move out of the country for several years.
A GPA cannot be used when you need to authorize someone to act on your behalf because you're mentally or physically incapable. In those cases, you should choose a durable (lasting) power of attorney.
You don't have to register a general power of attorney. GPA becomes effective as soon as the principal creates and the agent signs it.
Special Power of Attorney vs. General Power of Attorney
With a general power of attorney, an agent is authorized to make a broad range of decisions—medical, personal, and financial.
Unlike GPA, a special power of attorney limits the decisions an attorney-in-fact can make, minimizing the responsibility you otherwise give to an agent. If you opt for a special POA, you can have more of them! You can appoint a family member to take care of your medical decisions and a business partner to act on your behalf when it comes to financial and business matters.
General Power of Attorney Example
You can create a general power of attorney on your own, but you have to check and meet your state's legal requirements first.
In the following table, you will find the steps you need to take to create a legally valid general power of attorney:
Steps
Explanation
Identify the parties
In this section, you should identify the principal and attorney-in-fact by providing information such as:

Names
Full addresses
Mutual relationship

Decide financial powers
GPAs are mostly used to delegate financial powers while the principal is away. That's why it's important to define them first. About half of U.S. states follow the Uniform Power of Attorney Act that outlines powers given to attorney-in-fact, including:

Gifts
Taxes
Real property
Stocks and bonds
Retirement plans
Insurance and annuities
Claims and litigation
Commodities and options
Tangible personal property
Personal and family maintenance
Banks and other financial institutions
Estates, trusts, and other beneficial interests
Operating of an entity of a business
Benefits from governmental programs, civil service, and military service

Delegate other powers
A principal can give as many powers to an agent as they want. The GPA should state what those powers are. The principal can also include additional special instructions in this section if they find it necessary
Provide additional information
Before finalizing the document, the principal should include the following information:

Interpretation and governing law
Effective date and termination
Third-party reliance

Get the general power of attorney notarized
You should check your state's requirements to see if the GPA has to be notarized. Even if it doesn't, it is best to sign your general power of attorney before a notary and two witnesses
File the letter
In some states, you are required to file the power of attorney letter with the court to make it legally valid
How To Make a Power of Attorney Using DoNotPay
Transferring powers to another individual or organization is not something you should take lightly. Making a power of attorney should be taken with precaution—you wouldn't want to make a mistake or forget an important section. That is why you should leave creating a POA to pros!
DoNotPay has a useful product that can draw up a power of attorney according to your preferences and state requirements!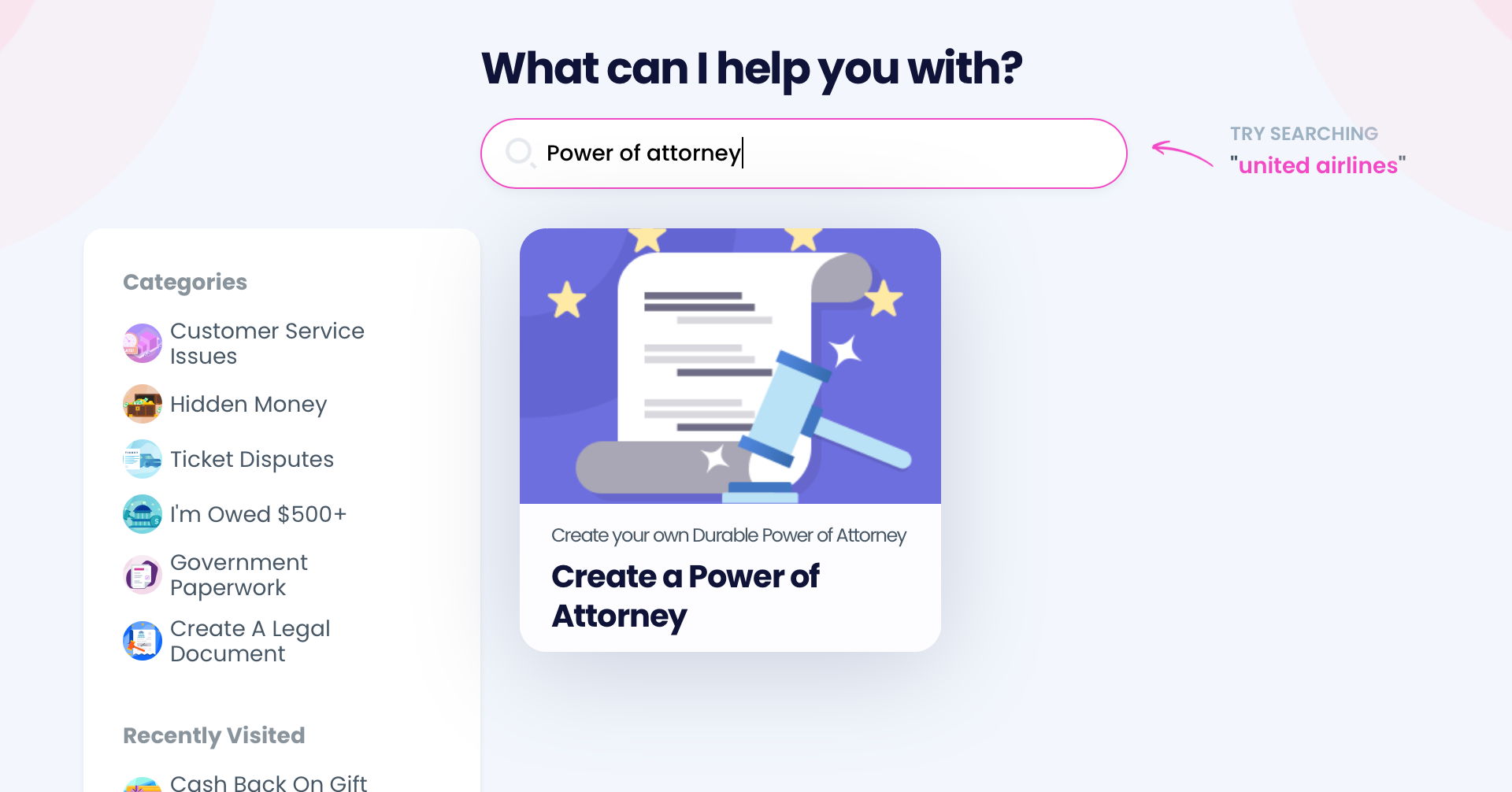 Here is everything you need to do:
Choose the Power of Attorney feature
Provide all the required information
We will make a customized POA and two notices for you and your agent to read before signing. After signing the POA, you can then get it notarized using DoNotPay's Notarize Any Document tool.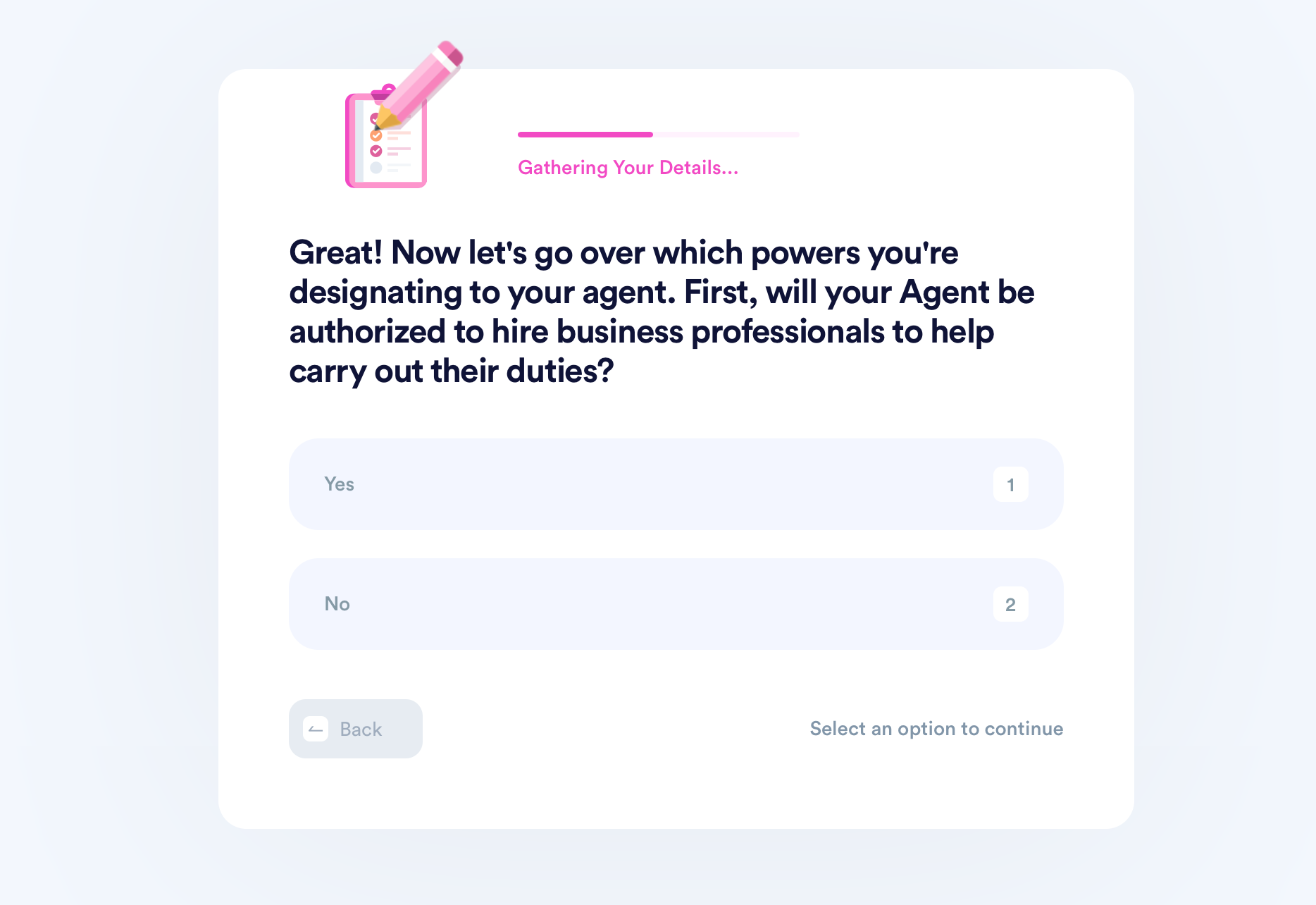 DoNotPay Covers All the Bases
From getting you ready for various government tests to helping you reduce your property taxes, DoNotPay offers valuable assistance with the tasks that make most people at least roll their eyes. Dealing with bureaucracy isn't fun, but it also doesn't have to be as difficult as it is.
Every product in DoNotPay's portfolio is designed to efficiently deal with a specific issue within a few minutes and without sacrificing your comfort. Take a look at the tasks our app can make much more simple:
A Little More Money Never Hurt Anybody
Hardly anyone would turn down a chance to earn some more cash. That's why DoNotPay not only protects your rights and interests but also offers great opportunities to improve your financial situation.
With our help, you can find paid clinical trials, locate your missing money in any state, get your cash back from used gift cards, or enter various raffles and win great prizes.