A Breakdown of the General Partnership Agreement
Entering into a business is both a joyful and stressful endeavor. Writing a contract for your general partnership is one of the crucial tasks you need to do before anything else. This is why it's important to familiarize yourself with what the general partnership agreement is, what it should include, and what happens in case of breach of contract. We'll guide you through it and provide many tips!
DoNotPay can also help you generate different business contracts and many other legal documents.
What Is a General Partnership?
Two or more individuals can found a general partnership. They agree to share all:
Assets

Profits

Legal liabilities

Financial liabilities
General partners are active members of the business, participating in management and decision-making aspects of the business, as opposed to limited partners, who are passive investors. Compared to corporations, general partnerships are more flexible and less expensive. They also don't require a lot of red tape.
If you're forming a general partnership, you are agreeing to unlimited liability, which means you and your partners can be sued for your business's debts and your assets are liable for seizure.
To make your general partnership official, map out your business, and prepare for any surprises in the future, you should create a written general partnership agreement.
A General Partnership Agreement Explained
A general partnership agreement is a written agreement between all business partners. As a partnership is a joint effort to create a business, your general partnership agreement should mirror that as well. All partners' roles, wishes, and interests should be included in the agreement.
Creating and agreeing on all the terms of the agreement is a stepping stone toward making your business a success.
What To Include in a General Partnership Agreement
When drafting your general partnership agreement, you should first take note of the essential info your document should have, such as:
Partnership info

—name, address, effective date, and business purpose

Partner info

—number of partners and their full names

Initial capital

—the amount of money partners are investing in the business

Ownership

—partners' ownership percentage

Profits and losses

—methods of dividing profits and losses of the partnership

Management roles

—partners' roles and decision-making methods
Aside from the key details the agreement should have, here's a detailed overview of what you need to include in your general partnership agreement:
What To Include
Explanation

Term of the partnership

It can be perpetual or have a specific term length

Governing law

The jurisdiction should be set for potential disputes

The governing law is typically the state law

Partnership formation and property

Time and ways new partners can join

Distribution of profits and losses

Methods of partner withdrawals

Dissociation

Terms of leaving the partnership

Partnership continuation or termination conditions
A general partnership agreement may also include clauses that are sometimes standalone agreements, such as:
Why Should I Enter Into a General Partnership Agreement?
Having a written general partnership agreement means having some sort of security. It's a blueprint of what you initially wanted your partnership to be like. You should review it with your partners to keep it up to date.
This agreement is a safety net for any potential issues that may arise. You and your partners will have a plan for managing various situations.
What if Someone Breaks the General Partnership Agreement?
To minimize your losses in the future, you should include a clause that outlines the options you have in case of a breach of contract. One of the options can be arbitration—dispute resolution without going to court.
If the agreement does not specify the remedies for breach of contract, you may opt for one of the following:
Negotiating a settlement

Filing a lawsuit against the partner who breached the contract 

Seeking liquidated damages

Expelling the partner from your partnership
Draw Up Various Legal Documents With DoNotPay
When you venture into a business partnership, you may require other legal documents besides the general partnership agreement. Relying on contract templates is not the best idea as they may not include everything you want your agreement to cover. This is where DoNotPay comes in! Generating legal documents with the help of our app is both fast and reliable.
Here's how the process works:
Open DoNotPay in a

web browser

Type in the legal document you need

Answer a few questions to customize your document
Your agreement will be ready in a flash! Feel free to make an unlimited number of the same type of legal document.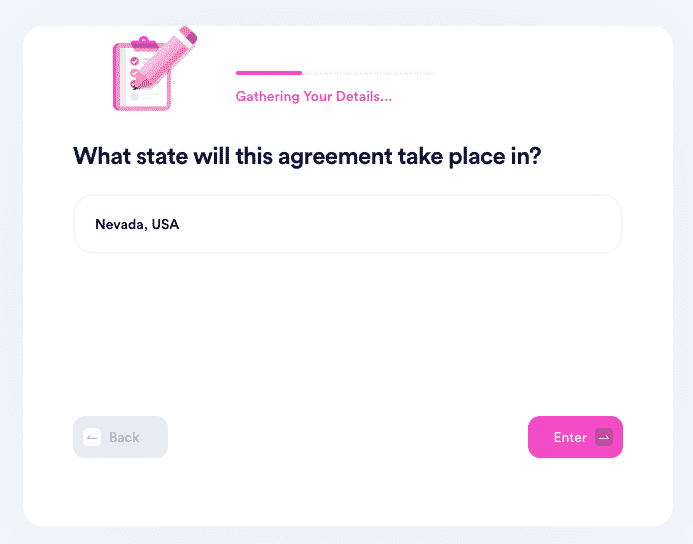 You can count on DoNotPay to draw up the following documents:
General business contract

Estoppel certificate

Intent to purchase real estate

Quitclaim deed

Promissory note

General affidavit

Residential

lease agreement
Learn About Different Legal Documents With the Help of DoNotPay
Our app can also be your guide and a source of info and tips on numerous legal documents. Familiarize yourself with and get answers to your questions about the following documents and many more:
Tired of Companies Not Taking You Seriously? Use DoNotPay To Put a Stop to It
If you're sick of companies that violate your consumer rights, DoNotPay is here to help. If you're struggling with reporting robocalls, requesting a refund, claiming any type of warranty, scheduling a DMV appointment, reporting spam text messages, or anything else, our robot lawyer will help you sue any firm or individual in small claims court.
With DoNotPay, you can also sign up for any free trial, cancel any subscription, avoid getting charged after your free trials end, and much more!
Want Your Money Back? DoNotPay Is Here To Help
Are you looking for your missing money? Do you want to get a refund for a delayed or canceled flight? Are you trying to flip the script on illegal robocalls and earn money off them? DoNotPay will assist you in dealing with any of these pesky issues!
We can also help you bypass phone number verification, sign up for clinical trials stress-free, ace any government test in a jiffy, and block spam emails for good.