Combat Gender Identity Discrimination in U.S. Workplaces and Defend Your Rights
Workplace discrimination has evolved over the decades since Title VII of the Civil Rights Act came into force in 1964.
The most significant rise in charges filed with the Equal Employment Opportunities Commission (EEOC) has been in the area of LGBTQ+ and gender identity discrimination.
If you are one of the people caught up in this rise, DoNotPay is here to help. We will bring you facts, advice, and options to fight gender identity discrimination in the workplace.
Is Gender Identity Discrimination Illegal?
Two significant court cases from recent years confirmed that it is illegal under federal law to discriminate against an employee based on their LGBTQ+ status. These cases were:
EEOC v. R.G. and G.R. Harris Funeral Homes (2018)
Barnes v. City of Cincinnati (2005)
EEOC v. R.G. and G.R. Harris Funeral Homes (2018)
Aimee Stephens was fired from her job at Harris Funeral Homes after she declared her gender identity as female and that she would dress as a woman at work.
The owners of the funeral parlor claimed they had not discriminated against her as they had only insisted she wears clothes appropriate to her biological sex. The Supreme Court found the employers guilty of discrimination under Title VII of the Civil Rights Act.
Barnes v. City of Cincinnati (2005)
Philip (now Philecia) Barnes failed the probationary period of police service with the Cincinnati Police Department (CPD) after she was subjected to exaggerated physical training demands. Barnes was living as a pre-operative transsexual female at the time.
The CPD was found guilty of discrimination for basing their training expectations on gender stereotypes and not taking Barnes' gender identity into account.
What Gender-Identity Problems Can You Encounter at Work?
The most common work-related problems you can experience related to your gender identity are as follows:
Documentation issues
Dress codes
Company facilities
Language use
Documentation Issues
If you transition while employed in a company, you may experience issues in changing your documentation to reflect your gender identity.
Dress Codes
Your employer must respect your wishes to dress according to the rules of your gender identity—the company cannot, as an example, require you to wear a male uniform if you identify as female or non-binary.
Company Facilities
Your employer must allow you to use the workplace restroom facilities that conform to your gender identity.
Language Use
Mistakes can happen, but if your employer or coworkers consistently fail to use gender-appropriate language, this could be interpreted as harassment.
What Do Transgender Discrimination Laws Prohibit?
Federal anti-discrimination laws prohibit the following acts in the workplace:
Type of Discrimination
Explanation
De jure discrimination
Any deliberate act or policy that aims to treat you differently due to your gender, such as:

Insistence on you wearing a gender-specific uniform
Reassigning you to a non-client-facing role after you transition

De facto discrimination
Passive or unintentional acts of discrimination despite anti-discrimination policies being in place, such as:

Acceptance of your gender identity but failure to provide access to gender-appropriate restrooms
Use of stereotyping in assigning roles and responsibilities

Harassment
Any form of harassment, including:
Wage discrimination
Any differentiation in pay, bonuses, or benefits that can be attributed to your gender identity
Retaliation
All forms of retaliation as a result of a complaint of discrimination, including:

Reassignment
Demotion
Sidelining
Termination
What Should You Do if You Are Experiencing Gender Identity Discrimination?
If you are being victimized at work due to your gender identity, you need to take steps to fight back.
Your first course of action must be to raise the matter internally by lodging an official grievance with your supervisor and your HR department.
If this has no effect, it's time to seek legal help from a discrimination lawyer and—most importantly—the EEOC.
The EEOC is mandated to help you fight gender identity discrimination by:
To kick-start the process, you need to file a written complaint—called a charge of discrimination—with the EEOC.
Filing your charge is often time-consuming and may require you to attend an in-person interview before the EEOC accepts your complaint. Thankfully, DoNotPay has a work-around that can help you file your charge of discrimination online in a flash!
DoNotPay Gets Your Charge Lodged With Minimum Hassle

DoNotPay is constantly on the lookout for ways to make your life easier—filing a complaint with the EEOC is yet another example!
You can lodge your charge of discrimination through DoNotPay in a flash—here's what you need to do:
Sign up with DoNotPay in your web browser
Go to our Fight Workplace Discrimination product
Fill in the details of your case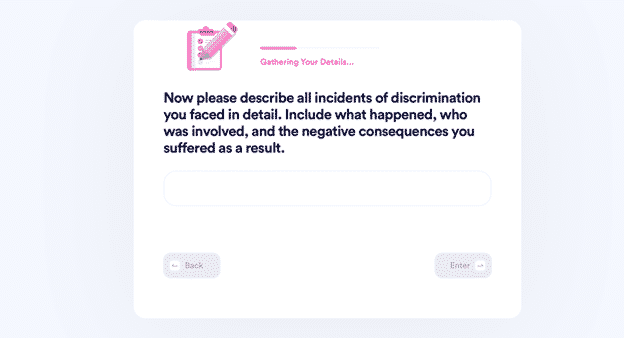 That's it! DoNotPay will forward your charge to the nearest EEOC office, and your fight for justice can begin!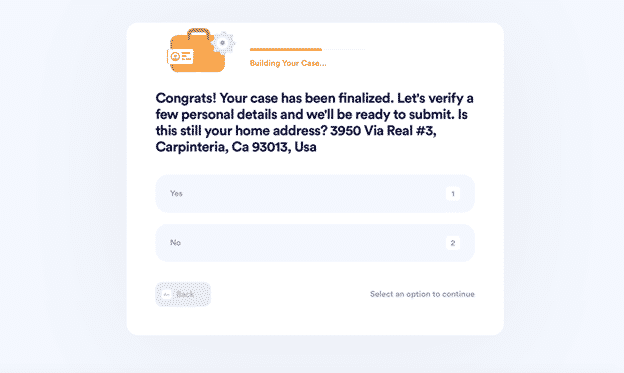 DoNotPay Covers All Types of Discrimination
Gender identity is one manifestation of workplace discrimination, which can also be based on:
Whatever form of discrimination you are suffering under, the EEOC and DoNotPay are here to help!
You Can Rely on DoNotPay's Can-Do Attitude
Facing discrimination in the workplace can make you feel drained and depressed, but DoNotPay will be that pick-me-up that you need. Our platform is built around the idea that everyone can and must fight for their rights, so we keep providing you with the most efficient tools and resources to do so.
We've found ways to cut out the middleman in numerous bureaucratic processes and support you by saving your time, energy, and money. DoNotPay can help you:
Accomplish More With DoNotPay
Our platform helps you protect your rights, deal with annoying administration, and increase your overall productivity. We strive to identify complicated procedures that plague everyone's existence and make them as simple as possible.
You can use our app to:
Long story short—DoNotPay does it all, and it's meant for everyone who could use some more help, time, and money!