Learn How Historical
Gender Discrimination Cases
Can Help You Fight for Your Rights
Gender discrimination has been the subject of legislation for fifty years, but several landmark cases were needed to iron out the wrinkles in the existing laws and ensure that gray areas were addressed.
Gender-based workplace discrimination is the second-most common charge received by the Equal Employment Opportunities Commission (EEOC), with 21,398 cases filed in 2020.
To help you see where you stand, DoNotPay has prepared a rundown of the most important recent gender discrimination cases—the better you understand the way the law works, the better you can fight your case!
What Is the Letter of the Law on Gender Discrimination?
Gender discrimination at work is prohibited by two federal laws passed in the 1960s:
The Equal Pay Act of 1963

Title VII of the Civil Rights Act of 1964
The Equal Pay Act of 1963
This act was the first law to entrench the concept of equal pay for equal work—meaning that remuneration for a woman must be the same as for a man if the work is the same.
Title VII of the Civil Rights Act of 1964
Title VII of the Civil Rights Act is the foundation for all employment discrimination cases and makes discrimination in the workplace due to gender or sex illegal.
Which
Gender Discrimination Supreme Court
Cases Had a Lasting Influence on the Way the Law Works?
If you are looking for legal precedents that could be relevant to your case, here are the most important examples of workplace discrimination based on gender to have been tried in U.S. courts:
Cleveland Board of Education v. Lafleur (1974)

Meritor Savings Bank v. Vinson (1986)

Johnson v. Transportation Agency (1987)

Faragher v. City of Boca Raton (1998)
Cleveland Board of Education v. Lafleur (1975)
The Ohio public school system instituted a policy of mandatory maternity leave for pregnant women employees. The Supreme Court ruled that this constituted gender discrimination, as the policy only affected female employees.
Meritor Savings Bank v. Vinson (1986)
Meritor Savings Bank was convicted of gender discrimination for allowing a hostile environment to exist as a result of harassment, particularly various forms of sexual harassment against female employees.
Johnson v. Transportation Agency (1987)
In the case, the court found that a county transportation agency had denied promotion to a qualified woman based on gender.
Faragher v. City of Boca Raton (1998)
In this landmark case, the City of Boca Raton was held liable for the actions of its managers in practicing gender discrimination against female employees.
What Are the Takeaways From These Cases?
The key points that these gender discrimination lawsuits clarified are as follows:
Key Precedent

Explanation

Discriminatory work policies

The Cleveland case demonstrated that rules in the workplace must apply to everyone, regardless of sex or gender

Employer responsibility

The Meritor and the Faragher cases entrenched the concept that an employer is responsible for the actions of its managers—if the managers practice discrimination, the employer can be held liable

Equal opportunities

The Transportation Agency case forced employers to install

policies

against gender discrimination in:

Hiring and firing

Wages

and compensation

Promotions and advancement
If you feel you are a victim of gender discrimination at work, you may want to check whether any of these cases have a bearing on your situation.
Who Enforces Anti-Discrimination Laws?
The EEOC monitors discrimination in any company with 15 employees or more.
It is mandated to receive charges of discrimination from employees and investigate them. If the investigation determines that there is not enough evidence to proceed, the charge will be dismissed.
If the EEOC finds enough evidence to support the allegations, it is empowered to launch a discrimination lawsuit against the employer. Alternatively, it may give the plaintiff written permission to contact a discrimination lawyer and file charges themselves.
How Do You Get Help From the EEOC?
If you are experiencing workplace gender discrimination and have tried—unsuccessfully—to resolve the issue internally, you need to file a complaint in writing with the EEOC.
You will need to document all the occurrences of discrimination you have experienced. The more corroborative evidence you can produce—such as emails, documents, voice notes, and similar—the stronger your case will be.
Once your complaint has been received, the EEOC will:
Send you a confirmation of receipt

Ask for more information

Inform your employer of the charge

Investigate the case
The easiest way to start the process is to let DoNotPay file your charge for you.
What Can DoNotPay Do for You?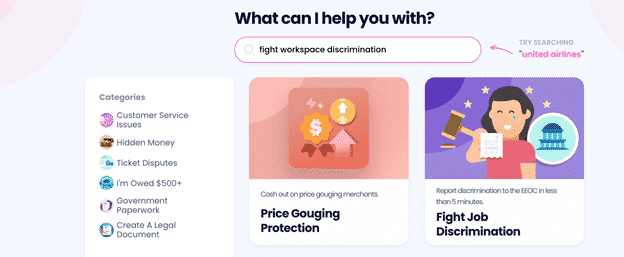 DoNotPay has developed a product to file your charge of discrimination in a few clicks—here's what you need to do:
Use your web browser to go to DoNotPay and

sign up

Use the search function to find our

Fight Workplace Discrimination

product

Follow the prompts and give us the details of your case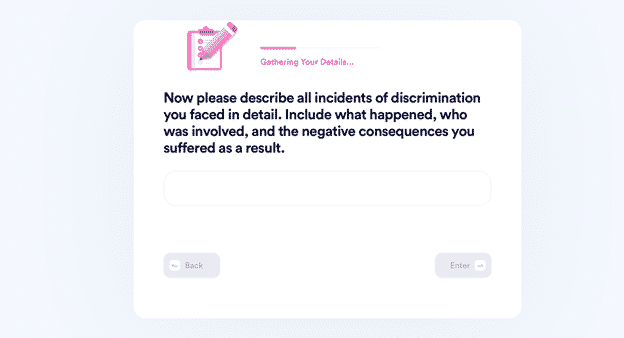 DoNotPay will file your charge with the nearest EEOC field office, and they will contact you from there.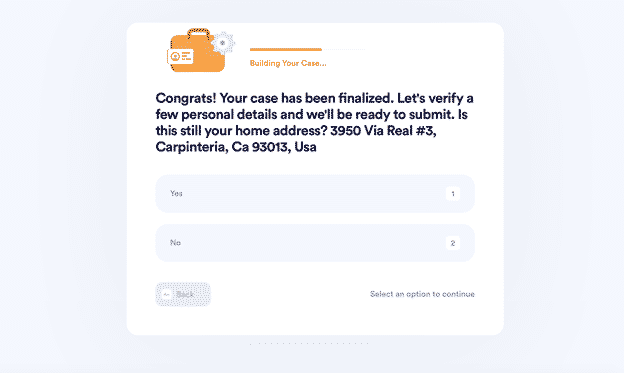 What Other Kinds of Discrimination Should You Be Aware Of?
Discrimination can take many forms, all of them illegal. You may see discrimination based on:
Whatever kind of discrimination you experience or witness, DoNotPay can help you in the fight against it.
DoNotPay Is on Your Side
Is the discrimination you're facing at work turning into proper harassment or even stalking? Are you considering suing your manager or colleague in small claims court? These unpleasant situations usually require lawyers, but they come with hefty fees.
DoNotPay is a powerful AI-powered app that can lead you through a small claims court case against anyone or serve them with a cease-and-desist letter. If discrimination turns into a hate crime, we can help you file for crime victims compensation or make a claim on your insurance.
Whenever you need to draft, fax, or mail legal paperwork, you can open our platform and use our fast and reliable tools for that. With our help, you can even have your documents notarized by an online notary!
The Multi-Purpose Platform That Makes Your Life Easier
If you've had enough of that toxic atmosphere at work and want to escape somewhere for a week or two, DoNotPay might turn out to be the perfect travel buddy. Our app won't do much when you're drinking cocktails at a beach, but it will do wonders if you run into problems. 
We can help you generate a child travel consent form, get airline compensation for canceled or delayed flights, jump the queue when you must contact customer service as soon as possible, or get a refund for all kinds of unsatisfactory purchases. 
Do you prefer road trips? No problem! DoNotPay can help you prepare for your driving test or schedule a DMV appointment without sweat!
From fighting discrimination to solving travel woes—that's how diverse DoNotPay's portfolio is!