Fast-Track Your GEICO Insurance Claims Process
The Government Employees Insurance Company (GEICO) is one of the largest auto insurers in the U.S. Besides vehicle insurance, it offers life, property, business, and various other types of insurance.
Filing insurance claims can be tough to handle on your own. This is why we have created our Claim Insurance feature. Not only do we streamline the claiming process, but we also provide tips and answers about any insurance company. Rely on DoNotPay, and you'll submit your GEICO insurance claim in a jiffy.
Is There an Easier Way to Submit Your
GEICO Insurance Claims
Filing insurance claims doesn't have to be too complicated. You can skip going through multiple channels to find the info you need before initiating the claiming process. With DoNotPay, you'll jump right in!
Visit DoNotPay in any and follow these steps to file your GEICO insurance claim:
Type in your insurance type

Provide a few details, such as your contact info and policy number

Tap on

Submit
After a few clicks on your part, we'll take matters into our own hands! Your AI assistant will get in touch with GEICO and submit your insurance claim. In case GEICO needs more info or wants to inform you about the status of the claim, you can expect a call or an email.
DoNotPay's help doesn't end here! If you have any questions about accident or unemployment insurance claims, we've got the answers! You can also turn to our app in case you want to know how long an insurance company has to settle a claim or whether you should call your insurance company after a minor accident.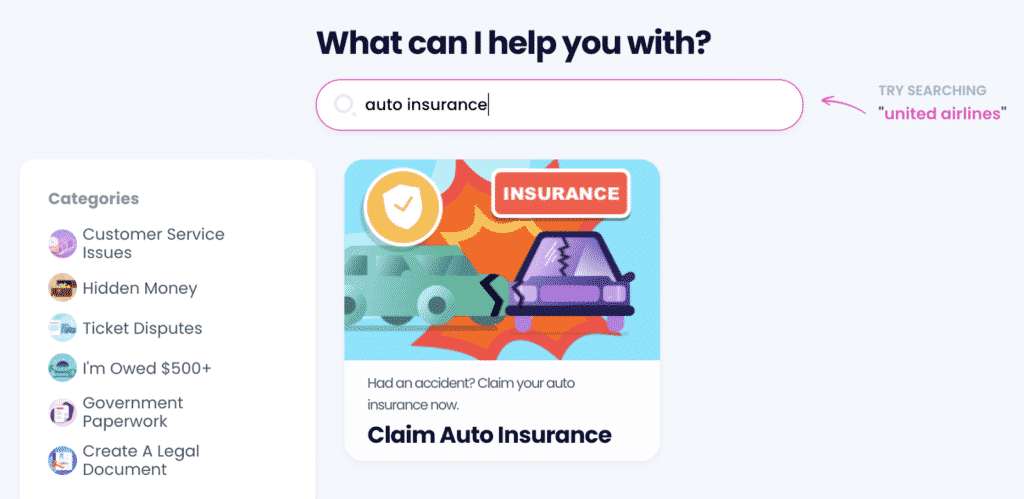 How Do I File
GEICO Insurance Claims
With the Claims
Department
?
GEICO offers two ways to report your insurance claim:
The company recommends filing insurance claims online due to the high volume of phone calls. Besides the main phone number and web page, there are different phone numbers you can call depending on your insurance type and GEICO partner.
Find the contact details you need in the table below:
Insurance
Contact Information

Property (homeowners, renters, condo/co-op, and mobile homeowners)

800-241-8098

Motorcycle

800-645-4827

Commercial vehicle (either with GEICO or

NICO

)

866-509-9444

Rideshare

Pet

Boat

Flood

Travel

Property

Business

Medical malpractice

Workers' compensation

Find your insurance and GEICO's partner on the Claims page and call the given number
If GEICO Rejects Your Claim, Appeal It With DoNotPay
In case GEICO denies your insurance claim, it should come as no surprise. Insurers try their hardest to avoid losing money. If there's even a tiny mistake or insufficient info on your end, your claim could get discarded. Check out our sample letters to insurance companies for claim settlements, and you'll get an idea about what details you must provide when reporting your insurance claim.
If GEICO or any other company has already rejected your claim, it's still not too late to get what you deserve. You have the right to know why a company denied your claim. More importantly, you can appeal the company's decision!
In true DoNotPay fashion, even filing an appeal can be fast and easy. Here's how to do it:
Access DoNotPay from your

Locate your insurance type

Select

Appeal Denied Insurance Claim

Provide the necessary info
We will put our cutting-edge technology to work, and GEICO will receive your appeal letter as soon as possible.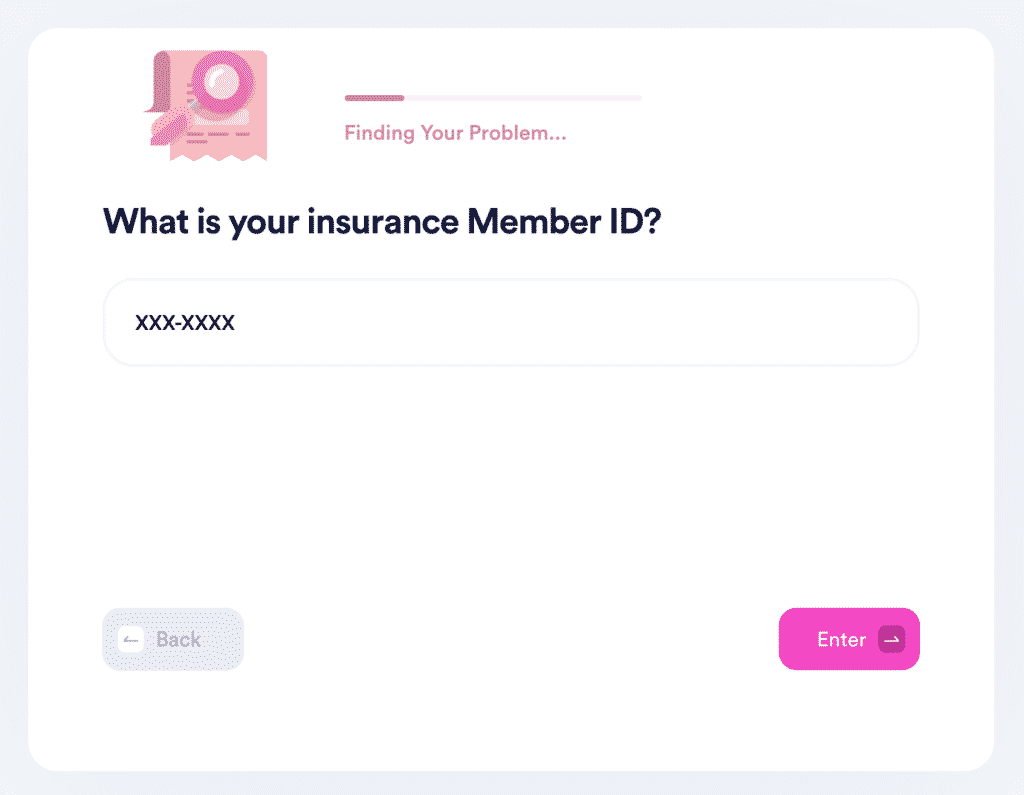 How Does
GEICO Insurance Claims Dep
artment Handle Insurance Claims?
Once you put things in motion by filing your insurance claim, GEICO gets down to business. Here's what the process looks like for GEICO car insurance claims:
Assigning a claims examiner to your case

Investigating your accident and claimed damages

Reviewing your insurance policy and coverage

Contacting other parties involved

Taking statements and gathering information (e.g., cause, injuries, and damages)

Evaluating all data

Resolving the claim
In case the other party sues you, GEICO provides an attorney who will represent you.
If your car needs repairs, you can take it to any repair shop or locate an Auto Repair Xpress facility and book your appointment. GEICO should give you a check to cover the repair costs once the investigation is complete.
Can I Perform a
GEICO Insurance Claim Check
?
If you haven't heard from GEICO in a while, you can track your claim online and see what is happening at any moment. Follow these steps to check your insurance claim:
Go to the GEICO website

Scroll down and click on

Track a Claim

Enter your

Claim Number

Type in your first and last name

Tap on

Log in With Your User ID and Password

or hit

Continue

Follow the prompts
DoNotPay Can Handle More of Your GEICO Issues
Our app can provide more assistance in dealing with GEICO. Here's what you can do with our help besides file and appeal your insurance claims:
Learn about

GEICO refund policy

Claim or find out more about

GEICO extended warranty
Tired of Companies Not Taking You Seriously? Use DoNotPay To Put a Stop to It
If you're sick of companies that violate your consumer rights, DoNotPay is here to help. If you're struggling with reporting robocalls, requesting a refund, claiming any type of warranty, scheduling a DMV appointment, reporting spam text messages, or anything else, our robot lawyer will help you sue any firm or individual in small claims court.
With DoNotPay, you can also sign up for any free trial, cancel any subscription, avoid getting charged after your free trials end, and much more!
Want Your Money Back? DoNotPay Is Here To Help
Are you looking for your missing money? Do you want to get a refund for a delayed or canceled flight? Are you trying to flip the script on illegal robocalls and earn money off them? DoNotPay will assist you in dealing with any of these pesky issues!
We can also help you bypass phone number verification, sign up for clinical trials stress-free, ace any government test in a jiffy, and block spam emails for good.