Recognize Gay Discrimination in the Workplace and Stand Up for Your Rights
Workplace discrimination can take many forms, some of them being so subtle that they are difficult to recognize.
DoNotPay presents recent examples of gay discrimination at work that can help you recognize illegal behavior and fight back!
What Is the Law on Gay Discrimination?
Under Title VII of the Civil Rights Act of 1963, discrimination is described as the different treatment of individuals or groups based on their:
Gender

Color
Nation of origin
Although LGBTQ+ status is not mentioned in the act, several recent landmark court cases have guaranteed that your sexual orientation is also protected from employment discrimination.
Federal law is boosted in some states by specific laws that legislate against gay discrimination.
The states that offer legal framework to cover gay discrimination are:
| | |
| --- | --- |
| Level of Legal Protection | States |
| Protection for sexual orientation and gender identity | Washington, Oregon, California, Nevada, Utah, Colorado, New Mexico, Minnesota, Iowa, Illinois, Virginia, District of Columbia, Maryland, Delaware, New Jersey, Connecticut, Rhode Island, Maine, New York, Vermont, New Hampshire, Massachusetts, and Hawaii |
| Extension of existing laws to include sexual orientation and gender identity | Alaska, Arizona, Texas, Kansas, Nebraska, Florida, Pennsylvania, Michigan, and North Dakota |
| Protection for sexual orientation | Wisconsin |
The following states do not refer to sexual orientation in their discrimination laws:
Idaho
Montana
Wyoming
South Dakota
Oklahoma
Arkansas
Louisiana
Missouri
Alabama
Georgia
South Carolina
North Carolina
Tennessee
Kentucky
West Virginia
Ohio
Indiana
In these states, you may have to use federal law to combat gay discrimination at work.
What Are the Symptoms of Gays and Lesbian Discrimination in the Workplace?
Discrimination does not have to be obvious, and it is rarely perpetrated openly.
Open discrimination by an employer—involving company policies and procedures that favor some individuals or groups over others—is called de jure discrimination and is easy to spot and fight.
More subtle forms of gay discrimination at work are:
Retaliation
De Facto Discrimination
De facto discrimination takes place despite anti-discrimination policies and involves supervisors or managers using discriminatory practices in the discharge of their jobs. Examples of de facto discrimination would be:
The company does not invite an employee's same-sex partner to a company function
A company policy provides medical insurance for opposite-sex spouses but excludes same-sex spouses
Harassment
Harassment comes in many guises, ranging from seemingly random banter to overt bullying. The most common forms in the workplace are:
Wage Discrimination
It is illegal to pay anyone different rates for doing the same work—this is entrenched in the Equal Pay Act of 1963. If you can link a pay differential to your sexual orientation, your employer may be guilty of discriminating against you.
An example would be your employer excluding you from bonus or commission schemes that are available to other employees due to your LGBTQ+ status.
Retaliation
Your employer is not allowed to retaliate against you if you complain about discrimination. There are many cases of employees complaining of gay discrimination and subsequently being demoted, sidelined, or even terminated, even though their employer claimed other reasons. All of these acts are illegal.
What Should You Do About Gay Discrimination at Work?
If you want to combat gay discrimination in the workplace, you will need to collect evidence.
The burden of proof is on you to demonstrate that your employer is guilty of discrimination, but you only need to justify your allegation on the balance of probability.
Your evidence should consist of the following:
Type of Evidence
Explanation
Record of incidents
You should make a written record of every incident of gay discrimination, including:

What happened and when
Who the perpetrator was
Who witnessed the occurrence

Official HR grievances
Even if it feels like you are repeating yourself, you should log a grievance with your HR department for every incident of gay discrimination. The grievance should be in writing, and you need to make sure it is filed officially
Company policy
Your company should have a written policy document setting out its stance on discrimination. This is important to establish whether your employer is implementing the company's policies or not
If you are unsuccessful in solving the issue internally, your next port of call is the Equal Employment Opportunities Commission (EEOC).
What Can the EEOC Do To Help You?
The EEOC is mandated to investigate your case and help you towards a resolution with your employer.
The resolution may consist of:
A dismissal of your case if the EEOC investigation reveals there isn't enough evidence
A suggestion to work towards a mediated out-of-court settlement
Written permission for you to start a private lawsuit using a

discrimination lawyer

Commencement of legal action against your employer by the EEOC
You cannot launch a private lawsuit without permission to do so from the EEOC, so your first action must be to file a complaint against your employer.
Filing your complaint or charge of discrimination can involve you attending an in-person interview at the nearest EEOC office. This could be many miles away, meaning the whole process becomes difficult and time-consuming.
Thankfully, DoNotPay is here to help—we can with the EEOC in a matter of minutes!
DoNotPay Gets Your EEOC Complaint Filed in a Flash
DoNotPay is your go-to resource for simplifying complicated and time-consuming tasks.
All you need to do to file your charge of discrimination is follow these steps:
in your web browser
Find our Fight Workplace Discrimination product
Fill in the details of your charge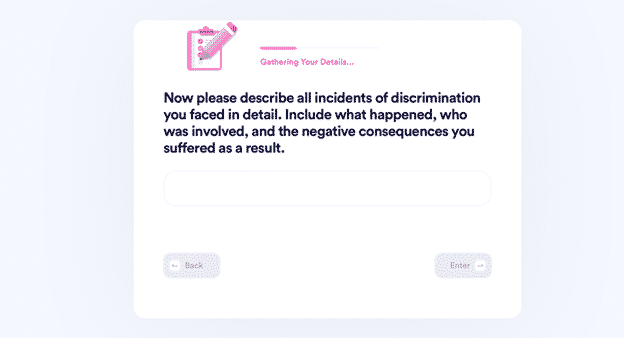 The rest is up to us—we will file your charge, and the EEOC will contact you to discuss your next steps.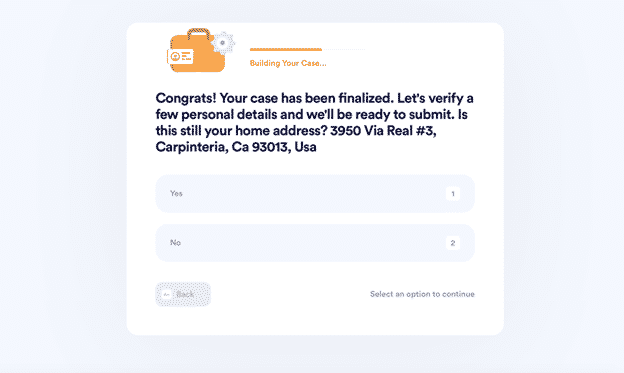 Money Doesn't Grow on Trees, but DoNotPay Is a Close Second
Experiencing workplace discrimination can affect the victim in more ways than one. Filing a report with the EEOC should help, but in reality, people sometimes lose jobs if they stand up to bullies.
If that happens to you, there are several ways how DoNotPay can help. Our app is a great resource for fighting injustice and administration, but it can also help you save and earn money if you lose your regular income:
We Can Help You Fight for Your Rights
DoNotPay was created to support anyone who feels small and helpless in front of big corporations, confusing administration, or downright criminals.
We can help you get a refund even when companies won't budge, stop email and text message scams, protect your work from copyright infringement, save yourself from stalking and harassment, or even take individuals or companies to small claims court!