You'll Always Know Where You Parked Your Car With a
Garage Lease Agreement
To be protected when leasing property of any sort, you need to make sure you have a legal document that guarantees it. In case you plan on creating a garage lease agreement, you can count on DoNotPay for the necessary info. Our app can also generate numerous contracts for you!
What Is a Garage Lease Agreement, and Why Is It Important?
The garage lease agreement is a contract used for renting out a space designated for parking a vehicle or storage use. This agreement is made between a lessor/landlord and a lessee/tenant. The initiative for drafting it can come from either party. 
These agreements are important to garage owners because the clauses stated in the document protect them and their property. If the tenant doesn't abide by the rules and the landlord needs to take the case to court, they can always provide this contract as evidence.
The contract also protects the tenant in case a landlord decides to evict them before the agreed time without a valid reason.
What You Need To Include in a Garage Lease Agreement
Similar to other written agreements, a garage lease agreement needs to include specific information about the lease. This is why using free contract templates you can stumble upon online is not a great idea. 
Your agreement needs to be original and tailored to your needs. DoNotPay will show you how you can write a contract that will keep your interests safe. Both parties of the agreement need to accept the terms before signing it. You will need to include the following sections:
Lessor and lessee contact information

—Names, email addresses, physical addresses, and phone numbers of both parties

Duration of the lease

—Contract start and end dates

Payment and fees

—Security deposit details, monthly rent, and other expenses that may come up

The purpose of the lease

—What the space will be used for

Number of people who can use the space

—How many people have the right to use the space and who they are

Area description

—Details about the garage space

Termination of the agreement

—The conditions under which the parties can end the agreement prematurely
Possible Reasons for Terminating the Agreement
Even if your agreement states the terms of renting the garage space clearly, the lessee could breach the contract. As a lessor, you may consider the agreement void if the lessee is:
Using the space for a purpose not agreed on in the contract

Bothering other users of the garage

Performing illegal activities in the provided space 

Subletting the space to someone else without your permission

Using the space for longer than agreed on
As the owner of the garage, you will first need to inform the lessee that they are no longer welcome. After that, you should tell them how much time they have to vacate the garage space. If the lessee refuses to cooperate, you may need to bring in law enforcement. 
You may need to go to court and file a lawsuit, in which case the lease agreement will be useful evidence.
DoNotPay Can Draw Agreements for You in a Heartbeat
You can't afford a fancy lawyer, but you need a legal document? Thinking about creating one on your own? Think no more. DoNotPay is here to help you tackle this task in no time. You only need to follow these easy directions:
Open DoNotPay in a

web browser

Type in

the name of the document you want to create

Enter some personal information, such as your name and address
You will get a personalized agreement that fits all your requirements. Bear in mind that contracts are not enforceable until all parties sign them. Some even require you to get them notarized.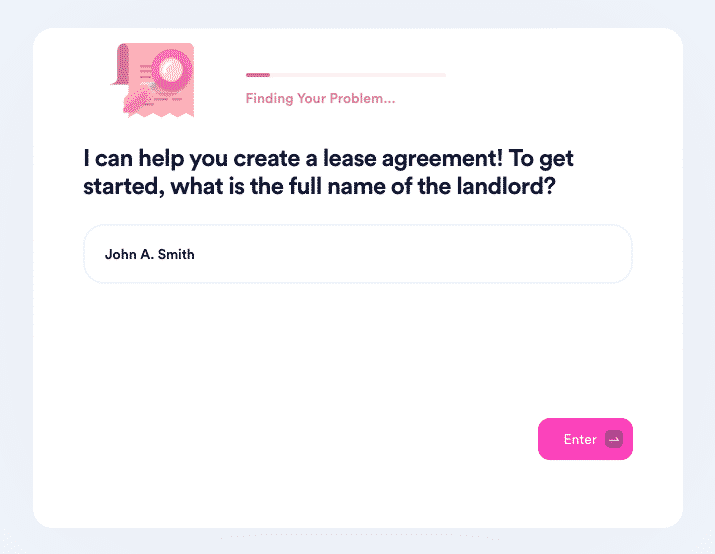 DoNotPay Has an Extensive Database of Legal Agreements
DoNotPay has made sure you have a wide array of choices when it comes to creating legal documents with our assistance. Take a look at the table below to see what we can help you with:
Real Estate
Business Contracts
Other

Estoppel Certificate

Quitclaim Deed

Intent To Purchase Real Estate

General Business Contract 

Promissory Note

General Affidavit
We also have all the information you need to know when creating these documents:
DoNotPay Is the Champion of Customer Advocacy
If you've never experienced an issue with a purchased item, you should consider yourself extremely lucky. When shopping goes wrong, you usually have to brace yourself for unpleasant and annoying exchanges with customer support centers. 
DoNotPay is here to make exercising your consumer rights easy. Long holds when calling customer service reps and incessant marketing spam emails can stay in the past. We will help you avoid irritating text messages from online retailers by teaching you how to bypass phone verification when signing up. 
Ask for refunds, claim warranties, fix credit card issues, or sue retailers in small claims court—these are just some of the services our platform provides. 
With DoNotPay, you can start free trials for new services risk-free. If you want to get out existing subscriptions, canceling them has never been easier!
Wait, There's More!
Our full portfolio includes features as diverse as contacting inmates and requesting college application fee waivers for students from low-income families. 
If you have a problem with bureaucracy, the chances are DoNotPay knows how to fix it with your minimal involvement. 
Leave the grunt work and unnecessary expenses behind. We will help you pass various government tests with flying colors, find unclaimed money in all states, or get out of parking tickets before you know it!