Everything You Need To Know About Filing a GAP Insurance Claim Easily
Guaranteed Asset Protection (GAP) is an optional add-on car insurance. If you get into an accident, it should cover the difference between what you owe for a car loan or lease and the car's actual cash value (ACV). The process of filing a GAP claim can be challenging, and that's why DoNotPay is here to help. You can avoid confusion and mistakes while filing your insurance claim if you use our platform.
What Is GAP Insurance?
GAP insurance is an addition to your typical auto insurance, which you can purchase from any car dealership or insurance company. When you lease a new car or buy one, it's wise to consider purchasing GAP insurance because your car loses its ACV immediately after leaving the dealership.
Your regular auto insurance won't cover the costs of what you still owe on your lease or auto loan in case of a car crash because the value of your car decreases in time. This is an issue because you'll still have to pay for your lease, even if your car is totaled.
If you have a GAP insurance policy, it will cover the cost of your loan while your car insurance will cover the damage to your vehicle.
It's important to know what GAP insurance covers, so check out the table below for detailed information:
Covered
Not Covered

Fire

Flood

Theft

Accidents

Tornado

Vandalism

Hurricane

Repairs to your car

Costs of a rental car

Down payment for a new vehicle

Debts due to financial hardship

Extended car warranties for used

and new cars

The reduced value of your vehicle after the crash
How To File GAP Insurance Claims by Yourself
To file a GAP insurance claim, you'll need the following documents:
Your original purchase document

Payment history report from your lienholder

The GAP insurance policy contract

Copy of the police report

The file about your ACV issued by the insurance company
When you collect all the necessary documentation, you can follow the steps below to file your GAP insurance claim:
Contact your GAP insurance provider

Give them your information and everything else that's required

Explain the issue in detail

Follow the company representative's instructions
Since information about claiming GAP insurance is scarce, you can use DoNotPay's help to go through this process smoothly. If you opt for the world's first robot lawyer app, you will claim your GAP insurance in the blink of an eye!
How To File a GAP Insurance Claim Effortlessly With DoNotPay
Instead of surfing the net for ages in search of explanations, compiling all your documents, and talking to company representatives over the phone for hours, you can use DoNotPay to go through this process hassle-free.
Our robust platform can help you file an insurance claim in under five minutes. If you use DoNotPay, you'll avoid errors that might contribute to a rejection of the claim. Our chatbot will make sure that we have all the essential information to generate a strong claim letter.
You can access our app from any web browser. Follow the instructions below to file your GAP insurance claim via DoNotPay:
Enter

GAP Insurance Claim

into the search box

Provide us with the name of your company, policy number, and other relevant info

Give the details about the accident and explain why you're filing the claim request

Submit your claim
We will do the rest of the work on your behalf—create the insurance claim and send it to your insurance company. If the company has any additional questions, it will get in touch with you directly.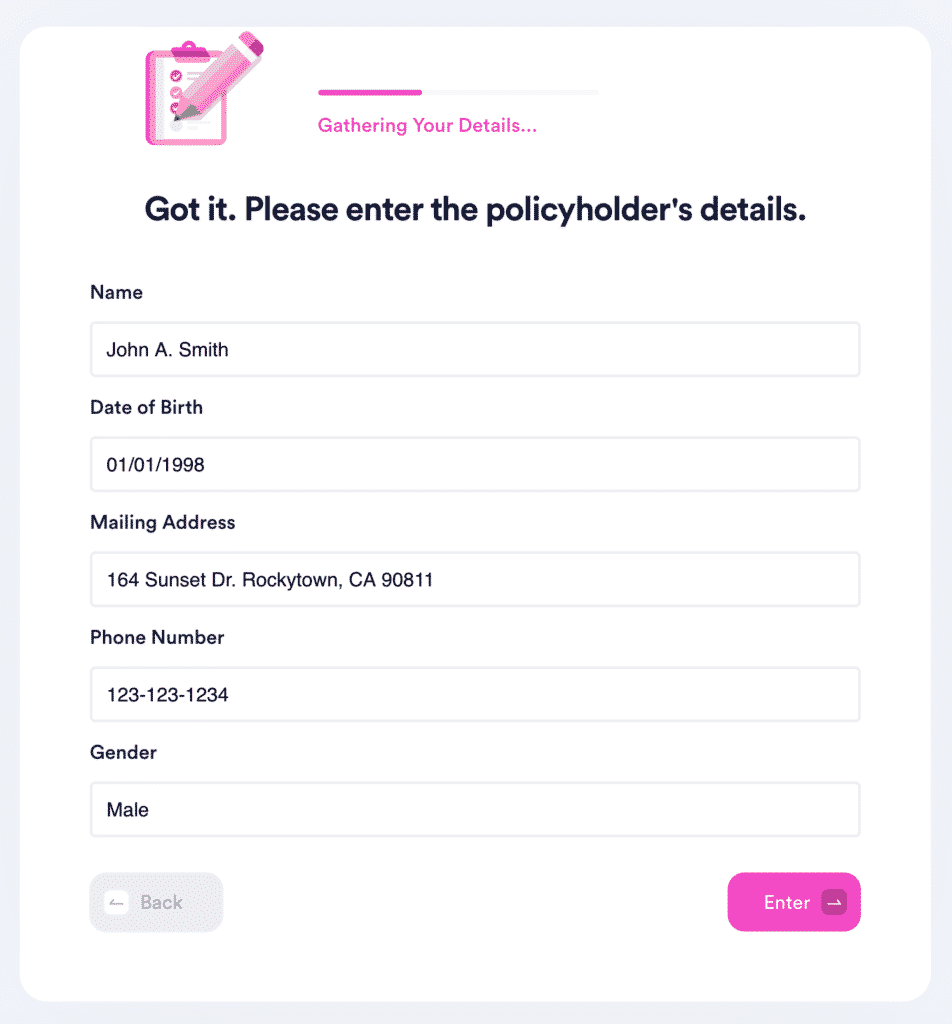 DoNotPay Can Help With Other Types of Insurance Claims
DoNotPay is always on its clients' side. We want to provide you with the simplest way of dealing with bureaucratic processes. Our platform can help you file three types of insurance claims:
If your property gets damaged by a flood, hurricane, hail storm, or another natural disaster, we can help you file an insurance claim with your company.
There's another type of claim you can submit with our help—if you've recently lost your job, you have a right to file an unemployment insurance claim. DoNotPay is here to help you! All you need to do is open your web browser and start the process!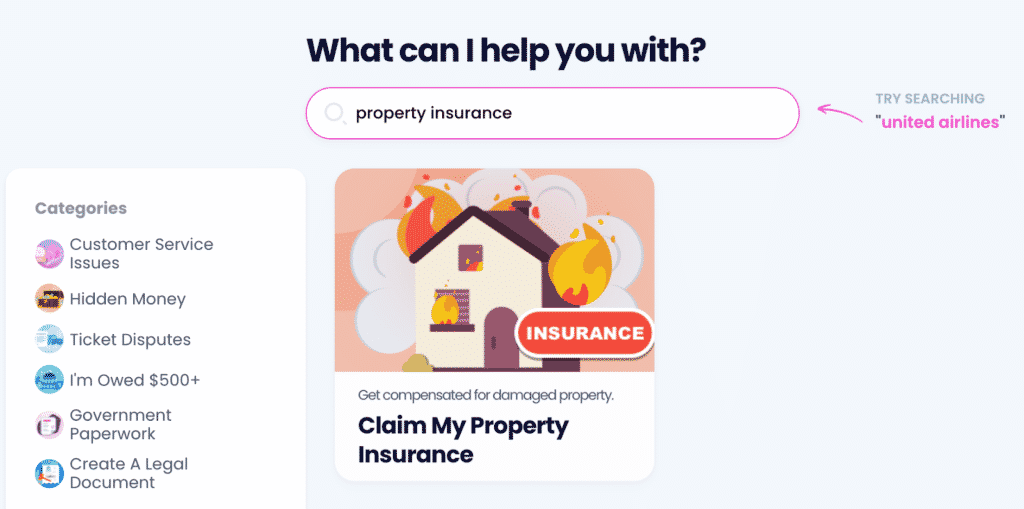 Appeal Rejected Insurance Claims With DoNotPay's Handy Feature
With DoNotPay as your personal virtual assistant, you can file an appeal against any company that denied your insurance claim. Companies tend to reject claims because they want to drag out the process and make you give up. Don't fall for this trick—use DoNotPay to fight back instead.
Our app will help you write the best insurance appeal letter, which will raise the possibility of you getting the money you deserve.
DoNotPay Helps You Fight for Your Right 
Do you feel like a company has wronged you? Don't let them win—sue them in small claims court with our assistance! Our app will prepare all of the necessary documentation and help you win the case stress-free!
Apart from helping you sue any firm or individual, DoNotPay also makes it easy for you to set up a DMV appointment, deal with any credit card issue, start a free trial without your credit card info, protect your work from copycats, and much more!
Sign up for our app to take advantage of all its features!
Tired of Bureaucratic Hurdles? Our App Will Step In
As soon as you sign up for the world's first robot lawyer, you won't have to worry about any administrative mess you find yourself in. We can help you resolve anything from reporting stalkers, robocalls, spam emails, and spam text messages to applying for clinical trials in any U.S. city.
With our AI-powered app's assistance, you can even get a refund from any merchant or airline you can think of. We can also help you save money by resolving your problems with high bills, canceling any subscription you no longer need, or assisting you with parking ticket appeals.