Fulton County Property Tax Appeal Explained
Georgia citizens who own a house or any other taxable property pay more than $1,500 per year in taxes. If you live in Fulton County, this number grows up to $2,901, with an average property value of $290,400, which is more than in any other county. For many people, these expenses are too high.
Fortunately, you can appeal your property tax assessment to reduce your taxes. Follow our guide to find out how Fulton County property tax appeal works and how DoNotPay can help you submit it in no time! 
Ways To Lower Your Taxes in Fulton County
With the unfavorable property tax situation in Fulton County, many people are searching for ways to lower their tax bills as much as possible. Here are some tips that may help you cut these expenses:
Accompany the assessor during the evaluation of your property to keep up with their observations and make sure they note the right information

Point out to any malfunction or defect on your property

Avoid any home improvement projects before the assessors evaluate your property—each renovation may increase your property value

Check your tax records and see if there are any inaccuracies to report

Find out whether you qualify for the available

property tax exemptions

proposed by the state

Appeal the assessor's decision if you think it's unfair or misleading
How To Appeal Fulton Property Tax Assessment
Fulton County sends annual property tax assessment notices to residents, stating the estimated market value of their home or land. The amount depends on numerous factors, such as:
Location 

Overall state

Size of your house and the land it sits on

Value of the similar surrounding houses
Once you receive a notice and check the assessor's estimate, you have 45 days to appeal the Fulton County property tax assessment if you are dissatisfied with it. You can do it in three ways:
Arrange a hearing before a Board of Equalization

Ask for a non-binding arbitration that will exclusively focus on your valuation

Request a meeting with a Hearing Officer who will consider your appeal
The authorities may need a few months to process your appeal and reconsider the assessment. They keep the right to send you a temporary tax bill you are obliged to pay. 
Not Happy With the Estimate Your Assessor Made? Appeal It With DoNotPay
Dealing with bureaucratic tasks while appealing the tax assessment may be overwhelming. The Fulton County official website provides some information on the appeal process, but it may be insufficient for people who face this procedure for the first time. 
DoNotPay has found a way to simplify the Fulton County property tax appeal process by creating a special appeal guide for you! With a few answers to our chatbot's questions, you will get all the necessary instructions on:
Choosing the best appeal method

Preparing the required supporting evidence and documentation

Communicating with your local accessor to find a mutual solution
To get our manual, proceed as follows:
Visit DoNotPay in your preferred

web browser

Navigate to the

Property Tax

feature

Disclose more info on your property
With the document we will generate, your appeal procedure will be a piece of cake!
Let DoNotPay Guide You Through Your Property Tax Exemption Application
Besides helping you get the property tax appeal service, DoNotPay identifies all the property tax exemptions you qualify for. Our guide gives you the best advice on applying for the most common tax reliefs, such as: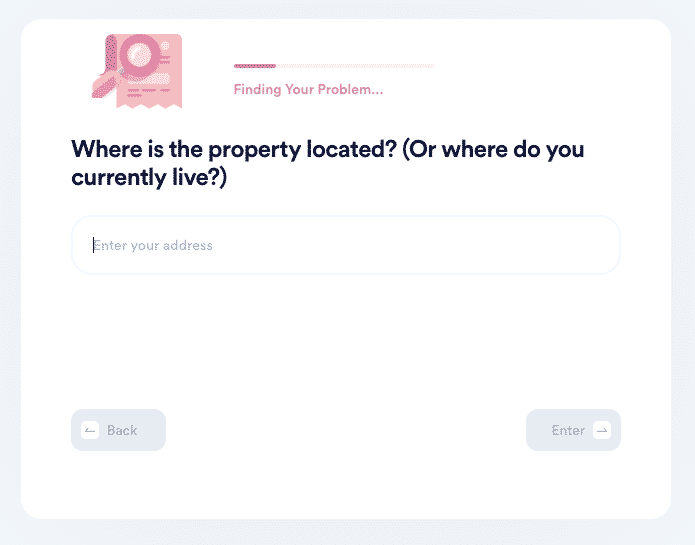 Check out our knowledge base for more information on property tax exemptions in Ohio, Idaho, Arizona, Virginia, Kentucky, Wisconsin, New Jersey, and other U.S. states.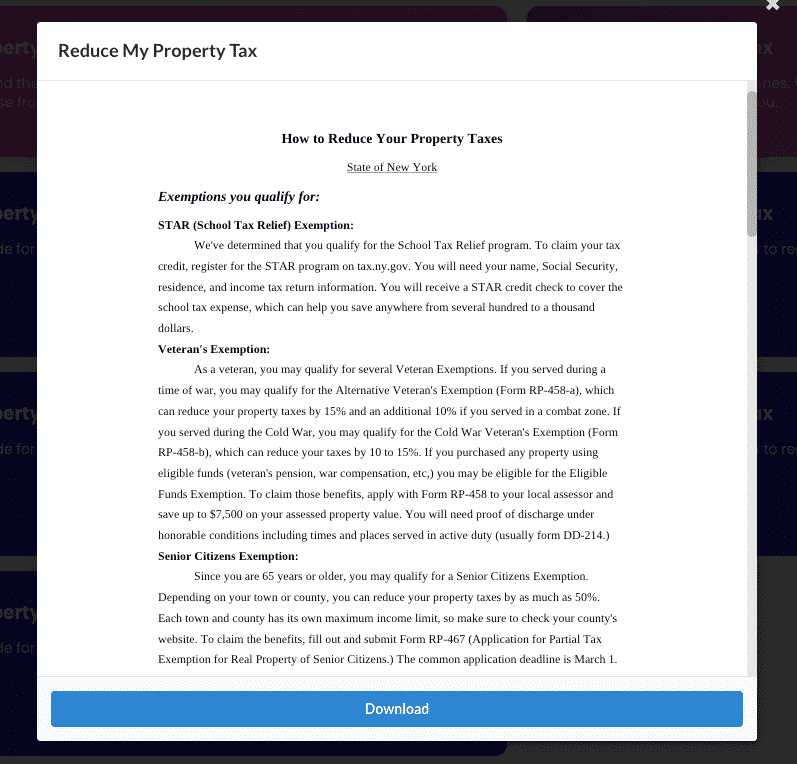 Property Taxes From A to Z
Property tax is the amount any property holder must annually pay to the local authorities. Most states propose specific terms regarding tax regulations and assessment, but the general rules remain the same. Regardless of the location, the state or county authorities invest all the money collected from property taxes in other vital services, such as:
Hospitals

Public safety

Law enforcement

Road constructions

Schools and libraries

Recreational facilities

Park districts and green areas

Other general government services
The median home value and tax rates vary from state to state, and they are crucial details the assessors need to calculate your annual tax bill amounts. You can see the list of the states with the lowest or highest property tax rate below:
States With Low Property Tax Rate
States With High Property Tax Rate

Louisiana—0.18%

Hawaii—0,26%

Alabama—0,33%

Delaware—0,43%

District of Columbia—0,46%

West Virginia—0,49%

Illinois—1,73%

Nebraska—1,76%

Wisconsin—1,76%

Texas—1,81%

New Hampshire—1,86

New Jersey—1,89%
Our Robot Lawyer Gets Rid of All Admin Tasks
What makes DoNotPay so unique is that it helps you get back what is rightfully yours in many different ways. You can appeal parking tickets, find unclaimed money, demand a refund for canceled or delayed flights, get help with bills you cannot pay, or get your college application fees waived with the help of our platform.
If you're sick and tired of annoying robocalls, spam emails, copyright violations, text message spam, or stalkers and harassers, DoNotPay can assist you in getting rid of them once and for all.
DoNotPay Can Help You Save Money
Have you ever subscribed to a service's free trial you forgot about after a few days? Many Americans have, which is why DoNotPay has a free trial feature that will help you avoid getting charged once the trial is over.
If you want us to scan all your active memberships and help you not pay for the ones you don't use, connect your email address or credit card to DoNotPay. Our cancel feature will ensure that you don't waste your money on subscriptions you don't even remember exist.
If a merchant charges you once the free trial is over, though, you can use our robot lawyer to request a refund and skip the phone queue when doing so.
In case a company refuses to grant you a refund, you can also use our app to sue them in small claims court.