Fulton County Jury Duty—How Often Can You Serve as a Juror?
Serving as a juror is important as it ensures every American has a fair and unbiased trial. We will tell you all about Fulton County jury duty. How often can you be summoned, and how does jury duty work? We are here to explain everything and help you prepare for the proceedings by drafting a mistake-free leave request letter in your stead.
Fulton County Jury Duty Briefly Explained
In Fulton County, eligible jurors get selected at random. You are eligible if you are:
A U.S. citizen
At least 18 years old
Fluent in English (so you can understand and discuss the case)
A resident of Fulton County and have resided in it for at least six months before serving
Not convicted of a felony
When you show up at the court for the jury selection day, you will be asked a series of questions. The answers you provide will help the officials determine whether you qualify for jury duty and whether you can give an unbiased opinion.
In case you are selected, you will be informed about the trial date and must be available to go to court for the entire duration of the trial.
How Often Can You Be Summoned for Jury Duty in Fulton County?
You can be called for jury duty in Fulton County only once per year. If you have been summoned again within the same year, you can be exempt if you contact the court.
Can You Be Exempted From Jury Duty in Fulton County for Other Reasons?
In Fulton County, you may be excused from jury duty if you are:
Older than 70
Permanently mentally or physically disabled
Not a resident of the county during the time of service
Not a U.S. citizen
The sole caregiver of a six-year-old (or younger) child
The sole caregiver of a person who is older than six but is permanently disabled
A homeschool teacher
What To Wear for Jury Duty
The dress code for jury duty in Georgia is business casual. You must not wear:
Hats
Shorts
Halter or tank tops
Clothing that exposes the midriff
Beachwear
Clothing with inappropriate graphics
What Happens if You Skip Jury Duty in Fulton County?
Serving jury duty is obligatory by law. If you skip it, you will be held in contempt of court, which means that you may have to pay a fine, serve jail time, or both.
While mandatory, jury duty in Georgia usually lasts for only one week, and you'll even get compensated for your service.
How Much Do You Get Paid for Jury Duty in Fulton County?
Every state and county has different compensation laws. For more details about jury duty pay, check out the table below:
Fulton County Juror Pay
Federal Juror Pay
In Fulton County, jurors get paid $25 per day and receive another $25 to cover various expenses, such as:

Parking fees
Lunch
Transportation fees

Federal jurors receive $50 per diem
What if Your Work Hours Overlap With Your Jury Duty?
By Georgia law, employers can't fire their employees and are required to provide unpaid time off for reporting to jury duty. Still, you should prepare your employer for your absence by sending them a leave request letter.
If you don't know how to write this key document, and leave all the work to us!
Use DoNotPay and Get a Flawless Leave Request Letter Hassle-Free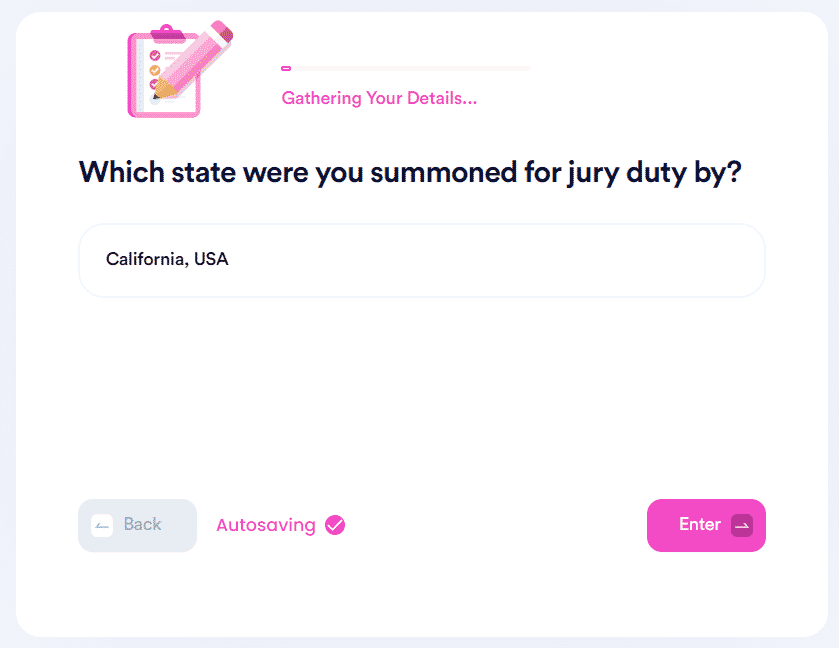 Want to send your employer a leave request letter so they can verify your jury duty? and do it without effort! We'll draw up the document for you, and you can choose whether you want us to:
Forward it to your employer
Send it to you so you can print it
To use this product, all you have to do is:
Locate our Request Jury Duty Leave tool
Answer our chatbot's questions
Upload a photo of your jury summons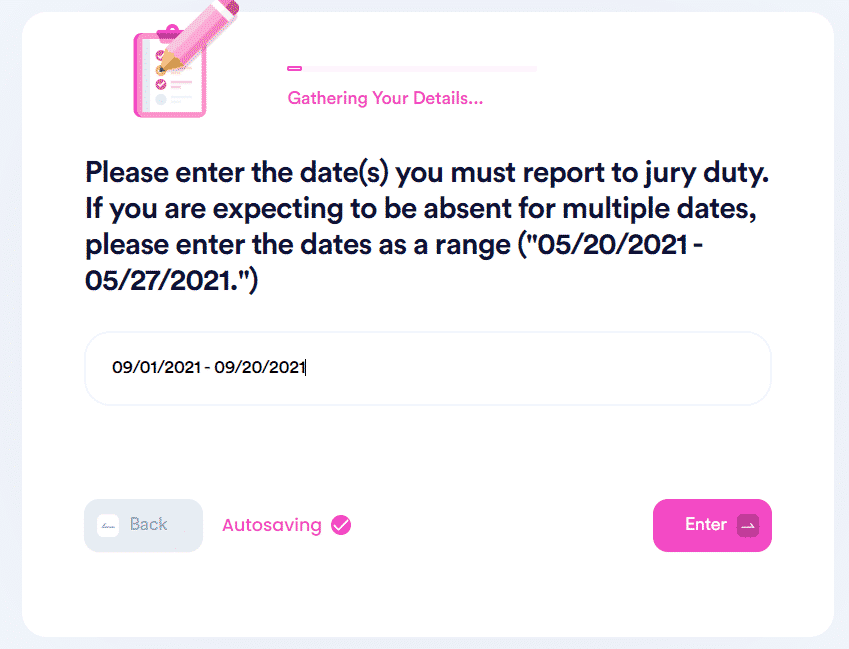 Protect Yourself With DoNotPay's Help!
In case you're looking for protection from harassers and stalkers, you can count on our help. Even if you're dealing with discrimination at work or noisy neighbors, our app can solve your issues. When spam is what's bothering you, our AI-powered app will put a stop to it. Email spammers, texters, and robocallers won't be able to reach you.
What if you need to take the issue to court? The world's first robot lawyer will be by your side. With our help, you can file a complaint or sue anyone in small claims court.
If you're wondering whether there might be a sex offender in your area, we can help you find out. Use our app to perform a sex offender search and get updates.
A Pocket-Sized Assistant Is All You Need
Is your to-do list getting longer and your paperwork piling up? DoNotPay swoops in! We'll cut through numerous bureaucratic tasks so that you can sit back and relax.
Here's what we can assist you in: