How To Prepare Fulton County Divorce Forms
Getting divorced without a lawyer has many perks and a few downsides. One of the disadvantages is that you have to manage every part of the process on your own—from gathering divorce papers and negotiating the terms with your spouse to representing yourself in court.
That's where DoNotPay steps in! In this article, we show you what Fulton County divorce forms you need for a quick divorce in Georgia!
Do You Qualify for a DIY Divorce in Fulton County, Ga?
You don't need a divorce lawyer in Georgia if you have an amicable relationship with your spouse. There are certain requirements you should meet, though. Consult the following table for an explanation:
Requirements for Uncontested Divorce in Fulton County, GA
Explanation
Proving residency
To get a marriage dissolution in Fulton County, you have to prove that either you or your spouse has been a Georgia resident for at least six months before filing for divorce
Providing no-fault legal reasons for divorce
Georgia recognizes both at-fault and no-fault grounds for divorce. Uncontested divorces require having no-fault grounds. To get a low-cost, simplified dissolution, you must state that the marriage is irretrievably broken without the chance of reconciliation
Reaching an out-of-court divorce settlement with your spouse
To get an uncontested DIY divorce, you and your spouse have to negotiate and agree on important matters without going to court. Some of these issues include:

Custody
Parenting plan—visitation and parenting duties
Division of the property
Where To Find Fulton County Divorce Papers
Various websites offer online divorce services that consist of preparing Georgia divorce papers. There's no need to spend large sums of money on potentially unreliable services—you can find and download all the paperwork from the Superior Court of Fulton County website. Depending on the specifics of your case, you can choose between the sets of packets for an uncontested divorce with children or without.
What Fulton County Divorce Forms Do You Need?
In the following table, you can find all the forms you need for an uncontested DIY divorce in Fulton County:
Forms for Divorce With Children
Forms for Divorce Without Children

Cover Sheet
Instructions for Petition for Divorce With Minor Children
Petition for Divorce With Minor Children
Final Judgment and Decree—Short Form
Consent to Trial in 31 Days
Acknowledgment of Service
Affidavit of Diligent Search
Sample Visitation Schedule
Parenting Plan
Rule Nisi
Definitions
Instructions for Child Support Addendum
Child Support Addendum
Divorce Settlement Agreement with Children
Guide to Finalizing Uncontested Matters
Domestic Relations Case Filing Information Form
Automatic Domestic Standing Order

Cover Sheet
Instructions for Petition for Divorce Without Children
Petition for Divorce Without Children
Final Judgment and Decree—Short Form
Consent to Trial in 31 Days
Acknowledgment of Service
Affidavit of Diligent Search
Rule Nisi
Definitions
Divorce Settlement Agreement Without Children
Case Filing Checklist for Divorce Without Children
Guide to Finalizing Uncontested Matters
Domestic Relations Case Filing Information Form
Automatic Domestic Standing Order
How Much Is a Fulton County Divorce Filing Fee?
To submit your petition and other paperwork, you have to pay a filing fee set by the state or county where you're filing for divorce. The filing fee for divorce papers in Fulton County is $220. Other factors also affect the cost of divorce in Georgia and its counties, including:
How To Draft a Divorce Settlement Agreement
A divorce or marital settlement agreement is a legal document that you and your spouse need to draw up, sign, get notarized, and submit to court alongside other divorce forms. This agreement outlines important matters you've agreed upon and legally binds both of you to respect and abide by its provisions. In Georgia, it's necessary to have a settlement agreement for an uncontested divorce.
You can create this document by:
Hiring an attorney—If you're getting a DIY divorce, you'll need to hire an attorney only to prepare this document for you, which is both expensive and time-consuming
Downloading a template—A divorce settlement agreement must follow state-specific rules and details specific to your case. Using ready-made templates from unreliable websites can be risky
Using DoNotPay—We use a database of divorce laws and rules across the U.S. and your information to create a personalized divorce settlement agreement for you. All you need to do is subscribe to DoNotPay
The Process of Filing for Fulton County Divorce
Once you collect the required forms and draft a settlement agreement, you should start the filing process.
Here's how to get a divorce in Fulton County, Georgia:
File the paperwork—Gather the original forms and submit them at the Superior Court in Fulton County
Serve your spouse—Hire a process server or have a sheriff serve divorce papers to your spouse
Attend the hearing at the court—During the hearing, the judge will review your petition and settlement agreement. Once they approve these documents, they will finalize your divorce by issuing the Final Judgment and Decree
Use DoNotPay To Draw Up a Top-Rate Divorce Settlement Agreement in a Jiffy
If you need a fast, simple, and budget-friendly way to acquire a professionally written divorce settlement agreement, DoNotPay is the right service for you!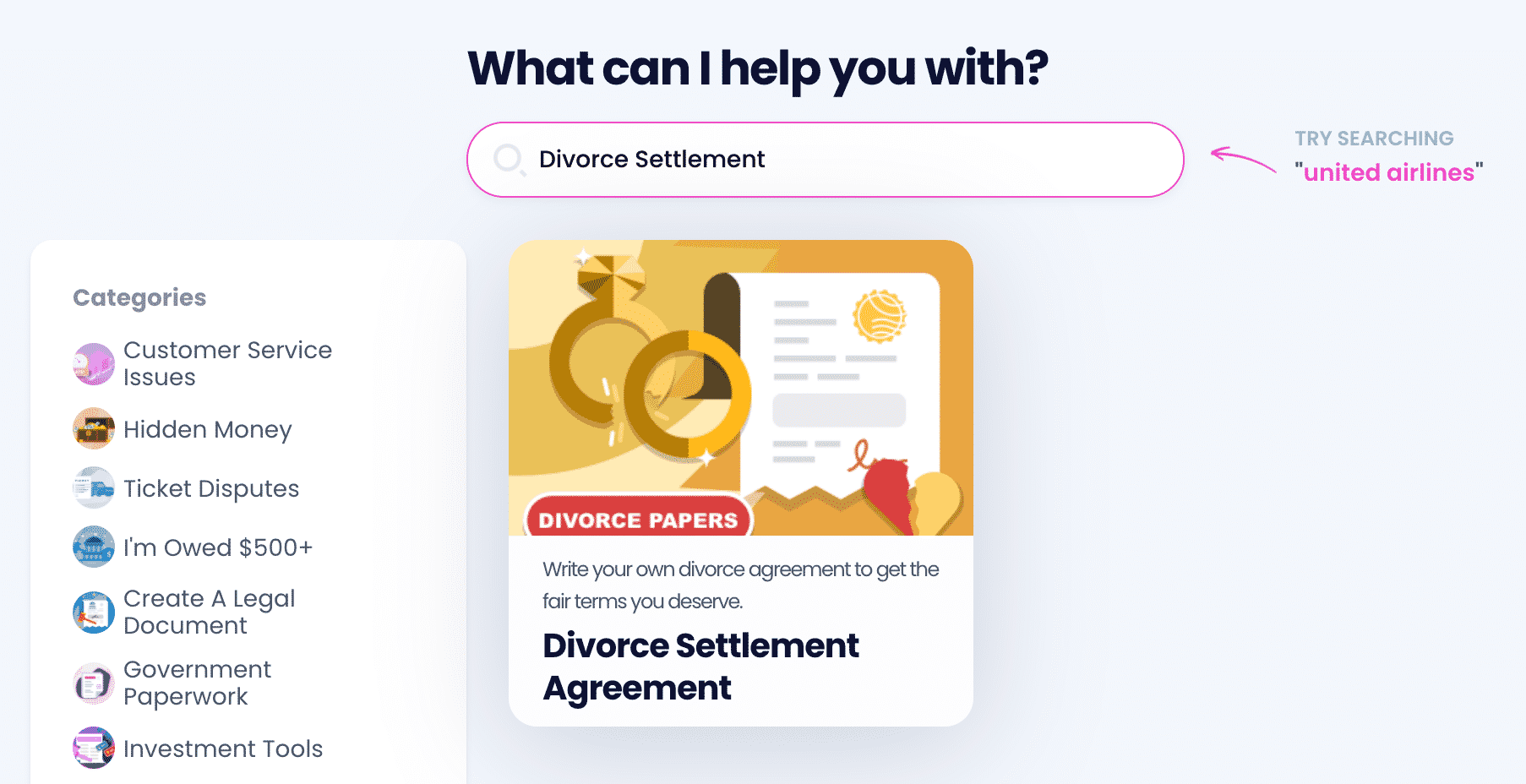 All you need to do is open DoNotPay and complete these steps:
Choose the Divorce Settlement Agreement tool
Fill out our short questionnaire
Inform us if you need to get the document notarized
Upon receiving your information, we'll draw up and send you an ironclad divorce settlement agreement!
Visit DoNotPay's learning center to find answers to numerous divorce-related questions, such as:
Our App Solves Your Legal Issues!
Do you really have to set aside astronomical amounts to pay lawyers for drafting legal documents or taking a person or business to small claims court?
The answer is no—all the cash remains in your pocket, thanks to DoNotPay! From now on, you can perform many legal tasks from home with the help of our app. It enables you to create flawless powers of attorney, divorce settlement agreements, and child travel consent forms in a snap.
That's not all—once we generate these documents for you, we also help you have them notarized via a video meeting. No need to waste your time and fuel visiting notary offices.
Check Out Other Perks DoNotPay Offers!
DoNotPay provides a wide selection of services, from creating virtual credit cards and burner phone numbers to getting refunds from companies and canceling subscriptions. Have you received an unfair parking ticket? Appeal it with our app before you know it! Are email spam and robocalls making your life a living hell? No scammer stands a chance against our efficient AI-powered tools and features!
We also work in your favor when it comes to safety. Our app offers perfect ways to prevent copyright infringement, stalking and harassment, work discrimination, sex offenses, and disputes with annoying neighbors.