Friendly Divorces—Are They Achievable? Find Out With DoNotPay
You've finally made a decision to divorce your spouse, but you don't want the whole ordeal to turn into a living hell? Getting separated in a calm and peaceful way is possible—friendly divorces are not a myth!
DoNotPay will show you some tips and tricks that you can use to divorce in a friendly manner.
What Is a Friendly Divorce?
A friendly divorce—also called an uncontested divorce—happens when the couple agrees on the following:
Division of all property and debt
Child custody and support
Parenting time
Couples that agree on everything go for an uncontested divorce because it allows them to avoid endless court hearings. This is also a pretty low-cost option since it can be done without hiring a lawyer.
How To Have a Friendly Divorce
Here's what you need to do to have a friendly divorce:
Fill out the court forms—States and counties have different rules regarding the required forms for an uncontested divorce. If you fill out the forms incorrectly, you may have to start the process all over again
File your divorce papers—You should file the forms with your county clerk
Serve the divorce papers to your spouse—After filing your papers, you will need to serve them to your spouse. The method depends on the divorce laws in your state. You will either have to hire someone to deliver the papers or do it on your own
Enter a waiting period—You will need to go through the state's mandatory waiting period. Depending on the state, it can last from a couple of weeks to a few months
How To Get Papers for a Friendly Divorce
To get a friendly divorce, you will need to acquire court forms and draft a settlement agreement.
Court forms are available as PDF files on your state government's website. If you want to get them in person, you can visit your local courthouse and fill out the forms with the clerk. Keep in mind that you'll have to pay the filing fee.
As for a settlement agreement, you can hire a lawyer to draft it for you but note that you'll have to pay quite a price. If you want to get a settlement agreement the easy way, use DoNotPay! We'll generate a legally formatted divorce settlement agreement for you in no time!
Why Is a Divorce Settlement Agreement Important for a Friendly Divorce?
Having a divorce settlement agreement is necessary for a friendly divorce. It means that you and your spouse have solved all issues you had regarding the divorce terms. The document needs to be fair to both parties as it will address:
Which assets belong to which spouse—A fair agreement needs to state the marital and separate property
What the division of the marital estate will look like—This element of the agreement is based on whether the couple lives in a community property state or an equitable distribution state
Whether one spouse will have to pay alimony—If one spouse has been financially dependent on the other before the separation, the working spouse should pay the alimony. They need to settle on the payment period and the amount
What the terms of child custody, visitation, and support are—The spouses need to work around their schedules, income, and availability so both of them and the children have a fair outcome of the agreement
Get a Divorce Settlement Agreement With DoNotPay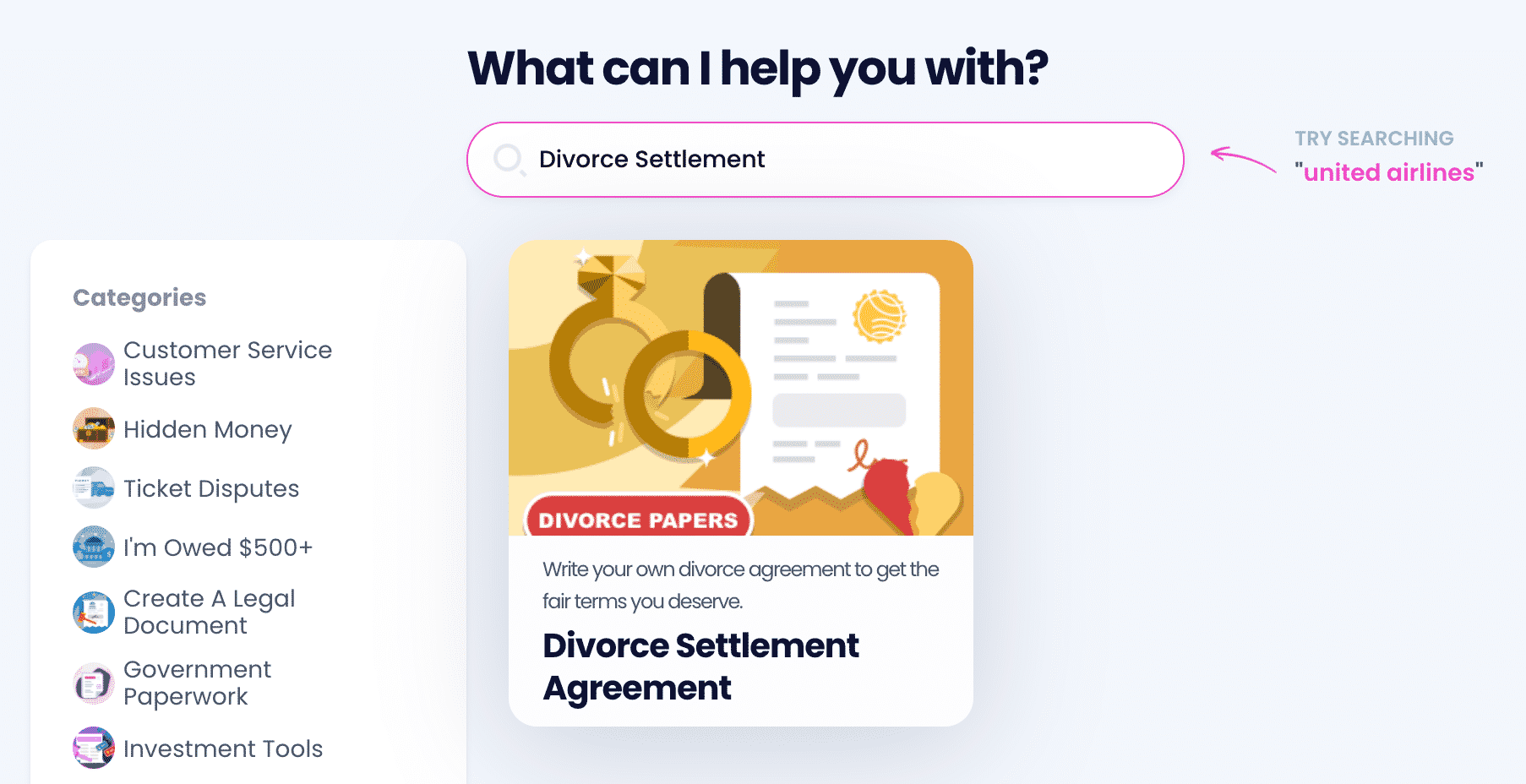 Want to get a divorce settlement agreement without a hassle? Use DoNotPay and get a personalized document in a few clicks! Our Divorce Settlement Agreement product is super simple to use and is way more affordable than lawyers' services. Here's how it works:
Select the Divorce Settlement Agreement product
Answer our chatbot's questions regarding your:

Spouse and children (if any)
Income and financial assets

Opt for notarization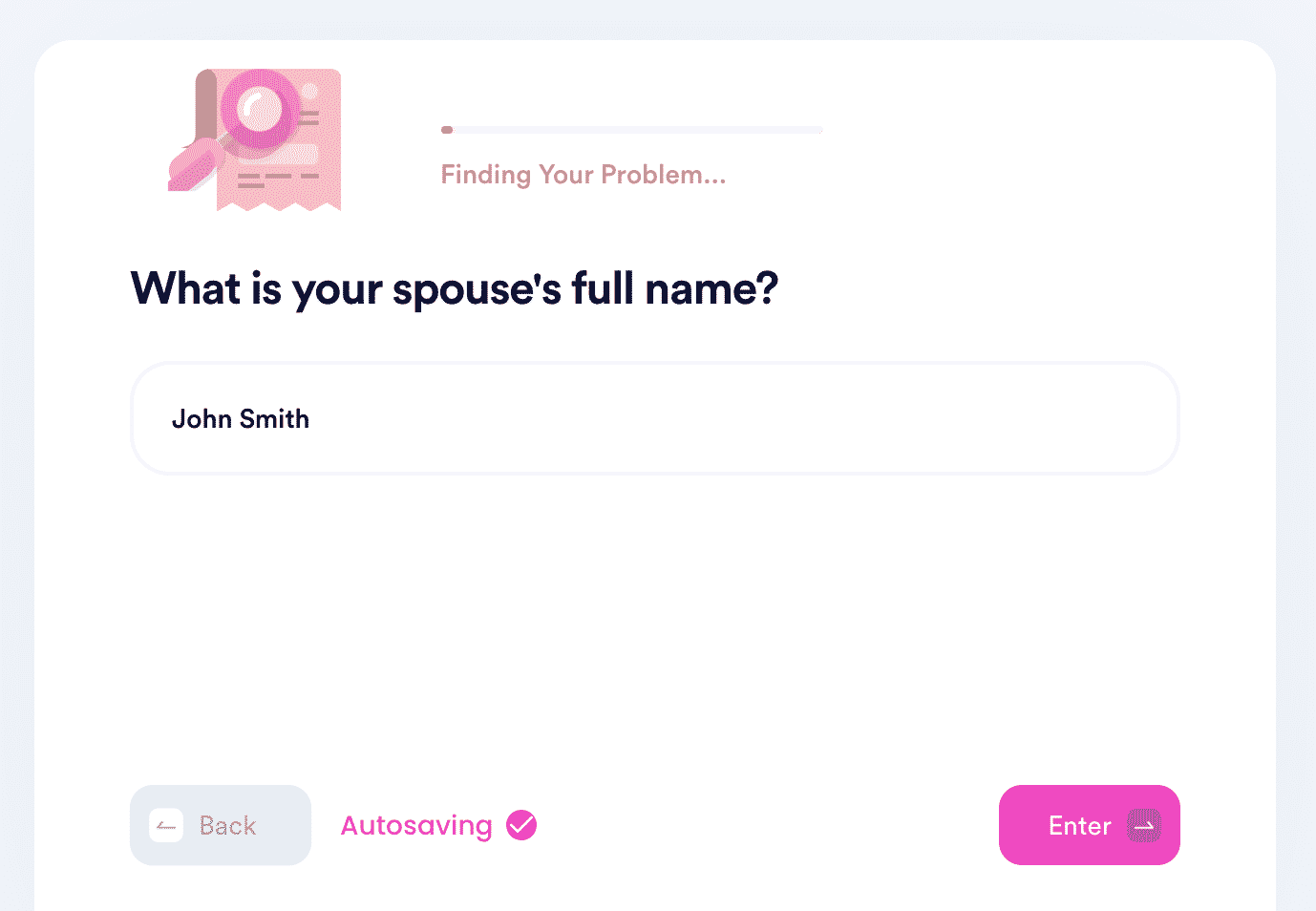 We will generate a professional divorce settlement agreement and connect you with an online notary if you choose to have your document notarized via DoNotPay.
Do You Need Mediation for a Friendly Divorce?
The key to a friendly divorce is for the couple to agree on every aspect of it. In case they cannot reach an agreement, they could try using divorce mediation.
There are some downsides to this approach—a mediator can help couples find the middle ground, but their service fees are sky-high. To top it all off, the process can go on for quite a while, and the bills will keep piling up.
DoNotPay Answers All Your Divorce-Related Questions
Need more help? Check out DoNotPay's learning base of articles. Learn how to:
You should also get familiarized with rules and regulations regarding friendly divorces in your state. Check out the detailed info about uncontested divorce across the U.S. in the table below:
Manage Your Tasks Easily With Our Help
DoNotPay is the perfect solution whenever you need to resolve legal or bureaucratic matters. Here's a fraction of what our AI-driven app can help you out with:
No Matter What You Need, DoNotPay Is by Your Side
Do you have a bunch of subscriptions that you waste money on but don't even use? We can help you cancel them effortlessly! After that, our app can initiate a refund request and make sure you get your money back.
Facing financial difficulties? DoNotPay can help you lower your bills, get free raffle tickets, get gift card cash back, find your missing assets, and so much more!
For a low monthly fee, you'll get access to our impressive range of products, so sign up now!