Making the Best of a
Freelance Contract Template
As a freelancer, you may dodge numerous legal documents, but having a freelance contract could benefit you and keep you safe. If you want to download a freelance contract template or write one from scratch, you should understand what it should include and why it's important. When using a template to write a contract, tailoring it to your line of work and your needs is essential.
We'll answer your questions regarding a freelance contract template and guide you along drawing it up.
What Is a
Freelance Agreement
?
A freelance agreement is a legal document between a freelancer and their client. It should outline their relationship, roles, and regulations. While a freelance contract is often interchangeable with an independent contractor agreement and a consulting agreement, it's the broadest term used for when a person is working on their own and choosing projects and clients.
Sometimes, your client will provide a freelance agreement both of you can review and sign, but it doesn't hurt to have a freelance contract template you can customize depending on the projects you take on.
When Will I Use a Freelance Contract?
As a self-employed worker, you will need a different freelance contract for every job you accept. You may have a single client, but more often, you will acquire multiple clients.
Check out the most common occupations that may require a freelance contract:
Tutors

Pet sitters

Programmers

Marketing consultants

Wedding photographers

Speakers at conferences

Actors hired to perform in a play

Journalists hired to write an article or two
What if I Don't Have a Freelance Agreement?
Having a freelance agreement is important to safeguard against potential disputes and to ensure you get paid. Without a written agreement, your duties and the client's expectations may be unclear.
If you don't sign a freelance agreement, both you and your client could deal with certain issues:
Potential Problems for a Freelancer
Potential Problems for a Client

No payment or a different payment as opposed to the previously agreed one

Waste of time in case you're not paid adequately

Your work taken without your credits or permission

Tax or liability issues

Unexpected expenses

Loss of time

Legal expenses

Inadequate performance

Breach of company info
What Should a Freelance Contract Template Include?
Whether you're using a ready-made freelance contract template or you want to draft your own, you can check what it should cover at its core in the table below:
What To Include
Brief Explanation

Names, contact info, and dates

Client's and your name

Physical address, email address, and phone number

Dates when you write and sign the contract and the start date of your job

Your role and responsibilities

Scope of your project

Ways of submitting your work

Services that will not be provided—to ensure clarity

Project schedules and deadlines

Minimum and maximum working hours

The relationship between the client and yourself

Compensation

Type of compensation—project-based rates or hourly rates

Payment amount

Additional expenses

Methods of payment

Payment schedule if there are installments

Copyright and ownership rights

Establishment of the owner of your work

Credits to your work even if you give up the rights

Termination terms

Final date if applicable

Cancellation fees—determining compensation in case the project gets terminated
DoNotPay Can Draft Numerous Legal Documents for You
If you want to create an independent contractor agreement, DoNotPay can do that in your stead! Thanks to our Legal Documents feature, we can create legal documents for you in several clicks. The best thing about generating an agreement with DoNotPay is that you can draft an unlimited number of the same agreement, which is perfect for freelancers.
Follow these instructions to get numerous legal documents in a flash:
Visit our app in a

web browser

Enter the type of legal document you want

Answer a few questions
With the info you provide answering our questions, we'll make a contract unique to your situation.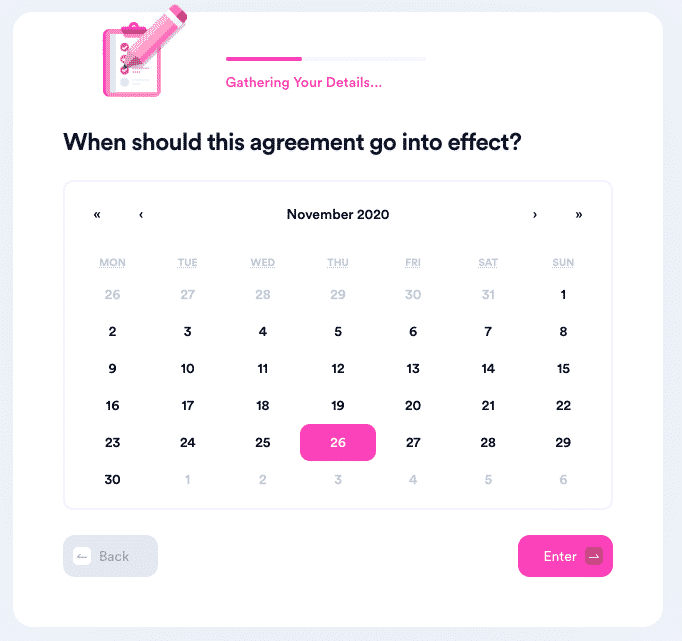 What Documents Can DoNotPay Draw Up?
Our app can create legal documents that are useful or required in different endeavors—not only for your business. We're constantly expanding our scope, but currently, DoNotPay can draft the following documents on your behalf:
Real Estate
Business
Other

Quitclaim deed

Estoppel certificate

Intent to purchase real estate

Residential

lease agreement

General business contract

Independent contractor agreement

Non-disclosure agreement

Non-compete agreement

General affidavit

Promissory note
Turn to DoNotPay To Learn About Different Contracts
Our learning center is a great starting point if you need to draft an agreement because we'll help you break it down and understand it first. We can assist you in finding out more and getting tips on many documents, including:
Admin Issues Giving You a Headache? Resolve Them With DoNotPay!
Scheduling a DMV appointment, applying for clinical trials, requesting refunds from companies, and getting in touch with your loved ones in prison are all difficult and time-consuming tasks. You have to take many steps before you can get any of these over with, and that's why our robot lawyer app is here to help.
No matter if you need assistance with appealing parking tickets, signing up for free trials, canceling various subscription services, or maybe preparing for government tests, DoNotPay will provide you with easy solutions.
Having Financial Struggles? Rely on the World's First Robot Lawyer
Many Americans struggle to make their ends meet at the end of each month. With that in mind, we've created plenty of features that will save you both time and money in the most efficient way. 
Using our AI-driven app, you can get help with bills, get refunds from airlines, find unclaimed money in any state, or earn off annoying robocalls or stalkers and harassers. If you want to fight for your right, DoNotPay will also assist you in suing any person or company in small claims court.
No matter the admin task at hand, our robot lawyer will provide swift and effective assistance.