What You Should Know About the
Freelance Artist Contract Template
Even as a freelancer, you should worry about your business contracts and inform yourself how to make legal documents to protect your interests. DoNotPay can tell you everything about the freelance artist contract template. Our app goes one step further than showing you how to write a contract! Sign up and let us generate the freelance graphic design contract and numerous other agreements for you.
What Is the
Freelance Artist Contract Template
?
A freelance artist contract is a work agreement that a freelancer who is a writer, photographer, or web designer makes with their employer. Even though freelancers are independent contractors, they need to think of their work and protect their interests by creating proper contracts when signing up for a new job.
As a freelancer, you need a contract for every project you do, which is not the case in a permanent work relationship. 
Consequences of Working Without a Freelance Contract
Both the freelancer and the employer can suffer consequences if they work together without a contract. This involves the loss of time and money for both parties. Two scenarios may occur without a freelance working contract:
The freelancer can get their work and ideas stolen

The employer may deal with a breach of company information, jeopardizing their business
What Does a Freelance Artist Contract Need To Contain?
If you want to make sure your freelance contract is solid, you should know what info it should include. Take a look at the list below to see the crucial details:
Necessary Info

Details

Client and Artist Information

Names

Addresses

Email addresses

Phone numbers

Signatures

Payment Schedule and Methods

Type of payment

Rates

Time of payment

Invoices

Deposit

Additional costs (in case of work scope changes)

Project Information

What the project is about

Deadlines of the project

The purpose of the project

Licenses and Ownership

Who owns the work product

When the original artwork becomes the client's property (when fully paid, usually)

Client Approval

Client's right to request revisions if unsatisfied

Confidentiality

Parties' agreement to treat any information as confidential until the product is completed

Termination of the Agreement

Terms on which parties can terminate the contract if they find it necessary

Timeframe for a written notice
It is not uncommon for the freelancer to have to sign a non-disclosure agreement if the info they are dealing with is confidential.
Possible Reasons To Want To Terminate a Freelance Contract
You may decide to end the freelance contract for numerous reasons, and as long as all of them are legit, you shouldn't stumble upon any difficulties. The most common reasons freelancers decide to terminate the agreement are:
Project overwhelm

—Perhaps the project is too much to take, or you have multiple projects going on at the same time

Dissatisfaction with the current project

—You expected the project to be different and to have better terms than is the case

Difficult client

—The client may breach the agreement in some way or not respect your work

Late payments

—Client not respecting the agreed compensation rules
DoNotPay Can Generate a Freelance Artist Contract for You
DoNotPay can create an independent contractor agreement, which is the same type of document as the freelance artist contract. If you use our app to generate this document, you will save a lot of money you'd otherwise spend on a lawyer. Our app will tailor a contract for your needs in a few minutes if you follow these instructions:
Type in the name of the legal document you need

Enter your name, address, and other required info
You'll get a legal document with all the info necessary for your case. You should bear in mind that the contract becomes official when all parties sign it. Sometimes it is necessary to take the document to the notary as well.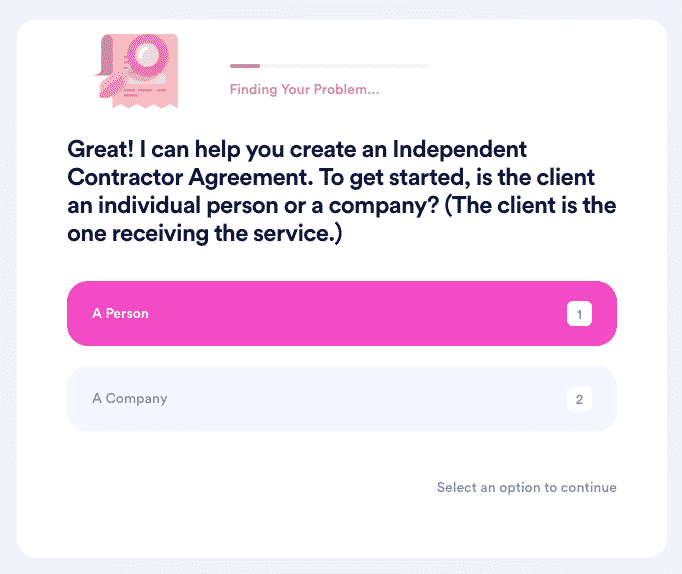 If you'd like to learn more about other kinds of legal documents, you can count on DoNotPay to get the information you are looking for. We have the details on:
Documents You Can Create With DoNotpay
In addition to providing info on legal documents, DoNotPay allows you to create various agreements with our simple procedure. If you wish to have a good business agreement, use our app to make a bill of sale, general business contract, non-compete agreement, non-disclosure agreement, or LLC operating rules document.
In case you are dealing with real estate, DoNotPay can aid you with generating a quitclaim deed, estoppel certificate, intent to purchase real estate letter, or residential lease agreement.
That's not all! We can also generate a:
Promissory note

General affidavit
Take your pick and save some money!
DoNotPay Is the Champion of Customer Advocacy
If you've never experienced an issue with a purchased item, you should consider yourself extremely lucky. When shopping goes wrong, you usually have to brace yourself for unpleasant and annoying exchanges with customer support centers. 
DoNotPay is here to make exercising your consumer rights easy. Long holds when calling customer service reps and incessant marketing spam emails can stay in the past. We will help you avoid irritating text messages from online retailers by teaching you how to bypass phone verification when signing up. 
Ask for refunds, claim warranties, fix credit card issues, or sue retailers in small claims court—these are just some of the services our platform provides. 
With DoNotPay, you can start free trials for new services risk-free. If you want to get out existing subscriptions, canceling them has never been easier!
Wait, There's More!
Our full portfolio includes features as diverse as contacting inmates and requesting college application fee waivers for students from low-income families. 
If you have a problem with bureaucracy, the chances are DoNotPay knows how to fix it with your minimal involvement. 
Leave the grunt work and unnecessary expenses behind. We will help you pass various government tests with flying colors, find unclaimed money in all states, or get out of parking tickets before you know it!