The Ins and Outs of a
Free Trader Agreement
If you are supposed to create a free trader agreement but aren't sure what this legal document entails, you can count on DoNotPay for a detailed explanation. Our app can tell you what every free trader agreement needs to become legally enforceable and what info it has to cover. 
DoNotPay is also a great way of creating other contracts fast and without trouble!
What You Should Know About a Free Trader Agreement
Free trader agreements are usually created after separation and prior to divorce. This agreement allows a spouse to sell or purchase property in their individual name without the other spouse having to sign the deed (as opposed to a document that you need to compose if you want to sell a house after divorce has been finalized). It is one of the most important agreements you should create in this situation, so make sure to add it to your pile of divorce documents.
A free trader agreement can also address debt and obligations starting from the separation date until the finalization of the divorce. It is not unusual for one of the spouses to continue using a credit card and adding to the joint debt, and a free trader agreement can prevent them from doing so.
Having a free trader agreement is important because most banks won't lend money without it. In some states—such as North Carolina—not having this document prevents you from transferring a deed to another person without your spouse's signature. This is another advantage of the agreement you can look forward to if you don't want to be limited with your financial choices.
What Should You Include in a Free Trader Agreement?
When drawing up a free trader agreement, there are some points you should not forget to include, such as:
Personal info of the spouses

—Names, addresses, and phone numbers

Duration of the agreement

—Exact start and end dates

Main clauses of the agreement

—Forbidden and permitted actions

Termination terms

—The consequences of breaching the agreement

Signatures of both spouses

—The document won't be valid unless signed

A memorandum of separation

—A clause specific to free trader agreements
A Memorandum of Separation in Free Trader Agreements
The purpose of the memorandum of separation clause is to state that both parties resolved all marital claims in a separation agreement. It also supplies a complete free trader provision in the document and binds both parties to sign a free trader agreement. This sentence should also ensure that both spouses avoid potential financial issues before the divorce is finalized.
What Makes a Free Trader Agreement Legally Enforceable?
When you create a free trader agreement, you will need to perform a few tasks to ensure it is legit. This document should be:
Signed by both spouses

Acknowledged before a

notary public

Recorded with the Register of Deeds
You may need to go through the creation of a free trader agreement on your own, but DoNotPay can help you make other documents related to this cause. If you want an easy way to deal with bureaucracy, our app is your solution!
How To Draw Up Legal Documents With DoNotPay's Help
You don't need to hire a lawyer and pay a small fortune to create a legal document. You also shouldn't try to make one on your own if you lack the required legal knowledge—avoid using free online contract templates because they are generic. So what should you do?
Turn to DoNotPay for help! By using our app to create a document, you can save both time and money! Your only task is to follow four simple steps:
Sign up for DoNotPay

in a web browser you normally use

Open the

Standardized Legal Documents

product

Enter the name of the document you need in the search field

Provide some answers about yourself and your business
DoNotPay will generate a customized legal document that will ensure the safety of your interests!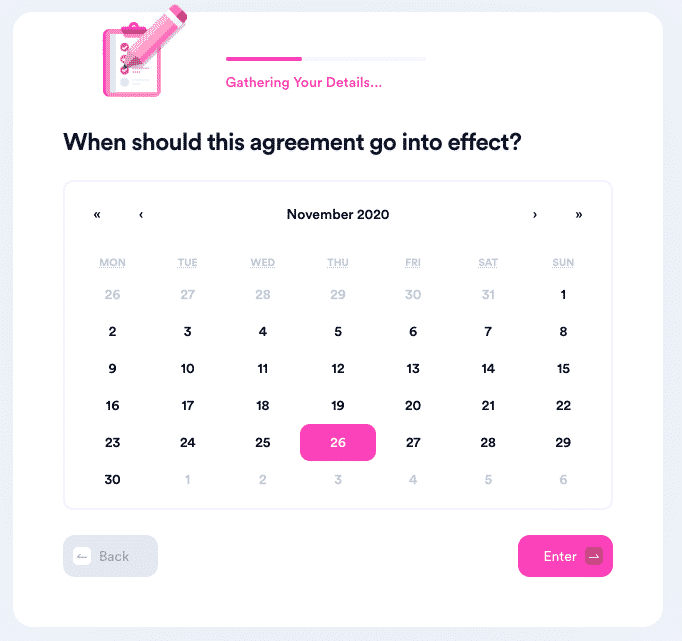 What Documents Can You Create With DoNotPay?
Subscribing to DoNotPay enables you to create numerous legal documents quickly. Our extensive database keeps on growing. Check out the table below to see some of the available options at the moment:
Real Estate Contracts

Quitclaim Deed

Intent To Purchase Real Estate

Business Agreements
Other Documents

General Affidavit

Promissory Note
DoNotPay's Learning Center Offers More Info on Other Legal Documents
Our app has the details about various other legal documents you might want to learn about. Rely on DoNotPay to get the scoop on the following agreements:
If you can think of it, we got it! Find out more about many other legal documents on DoNotPay's website!
Use DoNotPay's Features to Your Advantage!
DoNotPay offers a myriad of helpful services you can use to resolve your everyday hurdles. 
Do you need help paying bills or finding and claiming missing money? Are you interested in applying for clinical trials in your area? We can help you solve these and many more issues in no time!
Here are some other problems you can handle effortlessly with our help:
Hiring a Lawyer Can Cost a Small Fortune—Rely on DoNotPay Instead
If you're on a tight budget and can't pay a lawyer to help you create legal documents, file a claim in small claims court, or handle stalking and harassment, DoNotPay has a solution for you. 
Our app will help you create various documents, including child travel consent forms and complaint letters for a problematic neighbor. 
Are you a victim of a crime and need help applying for reimbursement of your crime-related expenses? You can sign up for DoNotPay and allow us to handle your crime victims compensation on your behalf.
DoNotPay can also connect you with an online notary and enable you to get your documents notarized from the comfort of your home.