What You Need To Know About Free Trademark Registration
Are you wondering whether free trademark registration is a possibility? Given the costs of filing a trademark application, it makes sense to look for more affordable options.
Trademark registration involves many steps and can be error-prone if carried out without expert assistance. Beyond the filing fees involved in the procedure, you will likely need to hire a trademark lawyer as well, or to cut unnecessary expenses.
Do You Need a Trademark?
You are not required to trademark your brand—but if your business is growing, it is highly recommended that you do so.
A trademark is a federally managed legal protection for specific aspects of a given brand, including:
Trademarks are separated into 45 classes, specifying which type of good or service they protect. Local companies with a limited market can operate without the protection that trademarks offer, but any company intending to scale up should ensure their brand is defended against unauthorized use.
The United States Patent and Trademark Office (USPTO) oversees federal laws that protect trademarks. By registering your business name as a trademark, you can sue other companies that infringe on your intellectual property.
It is also important to distinguish between trademarks, service marks, and copyright. Even though they are all federal protections, these three legal terms cover different business assets. Service marks protect services, and copyright protects works of authorship.
Is There Such a Thing as Free Trademark Registration?
No—free trademark filing at the federal level is not an option. You can register a common law trademark for free, but it does not provide the same extent of protection as a federal trademark.
What Are the Limits of a Free Trademark?
Registering your brand for a common law trademark may be free, but it is limited to your geographic area. That means that other companies outside of your local region could use your trademarked name, slogan, or another brand component without risk of legal recourse.
For example, a restaurant in Mattoon, Illinois, registered a common law trademark for "Burger King" before the national chain gained prominence. Once the latter had grown as a business and began operating on a national scale, the Mattoon-based Burger King could not sue for infringement because they had not registered at the federal level.
Whereas federal trademarks are valid for ten years (unless renewed), common law trademarks stay in effect for as long as they are in use.
How To Get a Trademark for Free
You can register your brand at the common law level for free by using the trademark associated with your service or product. This option does not entail any expenses because there is no application process, no filing fee, and no need for legal assistance.
Do your due diligence to ensure no competing brands in your geographic area using the same trademark. In the federal application process, you can consult the USPTO's database to determine any potential conflicts, but with a common law trademark, it is up to you to check for conflict in your local business market.
Trademark Filing Methods
The USPTO only offers one method for filing a trademark application, but you can always count on DoNotPay to jump in and help:
| Filing Method | Yes/No |
| --- | --- |
| DoNotPay | Yes |
| Online | Yes |
| Phone | No |
| Mail | No |
| Fax | No |
How To Register a Federal Trademark
Start the procedure by following these steps:
Visit the Trademark Electronic Application System (TEAS)
Log into or create an account for TEAS
Start a new application for your specific trademark class
Fill in the requisite information about your brand
Submit the application
How Much Does a Federal Trademark Registration Cost?
You will have to budget for two distinct expenses that are part of the trademark registration process.
First, the USPTO will levy a nonrefundable government filing fee for each applicable trademark class. You must select one of the following:
TEAS Plus—$250/class
TEAS Standard—$350/class
TEAS Plus is ideal for first-time applicants whose brand fits into a set description already present in the Trademark ID manual. TEAS Standard is for businesses that require a custom definition of their brand.
The second expense associated with the procedure is legal assistance. Given how complicated the process is, you will want to make sure you do it properly. Any mistakes that result in a refusal means you will lose the filing fee and have to start over.
That is why businesses often hire a trademark lawyer to oversee the process. Doing so increases the likelihood of a successful application but can also be very expensive—a lawyer can easily cost well over $300/hour. That is why we recommend using DoNotPay instead.
DoNotPay Will Keep Your Trademark Registration Costs as Low as Possible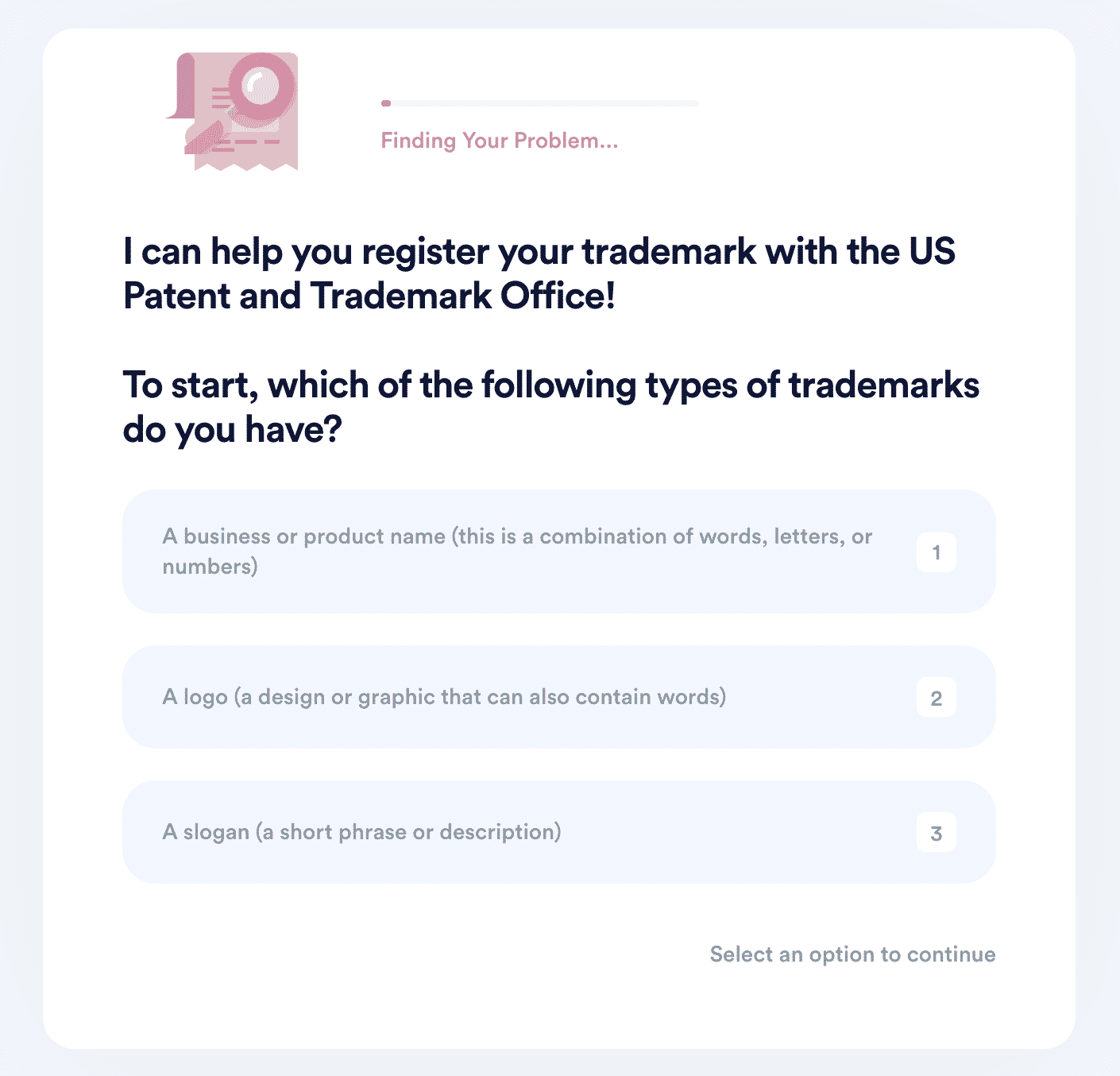 Do not bother shelling out for a specialized trademark attorney— at a fraction of the cost.
Our AI-powered robot lawyer does not charge a steep hourly fee. Using the Trademark Registration tool, you can hand off every vital step in the application process, including:
Gathering required information
Filling in and submitting the application
Ensuring you review and sign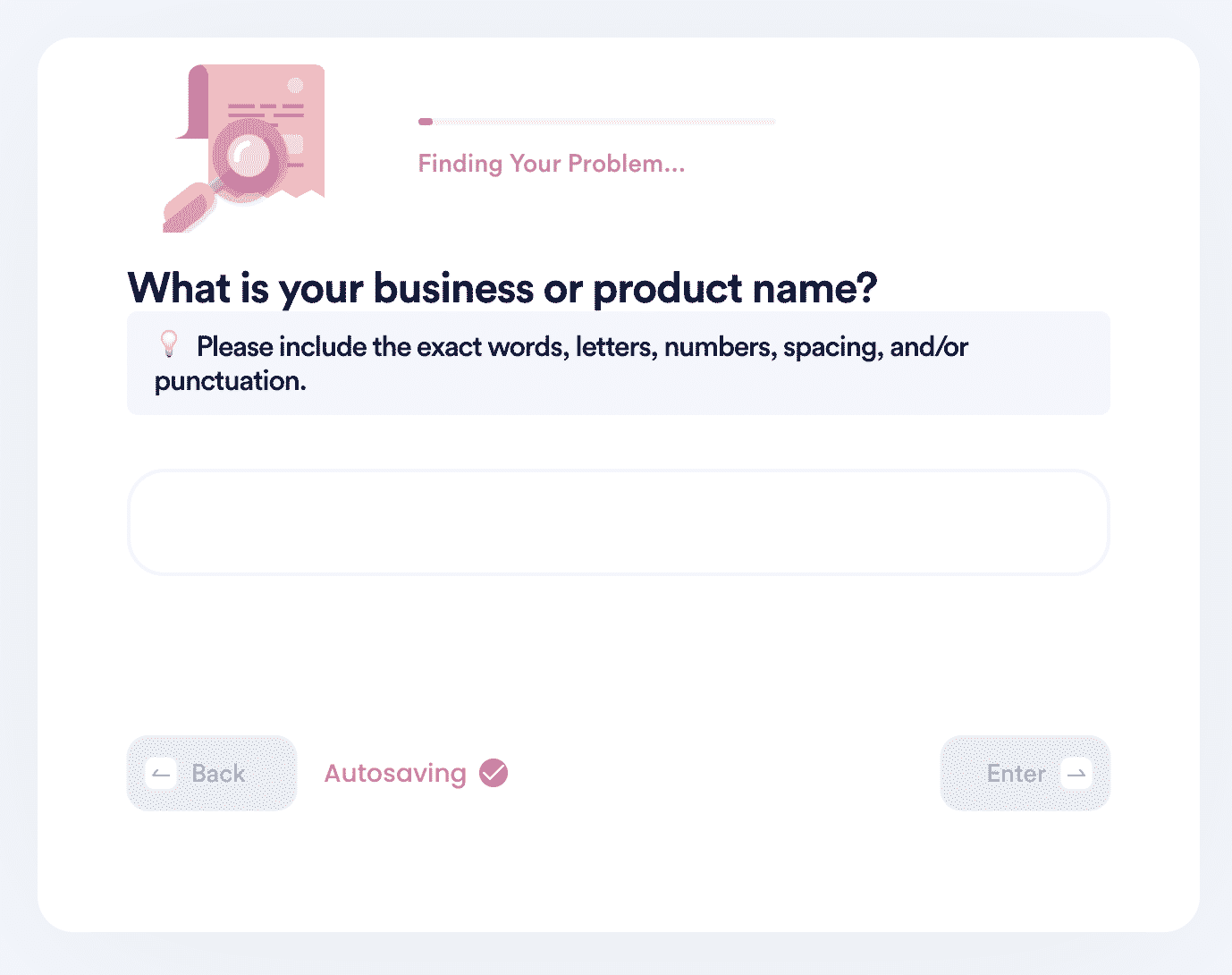 To use our product, sign up for DoNotPay, find the Trademark Registration product, and do the following:
Choose the type of trademark you would like to register
Describe the trademark and select the class
Provide more info about the company
Pay the filing fee and answer our chatbot's questions
Once we have submitted the application, we will provide an application tracking number and ensure the USPTO has your correct contact info so that you stay updated on the process.
Run Your Business Worry-Free!
Every beginning is challenging, which is why DoNotPay has everything you need to start running your business stress-free! We have created numerous easy-to-use products that will make boring administrative tasks easier to manage.
To help you get started, DoNotPay will assist you in taking care of trademark, Employer Identification Number (EIN), and DMCA agent registration, Privacy Shield self-certification, and business loan requests.
We can even help you maintain a good business reputation by:
Monitoring your trademark and filing a cease and desist letter in case someone tries to use it
Reporting fake negative reviews that could harm your business
Disputing illegitimate chargeback requests in a matter of minutes
DoNotPay Helps You Create and File a Number of Legal Documents
Why waste time worrying about how to draw up and file various legal documents when you can have the world's first robot lawyer do that in your stead? You do not have to waste thousands of dollars on lawyer's fees—our extensive database has a myriad of documents on offer.
DoNotPay will help you automate the procedure of completing and filing 83(b) election forms, write a formal demand letter requesting payment from clients who try to avoid it, and deal with other important paperwork.
Don't want to waste time going to the post office to mail a contract? Now you do not have to! With DoNotPay, you can fax and mail any document in a matter of clicks!