How to Get Free Supplements Trials Without Giving Your Credit Card Information

Free supplement trials are the way to go if you're not sure which brand to add to your workout regimen. Many brands are very much alike, no matter what their advertising says, so if you run out of one brand's samples, you can move on to another's.
But where can you find free trials for health supplements—and, more importantly— without giving up your personal information or getting sucked into a subscription or multi-level marketing program? Let's take a look at ways you can get your hands on freebies, and, with the help of DoNotPay, make an end-run around requirements to give your credit card number and other sensitive information.
How to Get Health Supplement Free Trials
These are the best ways to get , either with or without coughing up your credit card number. Most will take some effort to "work the system" and prevent unwanted charges, but in the end... a dollar saved is a dollar earned, right? That all depends on how much you value your time, of course.
1. Write to the manufacturer
Your favorite supplement's label should include the company's contact information. Why not write to them (or call) and ask for free samples? There's no harm in trying, but you'll need to send your mailing address for them to send their products to you. That puts you at risk of getting junk mail by the ton, especially if they sell your information.
2. Take advantage of money-back guarantees
Have you ever been up late at night, watching infomercials, and fighting the urge to sign up for monthly supplement deliveries? Those "money-back guarantee offers" seem tempting, but you have to pay upfront and it's not exactly ethical to enjoy that first month's supply and send in an empty bottle and ask for a refund. But it's one route.
Other offers give you a free month's supply, and then automatically charge your credit card after 30 days. If you remember to cancel your subscription before your free trial is up, you're in good shape, but if you don't? Well, you'll wish you had DoNotPay's Cancel Any Subscription product.
3. Find a local MLM distributor
You probably know somebody whose side-hustle is selling supplements. If that's their gig, their primary goal isn't cashing in on your purchases, but cashing in on your sales if they can recruit you for their downline "team". They know they have to get you excited about the brand, so that means you have a good chance for freebies.
Don't know any reps in your personal or professional circle? Contact the company directly. You can ask for samples from them, or have them put you in touch with a distributor near you and with your contact information, inundate you with junk mail and email spam. It's more likely that they'll require you to join up as a distributor or member before sending you free or heavily discounted "starter packs".
Tips for Convincing MLMs to Give You Samples
Host a party. A distributor will come to sell their supplement products to your friends, and the host usually gets a gift.
Say you're looking into several competitors. They want your business and will move heaven and earth to get it.
Let them know if you already live an active, healthy lifestyle. They want their brand associated with users who look like their customers' ideal.
Promise to give them a review. Supplement marketers know that customer reviews, even if negative, are a great way to gain credibility
Avoid Automatic Subscription Charges With DoNotPay's Virtual Credit Card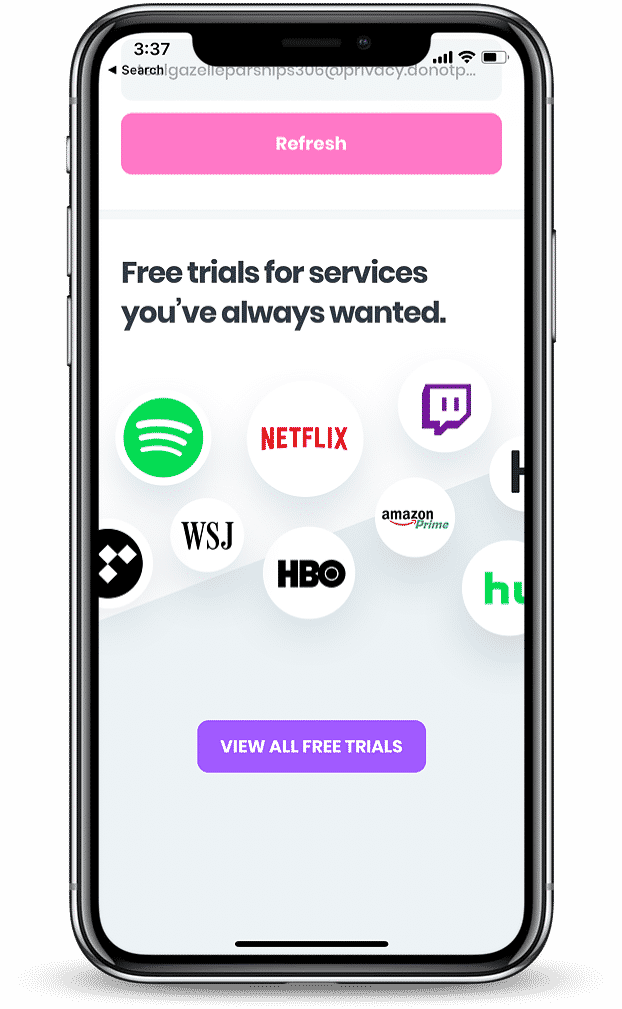 While we can certainly help you avoid or stop junk mail and fight spam emails, one of the best ways we can help you get free trials is by preventing unwanted charges after the trial is up. This is perfectly legal IF you understand the company's terms of service, and you don't inadvertently promise to pay for a certain amount of product or subscription period. (We can help you cancel subscriptions, too.)
Here's how it works, and yes—it's perfectly legal.
We create a fake, virtual credit card number (VCC) that's affiliated with (but firewalled from) your credit card account.
You use your virtual credit card to sign up for supplement free trial offers.
The card works for just enough time to verify your new account with the company.
Your VCC expires before your free trial, preventing unwarranted charges to your real credit card!
It's brilliantly simple and easy. And VCCs have become so popular, many banks are offering them to their customers, but usually at a cost greater than ours (which is free.)
What Else Can DoNotPay Do?

DoNotPay does more than provide virtual credit cards, block email spam and junk mail, and cancel subscriptions you no longer need or want. We offer hundreds of products on our app that will save you time, money, and peace of mind. Here are just a few things we can help you do:
Save money on prescriptions
Try us out today when you . We think you'll be so happy with our virtual credit cards and other free trial protections that you'll want us on your side as your "virtual lawyer" and consumer advocate.