Make Your Free Printable Vehicle Purchase Agreement
Are you a car enthusiast? Do you look forward to purchasing your first or maybe even your dream car? Buying it may not be a problem, but getting all the paperwork done can be. If writing contracts or other legal documents is hard for you, we'll make it easier! With 's templates, you can finalize your purchase in a jiffy. 
What Is a Vehicle Purchase Agreement?
A vehicle purchase agreement is an agreement between a seller and a buyer that has all the necessary information about the vehicle purchase, such as the details on the:
Buyer

Seller

Car

Price and payment method
Some dealerships offer a lease within the agreement, so the buyer can lease the car for a predetermined period before paying the remaining amount to fully purchase that vehicle. 
Depending on whether you are buying a car from a private seller or a dealer, you will have to make different legal documents. Dealerships require a , whereas private sellers require a bill of sale.
What Is the Difference Between a Bill of Sale and a Car Purchase Agreement?
In essence, a bill of sale is a legal document proving the buyer takes over the ownership of the car. Private sellers use it as proof that the vehicle is no longer in their possession. If you pay in cash, there is no trace of ownership transfer. In case of an accident, the previous owner would be responsible. The bill of sale makes it clear who owns the car, so no unpleasant situations can happen.
This document is relatively short, about a page long, and it includes the following:
Full name and address of the seller and buyer

Details of the vehicle, such as the model, year, color, etc.

Vehicle Information Number

The mileage

The price

of the vehicle

The date

of the sale

Attached signatures

of both parties
A vehicle purchase agreement is more complex than a bill of sale and is used when you buy a car from a dealership. It is organized into three sections:
Information about the buyer
Sale and pricing information
Financing information
Information About the Buyer
The  information is mostly available in your driver's license, so it should not be hard to provide the following:
Your full name

Your complete address

Date of birth

Social Security number
Sale and Pricing Information
This section contains the following information:
The price

of the vehicle

Additional costs 

Sales tax

All fees, including the documentation

,

destination

,

advertising

,

dealership

,

and registration fee
Financing Information
In this part of your vehicle purchase agreement, you will find the information regarding financing. It should include:
The total purchase price, including fees and taxes

The amount of money you will be financing

How much money will be paid as the down payment

 

The interest rate of your loan

Monthly installments 

The pay-off period
Is a Car Sale Agreement Legally Binding? What if I Want To Return the Vehicle?
A car sales agreement is legally binding, so make sure you read it thoroughly before you sign it. If, for some reason, you want to return your new car to the dealership and back out of the deal, expect some problems. 
There is no easy way out of the deal, so the best option is to politely explain your reasons for wanting to return the vehicle. It all depends on the dealership and the management. If there is a valid reason to cancel your deal, for example, a mechanical problem, the process is less complicated. Without a valid reason, you must convince your dealer that you cannot continue paying for the car.
You can take your case to court, but it can be expensive since you have to pay for a lawyer, and the outcome is uncertain.
What Should I Pay Attention To When Signing a Car Purchase Contract?
Before you sign any vehicle purchase agreement, read it carefully, and make sure there is nothing in the contract besides what you've already agreed on. Check for the following information:
Money Related Aspects
Other Aspects

Any extra fees that the seller did not mention 

Charges for items or services that were referred to as free

The interest rate on your financing

The amount of down payment

Extras that you did not agree to
DoNotPay Can Help With Legal Documents
Paying a lawyer to draft a legal document is pricey! You can do it on your own with DoNotPay's help. The process is easy:
Open DoNotPay in a web

Type in the name of the document you need

Answer our chatbot's questions

DoNotPay whips up a document in a moment or two
Your document is ready for signing or notarizing to make it official, and you won't pay a fortune for it.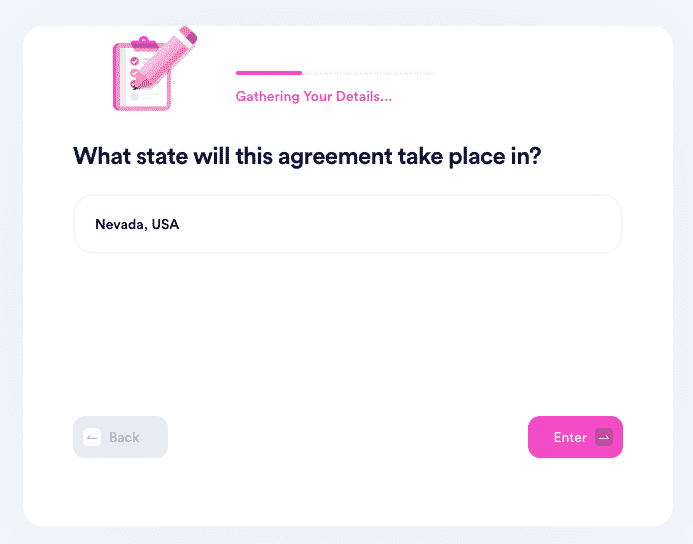 We can help with numerous legal documents, and more are on their way. At the moment, we offer:
Promissory Note

Intent to Purchase Real Estate

Quitclaim Deed

Estoppel Certificate

General Business Contract

General Affidavit
The Solution To Your Driving Woes
DoNotPay provides invaluable help to future and current drivers. By helping you ace that driver's license test, scheduling a DMV appointment the easy way, or contesting parking tickets, our app saves you money and time. 
If you need to file a car warranty or an insurance claim, we will help you deal with the necessary paperwork within minutes. Trying to get out of a car wash membership? DoNotPay can cancel it in an instant. 
Our platform works above ground as well. You can use DoNotPay to secure refunds from airline companies or compensation for delayed and canceled flights. 
Falling for Scams Is Less Likely With DoNotPay
Thanks to AI technology, DoNotPay is a great resource for protecting your privacy and finances from potential scammers. Our bots can help you report robocalls, keep your inbox clean from spam email and shady text messages, or even deal with stalking and harassment, if it comes to that. 
In case the issues escalate, skip the expensive lawyers and sue the offenders in small claims court with ease. 
Another great way to increase your online security is to use our virtual credit cards and sign up for any free trial without risking unwanted charges. You can even avoid sharing your contact info with our Burner Phone feature.