Find a Bullet-Proof
Free Printable Partnership Agreement
With DoNotPay
Creating a partnership agreement is not an easy task. For someone who can't afford pricey attorneys or doesn't feel confident drafting the contract themselves, a free online contract template is sometimes the only option.
But can you find a free printable partnership agreement that meets specific legal standards? DoNotPay will explain what constitutes a comprehensive partnership agreement and how to find a reliable online template fast and easily!
What Makes Up a Partnership Agreement?
Partnership agreements are necessary in the business world. In complex partnerships, there is a big chance of conflicts and misunderstandings. A legal document that outlines management rules and relationships between partners reduces possible disputes to a minimum.
Partnership agreements differ depending on the type of business but should define some general terms, including:
Percentage of the ownership

Profit and loss division

Partnership duration

Decision making and dispute resolution

Partner authority 

Withdrawal or death of a partner
When searching for a partnership agreement template, you need to consider the above-mentioned terms and specific state law requirements.
How To Fill Out a
Sample Partnership Agreement
?
Before choosing a free printable partnership agreement template, you should know which sections this contract should include and how to complete them. Check out a more detailed description of the partnership agreement paragraphs in the table below:
Partnership Agreement Sections
Details

Partnership description

This section should include the name of your partnership. You and your partner can use your last names or choose a new one

Partnership rules

In this section, you should:

Outline who has contributed funds, capital, or services to the business

Determine the ownership percentage each partner will have

Define the distribution of profits and losses and a payment distribution schedule

Specify the interest percentage and financial needs of each partner

Designate a partner to file the Schedule K-1 form with the

Internal Revenue Service

Develop a tax payment protocol 

Define each partner's duties regarding buying, bookkeeping, management, and other responsibilities

Terms of authority

This section should:

Define what constitutes a minor and major business decision

Determine each partner's authority during the decision-making process

Indicate when an unresolved dispute should go to court

Outline the issues when a partner withdraws from the company or dies

Create the policy for admitting new partners

Specify buyout conditions 
Where To Find a Free Printable Partnership Agreement?
Partnership agreement templates are widely available online. Most of them are free and contain all crucial sections of the contract. 
If you want to find a printable partnership agreement that meets your needs, you should:
Define your criteria

—

Research your state laws and consider your particular case to determine what your contract should include

Have patience

—

Don't go for the first template you see. You should look for the one that meets the requirements

Choose from a professional website

—Avoid amateur-looking websites because chances of finding a comprehensive partnership agreement template there are slim

Seek advice

—

Get a confirmation from a professional that you met all legal conditions. A lawyer will not overcharge you for checking a drafted agreement
Draw Up Numerous Other Legal Documents With DoNotPay
Besides helping you find the best free printable partnership agreement, DoNotPay can create various contracts for you!
Everyone needs a legal document once in a while, be it a non-compete agreement, bill of sale, or prenuptial agreement. Writing a contract is way easier with DoNotPay! 
We will generate a personalized legal document using the information you give us. All you need to do is download or print the agreement, and you are good to go!
To create a contract with DoNotPay, do the following:
Enter the name of the document you wish to create 

Answer a few questions from our chatbot

Wait for the personalized contract from DoNotPay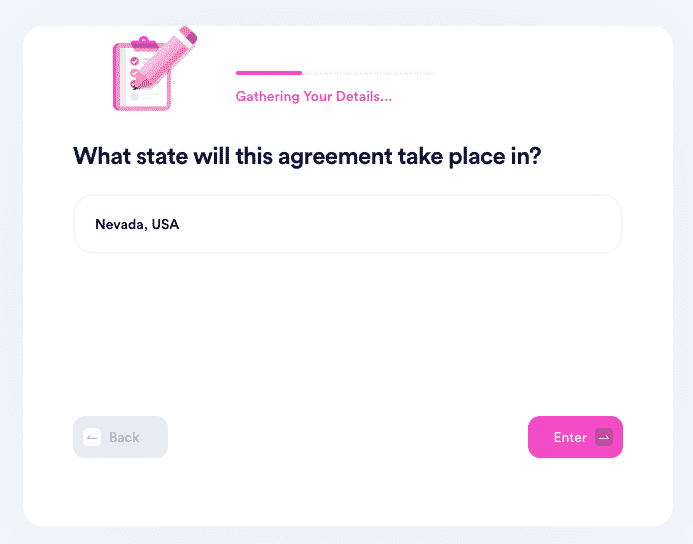 We have so much more to offer! By , you will be able to take advantage of our other integrating features. You can not only create but also notarize and fax legal documents from DoNotPay's user-friendly platform!
Which Legal Documents Can DoNotPay Create for You?
Wondering which contracts we can create for you? Here is a quick overview of the legal documents DoNotPay generates on your behalf:
Business 
Real Estate

Other

Bill of Sale

Non-Compete Agreement

General Business Contract

Intent To Purchase Real Estate

Quitclaim Deed

Estoppel Certificate

General Affidavit

Promissory Note

Prenuptial Agreement
Become a Contract Pro With DoNotPay
If you want to know more about legal documents, our learning center is the place to start. Read our comprehensive articles and find out:
DoNotPay Leads the Way Against Spammers
Browsing the internet has never been more popular than today, but you must not forget to keep your private and financial information safe. You know you can cancel any streaming service or magazine subscription easily, but that won't stop them from using your personal details for marketing purposes.
DoNotPay has a solution for that! 
Is a company pestering you with incessant robocalls, spam emails and text messages? Use our Virtual Credit Card to catch them in the act and claim compensation for your troubles. 
To prevent that from happening ever again, use our card to sign up for free trials—not only will you not pay a dime for the service, but you will be automatically unsubscribed as soon as the trials are up! 
If you want to avoid revealing your personal phone number, we'll generate a temporary burner phone for you so the company won't have any way to reach you.
Already Been Scammed? DoNotPay Knows the Way!
If you've already made the mistake and divulged your personal info to the wrong party or experienced any other kind of crime or injustice, you don't have to sit tight and suffer the consequences. DoNotPay can assist you in taking anyone to small claims court!
We'll help you gather evidence—correspondence proving stalking or harassment took place, customer service call recordings, denied chargeback and refund claims, online fax transcripts, or proof of copyright violation. Then, we'll fill out the relevant legal documents for you and draft a court script that you can use in your hearing.