Free Printable Contracts for Contractors—Get Your Contract Now!
If you enter into a business with an individual or a company but aren't their employee, you are an independent contractor, and you need to sign a legal document with your client.
You can find many contract templates online, but you may be confused by all the legal terminology found in them. This doesn't mean that you have to employ expensive lawyers to write a contract that details your terms.
can help you create a printable contract for an independent contractor in no time!
What Is a General Contractor Agreement?
An independent contractor agreement is a legally binding document between you and the client you want to work for. It lists the:
Type of work you'll be doing

Rights and responsibilities of both parties

Project deadlines

Compensation details
In terms of how long the contract lasts, there are three different types:
| | |
| --- | --- |
| Contract | Duration |
| Fixed-term | You and the client specify the time frame during which you'll work for them  |
| Indefinite | There isn't a set date when the agreement will end |
| Single-job | The agreement terminates when you complete the project |
Can You Find Free Printable Contracts for Contractors Online?
Since you need to draw up an independent contractor agreement each time you enter into a new deal, you may be tempted to search for free printable contracts for contractors online. Even though you can find a thousand templates on the internet, there are serious downsides to taking this shortcut.
Most contract templates are generic and don't include the specific information you need in them. This amounts to hours upon hours of modifying and combining over a dozen templates until you get a satisfactory result.
The templates are also often outdated, which can result in a void contract. You can end up drawing up and signing a contract that is no longer lawful or doesn't abide by the laws of the state you live in.
These are the exact issues that DoNotPay helps you avoid, as our app creates customized legal documents for you.   
Blank Contractor Agreement—Get Your Contract With DoNotPay!
You don't have to draw up a contract yourself every time you want to work with another client. DoNotPay can generate many personalized legal documents for you, and a general contractor agreement is one of them.
If you want our AI-powered app to create an independent contractor agreement for you, you only need to take these three steps:
Access DoNotPay from any

Enter

Independent Contractor Agreement

in the search tab

Provide the necessary information to make your document customized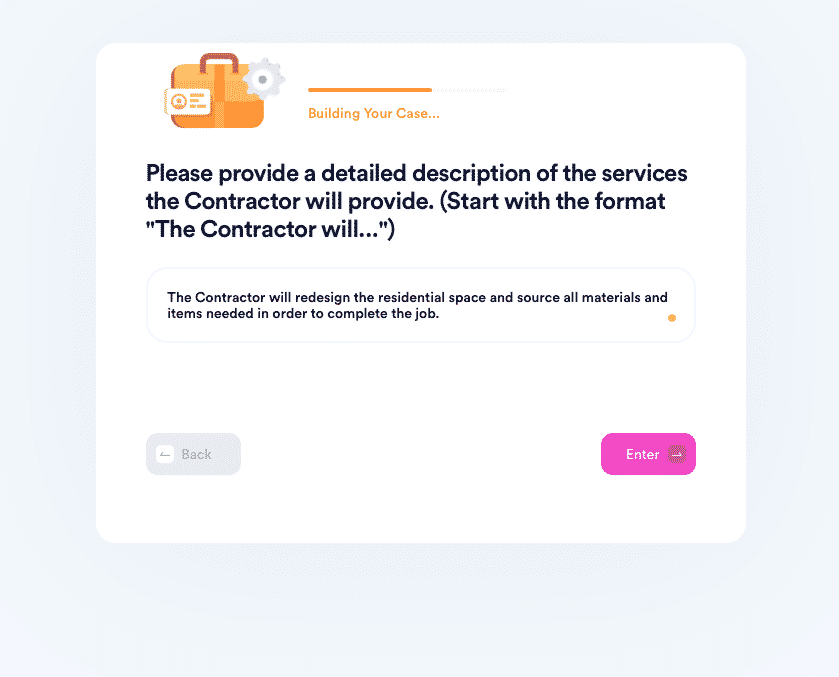 The best aspect of making legal documents with DoNotPay is that you can create as many as you like, which is the biggest advantage for independent contractors who work with many clients.
General Contractor Contracts—The Essentials
Even though you can get a printable independent contractor agreement stress-free with the help of DoNotPay, you need to know what is included in them. That way, you will be able to negotiate your terms with a client to the best of your abilities.
Every contract should have these:
Description of work

Payment terms

Legal requirements

Compensation
Description of Work
Make sure that you specify what type of work you'll be doing for the client in the contract. This includes the project details, working hours, the length of your work-related relationship, and other details you deem relevant.
You can write the Description of Work clause in the contract itself or in a separate document you can attach to the contract.
Payment Terms
Depending on your terms and your client's willingness to agree with them, you can be paid in various ways. For example, if you are doing a short-term project, you can receive the agreed-upon payment before or after you've completed it. If you are going to work on a long-term project, you can agree to receive your payment in installments.
In many instances, independent contractors have to deliver invoices to their clients and keep track of the payments.
Legal Requirements
The contract should also specify that it abides by the laws of the state in which it's created. That way, you and your client prove that you have the business licenses you need to enter a work relationship.
Compensation for Both Parties
Apart from covering the payment terms in the contract, you also need to specify the compensation your client will receive from the deal.
What Other Legal Documents Can DoNotPay Generate?
Besides having your independent contractor agreement ready at hand each time you want to enter into a business with a new client, you can also benefit from creating other legal documents with DoNotPay.
More and more contracts are added to our database of legal documents, and these are some of the most popular ones we can create for you:
Estoppel certificate

General affidavit

Independent contractor agreement

General business contract

Child care authorization form

Quitclaim deed

Promissory note

Intent to purchase real estate
DoNotPay Helps You Scam Scammers
DoNotPay helps you stay safe from scammers and fraudsters! 
We have developed a Virtual Credit Card product that helps you sign up for free trials without revealing your real banking information to any suspicious company. We've joined our most popular feature with a Burner Phone functionality that allows you to verify online accounts with a temporary phone number. 
That way, you'll be free to enjoy services while they're free of charge, eliminate the possibility of robocalls, robo texts, and spam emails from the shady companies, and forget about canceling the subscriptions altogether—our product does it for you!
DoNot Pay can even shield you from cyberstalking and online harassment and get you compensation for the crime you've suffered. We'll even help you take individuals or businesses to small claims court by drafting the relevant paperwork for you, accessing any public records that might bolster your case, and supplying you with a court script that you can read to the judge on the day of the hearing.
DoNotPay Is Helping You Out Left and Right
Not only can DoNotPay handle bureaucratic nuisances on your behalf, but we can make your daily life easier too!
No more waiting in endless phone queues to make a warranty claim for a faulty product or wasting the day away in mile-long DMV lines—our app will do the hard work for you! We'll call the reps of any company—even major airlines—and schedule appointments on your behalf in a matter of minutes!