All About the
Free Printable Confidentiality Agreement Form
Writing a confidentiality agreement from scratch requires a lot of effort. You must include relevant clauses and have all your provisions aligned with applicable state laws. Any mistake may make your document invalid or cause miscommunication between you and the other party.
Since many people don't know how to use legal terms and write contracts, they usually turn to online contract templates. 
Is a free printable confidentiality agreement form the best option? Our guide will solve this dilemma and give you practical advice on composing your legal documents with zero effort.
Confidentiality Agreement Deciphered
A confidentiality or non-disclosure agreement should prevent individuals from revealing business secrets to third parties. The document binds all signees to keep the internal information from the public and regulates accidental disclosures.
It's common in the following situations:
A company or a business owner wants to keep their strategies and ideas confidential

An invention owner wants to keep the details of their project secret

Two companies entering a mutual business don't want their transaction details to be disclosed to the public or parties not involved in the project

The owners of the intellectual property are worried about the safety of their ideas
There are two types of confidentiality agreements:
Unilateral

, where one of the signing parties, usually an employee or intern, agrees not to disclose confidential information

Mutual

, where all parties involved must keep the common proprietary information undisclosed
This agreement usually lasts from two to five years, but each contract contains a clause that allows early termination if the sensitive information becomes public.
What Clauses Should a Proper Confidentiality Agreement Form Contain?
To create a legally binding agreement, you must ensure it contains essential clauses. You can add new ones to fortify the contract as long as they comply with the governing laws.
The recommended provisions of a confidentiality agreement include:
Full legal names of the parties

Physical addresses of the parties

Agreement type—whether it's unilateral or mutual

Agreement time frame—the start and end date

Definition of confidential information 

Proprietary information type, i.e., customer data, supplier lists, sales details, training techniques, etc.

Legal consequences of breaching the contract

Limitations

Non-compete clause stating that the signee won't use the company's business strategies and trade secrets to start a new business

Signatures of all signing parties

Date of signing
Advantages and Disadvantages of the
Free Confidentiality Agreement Template
Here's a table showing the list of benefits and drawbacks of online contract templates
Pros
Cons

Free templates are easily accessible

They are usually free

It doesn't take long to edit and adapt them to your needs

They aren't always tailored to your needs

Free templates often don't include all necessary provisions

Some of them are full of technical and grammatical errors

Contract templates may be out of date because of the law alterations

Customization is limited to specific blank fields
An inappropriate template can make your contract invalid, which is why you should turn to DoNotPay and get a top-notch agreement without hiring overpriced lawyers!
Rock Your Legal Documents Stress-Free With DoNotPay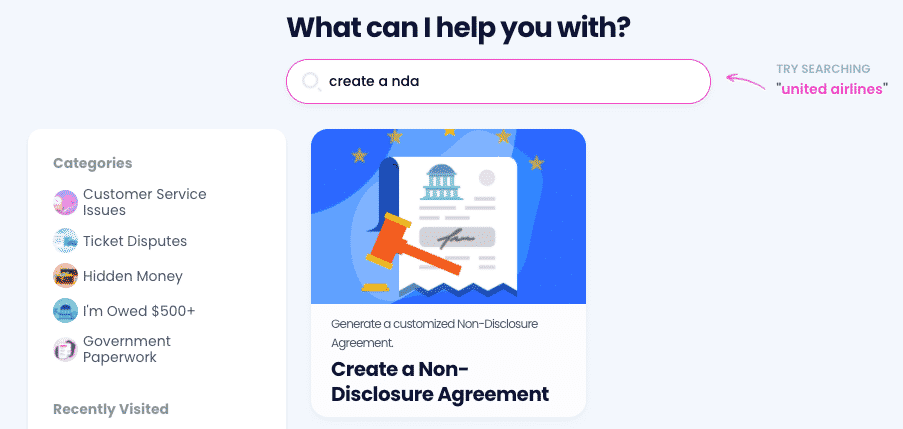 Since unreliable online templates aren't the wisest solution, stay on the safe side with the world's first robot lawyer! We offer the quickest and most affordable way to draw up a flawless confidentiality agreement in a few clicks! All you should do is pick a modifiable template from our collection and provide some essential details. We do the rest!
Here is how to use our tool:
in your preferred web browser

Input the name of the desired document in the search field

Fill out a short questionnaire to help us add the necessary details to your contract

Download your document
Once you complete this simple procedure, download your personalized agreement and sign it or have it notarized to make it valid! 
You can skip the standard notarization procedure by having your signatures validated with DoNotPay! Our Notarize Any Document feature lets you book an appointment with an online notary who will put a digital seal and signature on your document. 
Master Creating Legal Documents With DoNotPay
Confidentiality agreements aren't the only legal documents you can generate with our app. We prepared a selection of templates you can personalize.
Choose among three document categories:
Real Estate Documents
Business Documents and Contracts

Other Legal Documents

Estoppel Certificate

Intent to Purchase Real Estate

Quitclaim Deed

General Business Contract

Non-Disclosure Agreement

General Affidavit

Child Care Authorization Form

Promissory Note
You can find more practical tips on many other agreements in our learning base! and read more about:
Our Robot Lawyer Gets Rid of All Admin Tasks
What makes DoNotPay so unique is that it helps you get back what is rightfully yours in many different ways. You can appeal parking tickets, find unclaimed money, demand a refund for canceled or delayed flights, get help with bills you cannot pay, or get your college application fees waived with the help of our platform.
If you're sick and tired of annoying robocalls, spam emails, copyright violations, text message spam, or stalkers and harassers, DoNotPay can assist you in getting rid of them once and for all.
DoNotPay Can Help You Save Money
Have you ever subscribed to a service's free trial you forgot about after a few days? Many Americans have, which is why DoNotPay has a free trial feature that will help you avoid getting charged once the trial is over.
If you want us to scan all your active memberships and help you not pay for the ones you don't use, connect your email address or credit card to DoNotPay. Our cancel feature will ensure that you don't waste your money on subscriptions you don't even remember exist.
If a merchant charges you once the free trial is over, though, you can use our robot lawyer to request a refund and skip the phone queue when doing so.
In case a company refuses to grant you a refund, you can also use our app to sue them in small claims court.