The Scoop on the
Free Printable Basic Rental Agreement
If not done properly, renting property can turn out to be a nightmare. This is why it is important to create a basic rental agreement and ensure the contract runs smoothly. DoNotPay has all the info on this contract and can help you make various other legal documents as well. If you want to get the scoop on free printable basic rental agreements, our AI-driven app will help you learn everything there is to know!
What Is a
Simple Rental Agreement
? How Is It Different From a Lease Agreement?
A rental agreement is similar to a lease agreement. Both agreements are legally binding. The two terms are not interchangeable—the main difference between the two is the length of the contract that the tenant and the landlord sign.
Lease agreements usually last for at least a year. Rental agreements are month-to-month contracts that renew unless a tenant or the landlord decides otherwise. Unlike rental agreements, lease agreements are more permanent and don't allow for frequent changes.
When Should You Use a Free Printable Basic Rental Agreement?
You will need a rental or lease agreement if you are considering renting or leasing a:
House

Condo

Apartment

Room

Mobile home
Where Can You Find a
Free Printable Basic Rental Agreement
?
You can find free printable basic rental agreements online. While this option is free, it is not a great way of creating a basic rental agreement. There are many websites that offer you pre-made templates that you can download, print, and add some basic information to.
When it comes to rental agreements, there is no one-size-fits-all type of solution, though. This agreement should be specifically tailored to your needs.
What Info Should a
Simple Rental Agreement Form
Contain?
If you want to create a formal printable basic rental agreement, you need to include all the required info that will protect your interests. You should mention:
Contact information of the tenant

Contact information of the landlord

Tenancy length

Rent cost

Amount of security deposit

Terms of payment

The deal about the utility payments

Fees for pets or parking

Damage or renovation of the property
Make sure to be as clear as possible about all these items. If all parties agree to the terms, you may sign the contract and make it official.
Why Is a
Simple Rent Contract
Important?
As is the case with any other legally-binding document, a rental agreement has the purpose of protecting the parties signing it. They want their home to remain in the best condition possible.
Tenants also don't wish to live under the constant scrutiny of landlords since they are paying to stay in that dwelling. The idea of rental agreements is to respect both sides' boundaries and maintain peace.
A good rental agreement could end up protecting you from a possible lawsuit and spending a hefty sum of money in court. If you have clearly stated terms in your agreement, the parties shouldn't have many disagreements.
What Happens if One of the Parties Violates the Agreement?
In case the landlord is the one violating the agreement, the tenant has the right to end the contract and may be entitled to damages.
If the tenant is the one breaking the rules of the basic rental agreement, the landlord has the right to evict them. The landlord may do so if the tenant is:
Not paying the rent

Damaging the property

Performing illegal activities on the property

Not moving out after the arranged date
No matter how badly the tenant may be breaching the agreement, the landlord must not use force to get them out of the property. They are not even allowed to change the locks. If the situation escalates, the landlord can take the tenant to court.
DoNotPay Is the Way To Create Legal Documents Easily
In case you decide to create a legal document, you can count on DoNotPay for help. This way, you won't have to pay enormous sums of money for a lawyer to make one such contract for you. With DoNotPay, you only need to answer several questions, and we will generate a proper document for your needs.
Follow these instructions:
Access DoNotPay from a

web browser

Enter the name of the document that you want to create

Type in your name, address, and other relevant details
Once you complete the questionnaire, you'll have a lease agreement tailored to your needs, but you should check whether you need to get it notarized to make it official. All the parties involved need to sign the contract for it to be in effect.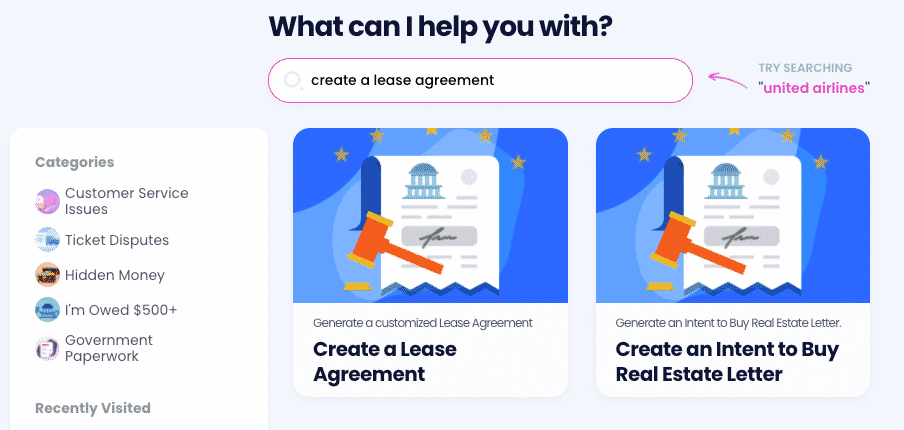 What Other Agreements Can You Create With DoNotPay's Help?
DoNotPay can help you with a number of other legal contracts you want to create. The best part is that you can save both time and money! Our offer keeps growing, but for now, you can check out the table below for all the currently available options:
Real Estate
Business
Other

Intent to purchase real estate

Quitclaim deed

Estoppel certificate

General business contract

Promissory note

General affidavit
If you want to learn more about some other legal documents, you can check out our guidelines for the:
Don't Let Companies Take Your Hard-Earned Money!
People love to subscribe to all sorts of services—especially if there are free trials involved. The problem is that most of them forget that they signed up for anything in the first place. Companies are aware of this, which is why they auto-renew memberships as soon as the free trials expire.
Don't let them get away with it—use DoNotPay to sign up for free trials and cancel subscriptions right before they renew. If you want to save even more money, use our platform to learn how to handle high bills, parking tickets, college application fees, canceled or delayed flights, or faulty services you should get refunded for.
Use DoNotPay To Stop Illegal Activities and Earn off Scammers!
Our AI-powered platform can assist you in dealing with all sorts of scammers. If you got any of the following, the world's first robot lawyer will help you seek justice:
Do you want to protect yourself and your loved ones from stalking and harassment as well? Use DoNotPay to learn how! If the situation with a stalker escalates, our app is going to help you take them to small claims court by preparing all the paperwork and your court statement.
Don't stop there—check out how you can bypass phone number verification, claim any type of warranty, or pass any government test with flying colors!