What To Get A Free Music Trial Easily With a Virtual Credit Card

Dueling banjos? More like dueling providers. With the wealth of options you have for getting your musical needs met, it can be hard to differentiate between competitors. One platform may let you download music so you can listen without an internet connection, while another may have an exclusive artist or podcast deal. The basic features are the same, but if you want to know exactly what you're getting, a free trial is the best way to do it. If you're interested in getting a , DoNotPay can help.
How to Get a Free Trial on Music Platforms
Market research has identified the top five music platforms in the world, based on recent revenue data:
Spotify
Apple Music
Amazon Music
YouTube Music
Pandora
These five music services have over 80% of the market share between them.
Spotify
Spotify does have a free offering, but there are some limitations or annoyances that you don't see in Spotify Premium:
Ads between songs
Limits on the number of tracks you can skip
Limits on the songs you can listen to
No download capabilities
You can always try Spotify Premium for one month at no charge. There may be additional seasonal promotions or pricing based on your payment method.
Apple Music
Apple Music does not offer any free listening options. You can try the service free for three months, much longer than some competitors. You may even get the service for free if you buy an Apple audio device.
Amazon Music
Amazon has several different music offerings. You can get free music in two ways:
Amazon Music Free
Amazon Music Unlimited Free Trial
You do not need an Amazon Prime account for Amazon Music Free. You have access to a smaller library with advertisements and no personalized music stations. In the Amazon Music Unlimited trial, you have access to over 75 million songs for 30 days. The trial may be longer with the purchase or activation of a device. You can download music for offline listening.
YouTube Music
YouTube has both a free ad-supported option and a premium tier. As with other services, the free offering has some limitations:
Advertisements between songs
No offline listening
No videos to accompany songs
There is a 30-day trial of the premium tier available for any subscription type.
Pandora
Pandora does have a free tier with access to music and podcasts. Users cannot make playlists and must listen to ads to skip songs or search for a particular song. There are also 30-day free trials of Pandora Plus and 60-day free trials of Pandora Premium available.
Switching to the Paid Service
SERVICE
PLAN
BENEFITS
Spotify Premium
Student $4.99 per month
Includes Spotify, Hulu with ads, and Showtime
Individual $9.99 per month
Duo $12.99 per month
Up to 2 accounts in the same household
Family $15.99 per month
Up to 6 accounts in the same household, includes parental controls and Spotify Kids
Apple Music
Voice $4.99 per month
Does not have Lyrics View or allow music to be downloaded to your library
Student $4.99 per month
Individual $9.99 per month
Family $14.99 per month
Covers up to 6 accounts
Amazon Music
Prime $9.99 per month
Discounted to $7.99 for Prime members
Student $0.99 per month
Single Device $3.99 per month
Only for use on Echo devices and Fire TV
Individual $7.99 per month
Family $14.99 per month
Can have up to 6 accounts and comes with parental controls
YouTube Music
Student $4.99 per month
Eligible students only. Annual verification required.
Individual $9.99 monthly or $89.99 annually
Family $14.99 per month
Add up to 5 family members (ages 13+) in your household.
Pandora
Plus - $4.99 per month
Covers one user - Playlists are included, but offline listening is not
Student $4.99 per month
Military $7.99 per month
Individual $9.99 per month
Family $14.99 per month
For up to 6 accounts
Auto-Renewal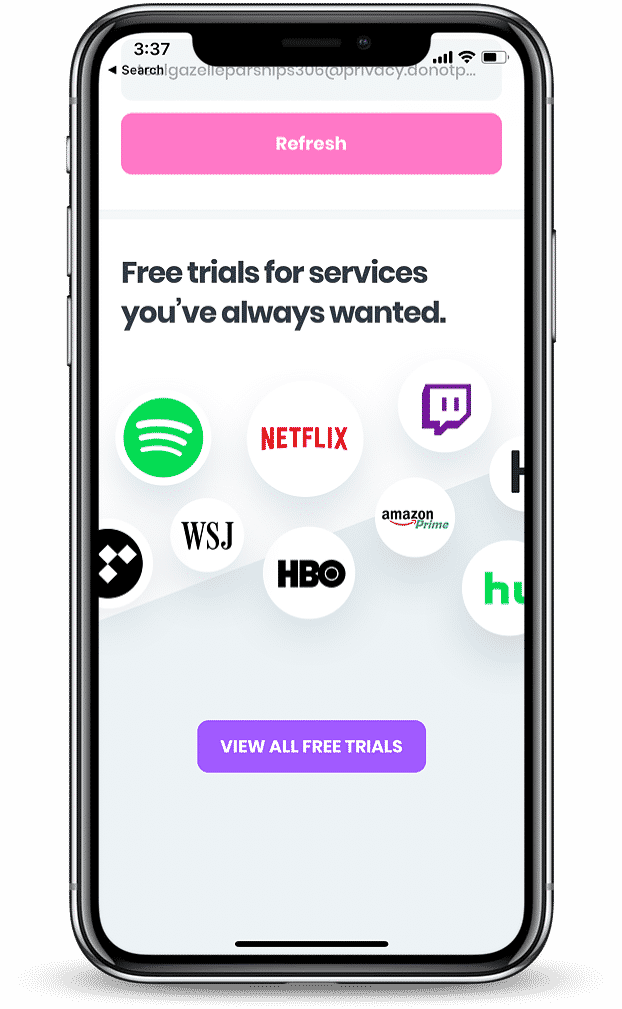 These services do automatically renew at the end of your  unless you cancel the service, but if you cancel before the end of your promotional period, you may lose access to your music.
Can I Still Use the Paid Service if I Cancel During the Promotional Period
You can avoid being charged at the end of your free trial with DoNotPay's virtual credit card service. The service will generate credit card information to insert for your free trial without any real account information behind it, so you won't be surprised by a charge on your next statement.
Other Ways to Save Money With DoNotPay

Wasting time or money on a product because you didn't have all the right information can be frustrating. You can avoid wasted effort with DoNotPay. We can help you make faster progress with
and more. Try DoNotPay today to see how much more efficient you could be!