The Fastest
Free Lease Agreement Download
Option Explained
Writing a perfect lease agreement may be more challenging than it seems. To become enforceable, this legal document must contain accurate information and adequate terms and phrases. Besides that, it must meet the criteria of the local jurisdiction.
All these requirements tend to be confusing, so most people get their contracts drafted by lawyers. If you don't want to waste money on costly professional services, DoNotPay simplifies a free lease agreement download for you! Read our guide, learn how to customize our contract templates, and get a brand new contract within five minutes. 
What Are Lease Agreements?
A residential lease agreement is a contract that allows a tenant to reside on the landlord's property in exchange for a monthly rent. It also settles the expectations and responsibilities the signing entities agree upon, shielding their rights and interests. 
Lease contracts are fixed and long-term, unlike rental agreements that last for 30 days and get renewed at the end of each month. 
What Should a Solid Lease Agreement Template Include?
The exact structure of your lease agreement depends on your location. Most states have specific landlord-tenant rules you must understand before writing the contract.
Below is the list of some essential provisions you can find in a well-crafted lease contract template:
Identification of both parties, including names and contact information

Signatures of all parties involved

Lease term (if it's a weekly, monthly, or

yearly lease agreement)

Lease duration

Property information (address, square footage, number of rooms, furniture, appliances, general condition, etc.)

Rent (monthly amount, payment method, due date, etc.)

Security deposit

Utilities

Pet policy

Property maintenance

Clauses regarding potential property modifications

Penalties for violating the agreement rules

Termination clause
What Are the Advantages and Disadvantages of an
Editable Lease Agreement
?
Online lease agreement templates may seem convenient and inexpensive, but they aren't always the most reliable option. The table below shows a few pros and cons of this contract-creating method:
Advantages
Disadvantages

Free online templates are often free or at least much more affordable than professional drafts made by lawyers

Completing online samples is easy

The procedure is quick

You can access online templates from any device and download them in a split second

The templates may become unsuitable or outdated as time goes by due to the law modifications

They are not adaptable. You can't always adjust them to a specific case since they are fill-out documents

Free templates often don't include all the necessary disclosures

The samples can be full of grammatical or technical errors

You can't always say whether a particular template came from a reliable source
What Other Methods Can You Use To Create a Lease Contract?
Besides online contract templates, you can use the following methods:
Hiring a lawyer to draw up your agreement

—While using professional drafts is the most reliable option, it's usually an expensive one. Such services can cost hundreds or even thousands of dollars, which is too much for one document 

Writing a contract yourself

—You can try to compose an agreement yourself, relying on your understanding of the legal terms and local regulations. The bad news is that a single mistake or inaccurate information may cause numerous problems in the long run

—You get customizable templates to create a lease agreement in a flash!
Get the Best Out of DoNotPay's Standardized Legal Documents
If costly attorneys and dodgy online templates don't seem like a stress-free way to get a valid agreement, DoNotPay is the right deal for you! We allow you to create unlimited contracts fast by customizing our modifiable templates.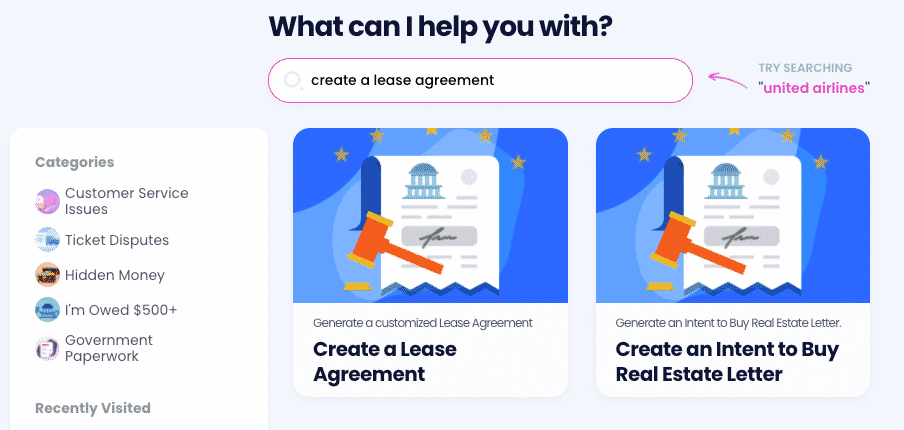 Each residential lease agreement we generate complies with all location-specific landlord-tenant rules. This means you don't need to be a legal expert to get a valid document. Our robot lawyer will do all the grunt work and save your time and money!
Here is how to use our service:
from any preferred web browser

Locate the desired template by entering the keywords in the search box

Help us complete your contract by answering a few short questions

Download the ready-made document
What if we told you that you can have your document notarized in the same app? Sign up for DoNotPay and get access to our Notarize Any Document service. Not only can you obtain a digital notary signature and skip daunting procedures, but you can also fax the notarized document from any device!
Here is the list of legal documents we can generate:
Promissory Note

General Business Contract

Intent To Purchase Real Estate

Quitclaim Deed

Estoppel Certificate

General Affidavit

Child Care Authorization Form

Residential Lease Agreement
Discover Comprehensive Contract-Related Guides in Our Learning Base
Learning more about other lease-related agreements can help you get informed and understand these contracts better. We offer you loads of handy manuals, a portion of them listed in the table below:
| | |
| --- | --- |
| State-Specific Lease Agreements | Other Lease-Related Agreements |
| | |
Our Robot Lawyer Gets Rid of All Admin Tasks
What makes DoNotPay so unique is that it helps you get back what is rightfully yours in many different ways. You can appeal parking tickets, find unclaimed money, demand a refund for canceled or delayed flights, get help with bills you cannot pay, or get your college application fees waived with the help of our platform.
If you're sick and tired of annoying robocalls, spam emails, copyright violations, text message spam, or stalkers and harassers, DoNotPay can assist you in getting rid of them once and for all.
DoNotPay Can Help You Save Money
Have you ever subscribed to a service's free trial you forgot about after a few days? Many Americans have, which is why DoNotPay has a free trial feature that will help you avoid getting charged once the trial is over.
If you want us to scan all your active memberships and help you not pay for the ones you don't use, connect your email address or credit card to DoNotPay. Our cancel feature will ensure that you don't waste your money on subscriptions you don't even remember exist.
If a merchant charges you once the free trial is over, though, you can use our robot lawyer to request a refund and skip the phone queue when doing so.
In case a company refuses to grant you a refund, you can also use our app to sue them in small claims court.