File Fred Loya Insurance Claims in No Time
Fred Loya Insurance claims to provide affordable and quality auto insurance. Even the best insurance providers can have complicated claims procedures, so if you need to file a claim, you might end up in a bureaucratic maze.
DoNotPay can help you file a claim for any insurance type. If you would like to avoid obstacles, submit your claim via our app!
What Does Fred Loya Insurance Cover?
Here is an overview of Fred Loya's plans and general coverage:
Type
Coverage

Liability

Property damage

Bodily injuries

Collision

Repairs

Replacement of the insured vehicle as a result of a collision

Comprehensive

Damages to the insured vehicle resulting from, e.g.:

Fire

Hail

Theft

Storm

Animal

Vandalism

Falling objects

Personal Injury Protection

Lost wages

Funeral expenses

Medical expenses

Caregiver services

Medical Payments

Medical treatment:

As a result of a car accident regardless of the fault
As there are exclusions, read your insurance policy carefully to know what to expect before filing your claim.
How To Initiate Fred Loya Insurance Claims
In case you get into a car accident, report it to the Fred Loya Insurance claim department to get further instructions. This is what you should expect to come next:
Fred Loya Insurance will appoint a liability adjuster

The adjuster will determine whether your loss and damages are covered

He/she will collect evidence, such as photos, interviews with other drivers and witnesses, police reports, damage estimates, etc.

Fred Loya will accept or deny your insurance claim
If you do not want to deal with customer support representatives, DoNotPay can help you claim your accident insurance easily.
What To Do To File Loya Insurance Claims
As a Loya Group Insurance policyholder, you have certain duties stated in your policy. Here is what you need to do:
Report the loss in due time

Cooperate in the claim investigation process

Provide supporting documentation
Fulfilling these requirements will ensure your claim process goes smoothly.
Get a Loss Estimate and Repairs
Fred Loya provides a few options for loss appraisal. You can get the estimate at:
Repair shops

Your place of residence
In case you need to initiate the claiming process for your vehicle, an appraisal officer can come to your home to inspect the car only if it cannot be driven. Once Fred Loya's appraisals estimate the damages on your car, they will send the report to an adjuster.
If you decide to drive your car to a shop for repairs, you can select one that is part of Loya's Direct Repair Program and get:
A guarantee on performed repairs

A rental in case you have rental reimbursement option

The repairs bill sent directly to Loya Insurance Group
You do not have to take your vehicle to a Loya certified facility, but do not schedule repairs before the adjuster has authorized them.
File Fred Loya Insurance Claims via DoNotPay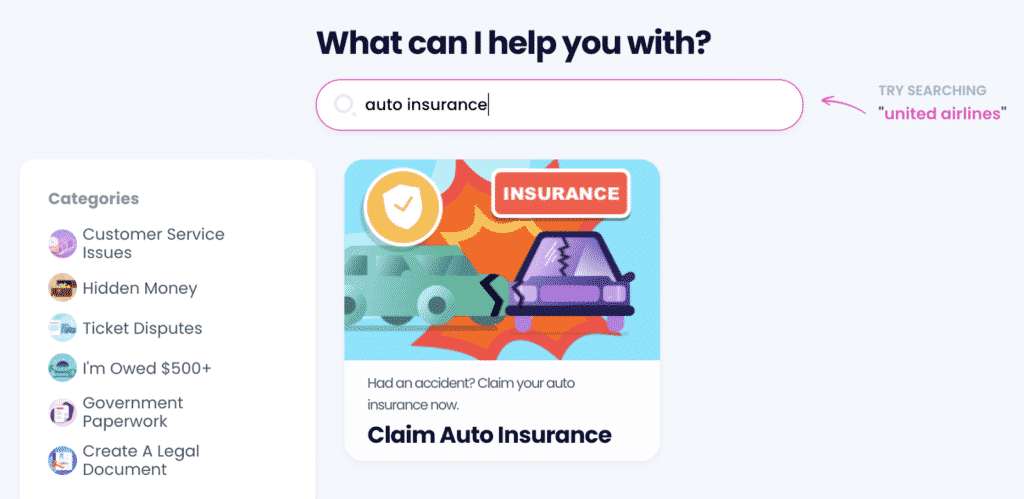 DoNotPay saves you time and energy by filing your Loya Group Insurance claims for you. You should provide some basic information, and here is how:
Open DoNotPay in your

Opt for

Auto Insurance

Enter the necessary information, such as the policy number and your contact details

Describe why you are filing a claim and provide the specifics of the incident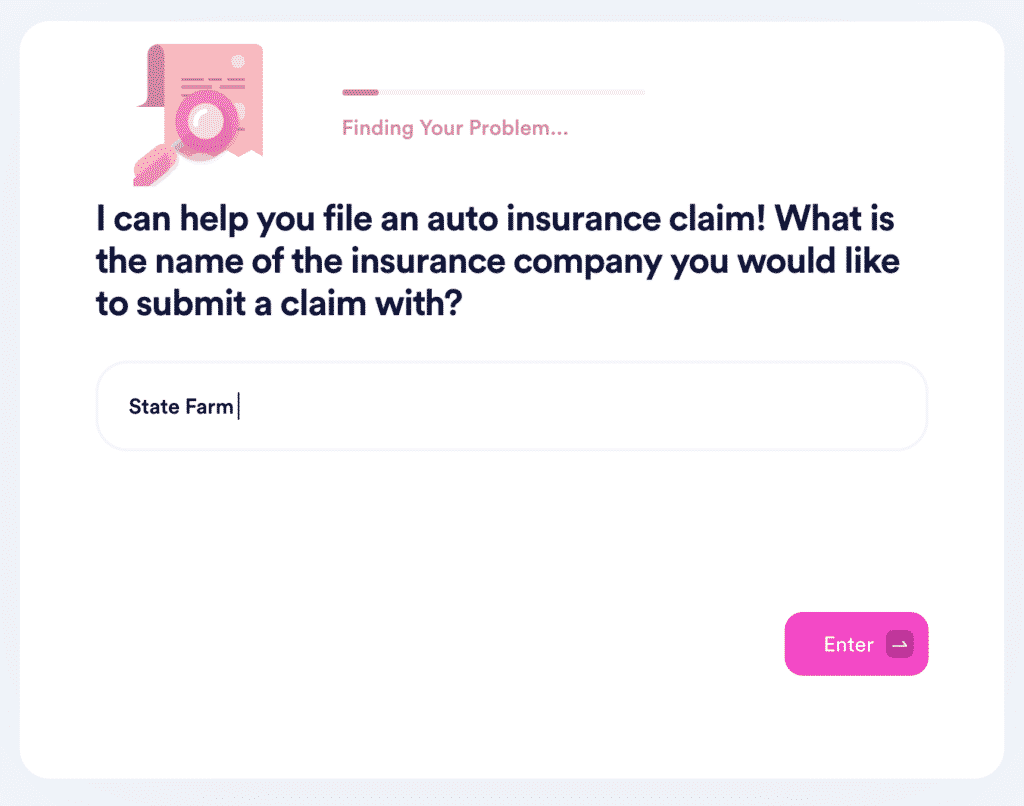 Our app prepares and sends your claim to Fred Loya Insurance, and a company representative should contact you to inform you about the following steps.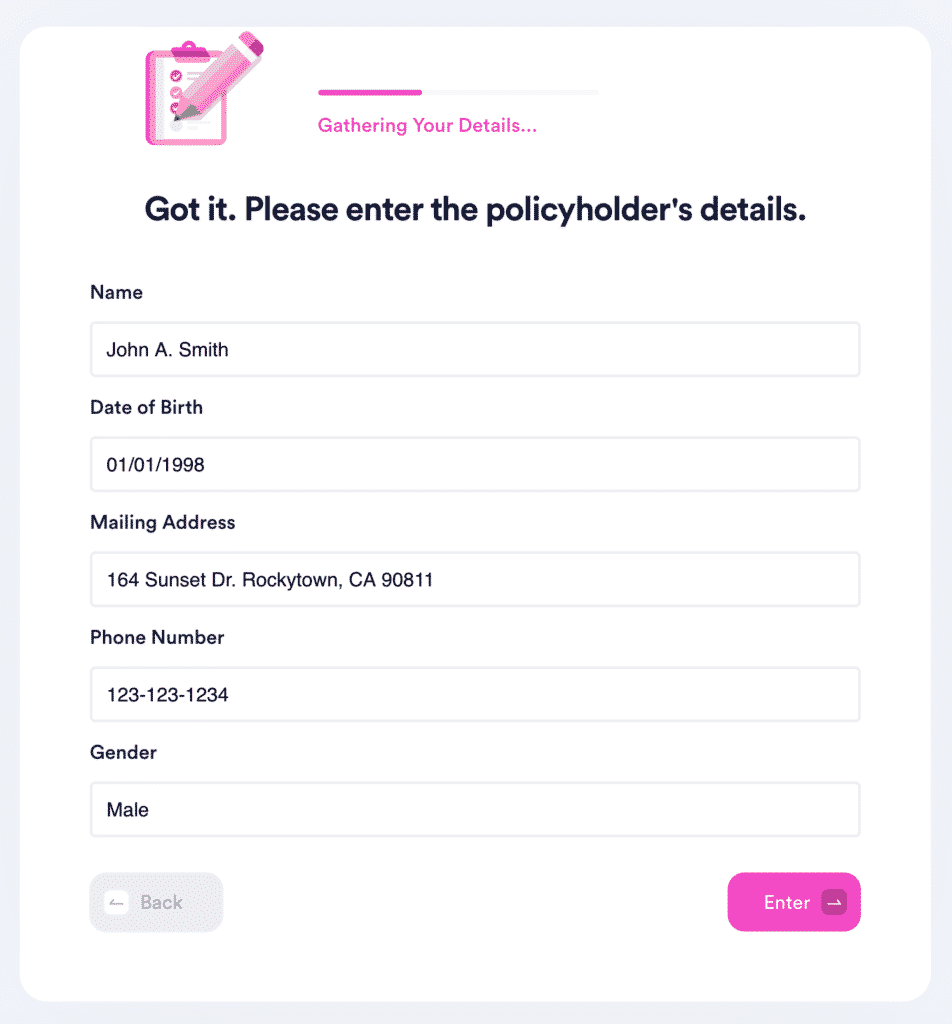 DoNotPay can help you file different insurance claims, such as car, unemployment, or home insurance. We will assist you in filing a claim with Allianz, The General, Allstate, Shelter, or any other provider.
File Fred Loya Insurance Claims on Your Own
Should you choose to submit Loya Insurance claims by yourself, your only option is to call the Fred Loya Insurance claim department at 1-800-880-0472. You can contact a representative during the following business hours:
Monday–Friday, 7 a.m.–8 p.m. (MST)

Saturday, 7 a.m.–4 p.m. (MST)
Be prepared to wait for a long time for a representative to answer your call as they tend to be busy. They will ask for additional evidence that you can mail to P.O. Box 972450 El Paso TX 79997.
A claim adjuster should get in touch with you within 24 hours of reporting the incident. If you do not hear from the adjuster, call the claim department again.
Did Fred Loya Insurance Reject Your Claim? DoNotPay Can Help
In case Fred Loya denies your claim, DoNotPay can assist! Our app will file an appeal letter on your behalf as you should not give up getting what is rightfully yours.
Here is how you appeal:
Visit DoNotPay in a

Find

Auto Insurance

Click on the

Appeal Denied Insurance Claim

Follow the prompts to finalize the process
You take these simple steps from the comfort of your home, and we make sure Loya Insurance Group gets your appeal.
DoNotPay Is Your Shortcut Through Bureaucracy
With our app, you don't have to spend hours figuring out how to request a refund, cancel a service, or book a DMV appointment.
We take over all the hard work! Forget about waiting in a phone queue for hours in hopes of reaching a customer service rep. Our AI-powered app will call any company for you and ping you when a human appears on the other end of the line.
DoNotPay also speeds up the process of filing insurance claims, claiming warranties, reducing property tax, and drafting various legal docs.
Keep the Communication Lines Clear With DoNotPay
Do you know how powerful DoNotPay's virtual credit card is?
This super-smart feature can not only sign you up for no-risk free trials but can provide you with an alternative email address. You can test any service without giving out your real email, which will keep your inbox clean from spam!
If you have family or friends within the U.S. prison system, our app helps you get in touch with them quickly.
We can also make sure you don't become a target of text and robocall scammers! Keep your phone number private and avoid this type of harassment by using our Burner Phone feature!
In case you need to fax a document, there is no need to search for the instruction manual on how to operate a fax machine. DoNotPay makes it simple to send online faxes anywhere!