Fight Fort Worth Traffic Tickets Without a Lawyer — Here's How
If you feel your  was unfair or you didn't commit the offense, you can contest your traffic citation. Failure to challenge the ticket results in far-reaching consequences, including a conviction and license suspension. Unfortunately, the process of doing so can be confusing and so time-consuming. DoNotPay can help you make the best case possible for voiding or fighting the ticket without a lawyer.
What Are the Common Traffic Violations in Fort Worth, TX?
Some of the typical violations that result in a  include:
Running a red light
A DWI or DUI
Speeding
Driving with a suspended license
Driving without a license
Not stopping for an emergency vehicle
What Are the Steps to Take After Getting a Traffic Ticket?

When you get a traffic ticket, you must act immediately to avoid other fines and assessments. The following are some of the steps to take after getting a traffic ticket:
Assess whether you would like to plead guilty or not guilty on the violation.
If you plead guilty, you can proceed in making a payment via the options available.
If you wish to plead not guilty, you can proceed on filing an appeal by yourself or do it with DoNotPay.
Why Should You Fight Your Fort Worth Traffic Ticket?
Simply paying your fine for the traffic ticket means you admit to being guilty of the charge. Being convicted of or found guilty of a speeding ticket could result in the following consequences:
Points against your records will be charged
You will likely pay surcharges imposed by the department of public safety.
Your license will be suspended
You will pay higher insurance rates
With that being said, it may be worth your while to plead not guilty to the traffic ticket you received. Most especially considering that you can rely on DoNotPay to take on this battle with you.
What Is the Difference Between a Moving and Non-Moving Violation?
A moving violation happens when a traffic law is violated by a moving vehicle. Good examples of moving violations include running a red light, speeding, or drunk driving. Non-moving violations are offenses related to parking or faulty equipment. Examples are parking in front of a fire hydrant and running excessive muffler sounds.
Here are some frequently asked questions:
| | |
| --- | --- |
| Can I Refuse a Breathalyzer Test in Fort Worth? | If you got stopped for drunk driving, refusing a breathalyzer could constitute a criminal violation subject to massive penalties. If you are convicted, your charges could be far much more than those for drunk driving. |
| Is Signing a Traffic Ticket Admission of Guilt? | No. Signing a traffic ticket is just an acknowledgment of receipt of the notice to appear in court. If you refuse to sign the ticket, the officer can take you into custody since you are being charged with a violation. By signing your ticket, you avoid custody while buying yourself freedom pending the court date. |
| What Is the Effect of a Traffic Ticket on Your Car Insurance Rates? | Even a single traffic ticket can raise your insurance rates substantially. A conviction means points being assessed on your license. These points can be legitimately considered by insurance companies when calculating annual premiums. Fortunately, car insurance companies may not hold that ticket against you forever. |
| How Long Do Points Remain on My Driving Record? | After a conviction, points remain on your record for 18 months from the date of the offense. Keep in mind insurance providers' lookup points go as far as 36 months. They use this information to raise your insurance rates. |
| Can I Be Cited for an Illegal U-Turn? | Essentially, a law enforcement officer can issue a ticket for an illegal and unsafe U-turn. While some crossroads show U-turns are not allowed, others don't. A police officer will have to determine whether it was safe for you to make the U-turn depending on if the driver can see oncoming traffic well or the weather. |
| Do I Have to Go to Court to Pay My Fine? | No. You can mail your fine directly to the courthouse. Alternatively, make a payment online. |
| Does Enrolling in a Traffic School Help Reduce My Points? | Yes, enrolling in a driving school can help reduce points on your driving record. If you attend a court-approved traffic school in Fort Worth, it can help get your ticket masked. |
Fight Traffic Tickets in Fort Worth, TX in Less Than 120 Seconds
BBC reported on how DoNotpay successfully overturned 160,000 tickets even without a lawyer. That is $4 million worth of wrongfully issued tickets!
Here's how to fight a Fort Worth traffic ticket with DoNotPay:
Log-in to DoNotPay and go to the Ticket Disputes category. Select the correct product based on your traffic ticket.

 

Upload a photo of your citation.

 

Provide us with some details on why you believe the citation issued is a mistake.

 

Select whether or not you want the letter mailed to the traffic ticket issuer on your behalf! 
That's it! You'll receive an appeal letter that contains state vehicle codes to boost your case.

 
It's that simple! Look out for your traffic ticket issuer's response to discover whether you won.
Fight a Fort Worth Traffic Ticket With DoNotPay
Aside from Fort Worth traffic tickets, we can also assist you in contesting tickets anywhere in the country. Some of the tickets we've handled include:
What Else Can DoNotPay Do?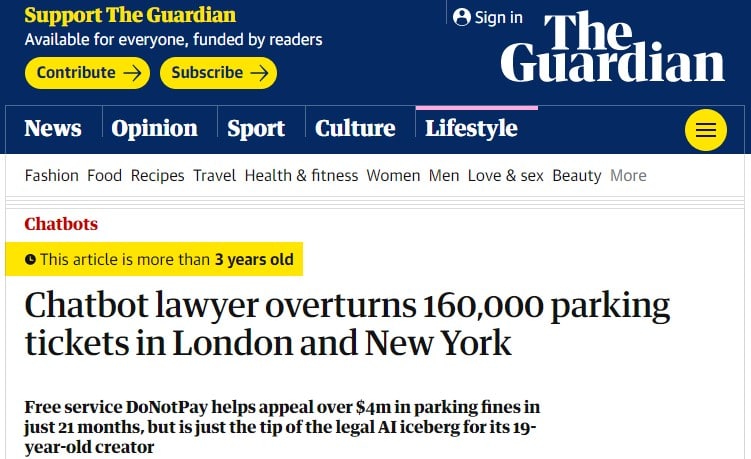 Originally designed to fight parking tickets, DoNotPay has expanded its services to thousands of other solutions that are equally as reliable. Here are a few related tasks that you can accomplish using the app:
No matter what concern you may have, DoNotPay will surely have a solution. This robot lawyer can help make the best case possible for you so  and find a solution you could use from the app.