Make Your Fort Bend County Divorce Happen With DoNotPay!
Once you have filed for divorce, the legal wheels begin to turn—your best outcome is for the process to be as quick, cheap, and painless as possible.
The first prize is for your Fort Bend County divorce to be finalized without you having to go to court, engage expensive lawyers, and fight lengthy legal battles.
DoNotPay is here to help with our complete guide to Fort Bend County divorce procedures—get your case done and dusted with DoNotPay!
Who Can Get Divorced in Fort Bend County?
If you or your spouse have been living in Texas for the last six months and Fort Bend County for the last 90 days, you can file for divorce there.
As Texas is a no-fault divorce state, you don't need to prove any wrongdoing against your spouse. You can file for divorce in Fort Bend County based on irreconcilable differences between the two of you.
Your divorce can take two courses, namely:
In a contested divorce, spouses disagree on the terms of their settlement, meaning that the case must be decided in court. This can take a year or more to resolve, depending on the availability of court dates.
An uncontested divorce is considerably easier and cheaper. Texas law insists on a waiting period of 60 days before a divorce filing can be heard, but the process can often be concluded as soon as that period has elapsed.
An uncontested or friendly divorce normally involves a single court hearing, in which the judge will check your out-of-court divorce settlement and ensure that all the required timelines have been adhered to. Following that, your divorce can be granted.
How To File for Divorce in Fort Bend County
The steps in filing for divorce in Fort Bend County are as follows:
Filing divorce papers
Serving the papers on your spouse
Negotiating a settlement
Filing Divorce Papers
Your first step is to obtain and fill out the correct forms from the Fort Bend County District Clerk's Office. The forms you need will include a:
Summons for your spouse
Financial declaration, listing your joint and individual assets, liabilities, income, and expenses
Final decree of divorce
You can file your Fort Bend County divorce forms online or at the county clerk's office, and you will have to pay the filing fee of $310 when you do so. You can do this yourself—there is no need for a lawyer to file for you.
Serving the Papers on Your Spouse
You need to have the summons and other documents delivered to your spouse by a deputy sheriff or a private process server at the cost of around $50.
Your spouse must sign to verify that the papers have been received—the mandatory 60-day waiting period in Texas divorces begins from the date of receipt.
Negotiating a Settlement
If you are aiming for an uncontested divorce, you and your spouse can use the 60 days to negotiate and sign a settlement agreement.
Your settlement agreement is a legal document that regulates how your family will be split up after your divorce. It must cover:
If you and your spouse can reach a settlement and file a signed agreement before your first hearing, your path to an uncontested divorce should be clear.
How To Negotiate a Settlement Agreement in Fort Bend County
Depending on the level of cooperation between you and your spouse, negotiating your settlement agreement can be easy or hard. The better you can work together, the easier—and cheaper—your divorce will be.
Your options to prepare your settlement agreement are:
Settlement Agreement Resources
Explanation
Lawyers
If there are tricky issues to sort out, you can use attorneys to negotiate on your behalf—either with or without you being present. You should be aware, though, that lawyers represent the most expensive option.

Texas lawyers charge up to $400 per hour, and negotiating your settlement agreement can easily cost over $4,000 per spouse

Mediation
Divorce mediation is a lower-cost alternative, in which a trained mediator facilitates your face-to-face negotiations with your spouse
DIY
If the two of you agree on most of the terms of your settlement, there is no reason why you can't work out the fine points yourselves, with no third-party intervention
How To Draw Up Your Agreement
Once you have reached your settlement, you need to have it drafted as a legal agreement for you and your spouse to sign.
You can have your agreement drawn up by a lawyer, but you will incur costs of around $1,500 for this service—you may even find the lawyer you choose will question your settlement terms and push you towards renegotiating the deal.
An alternative is to use an online divorce service to get a template for you to fill out. You need to be careful, though, as many of the templates available are highly generic and may not cover your exact needs. If your agreement doesn't tick all the boxes, the judge in your case may reject it and order a trial.
DoNotPay has the solution! We can generate a custom-made, comprehensive divorce settlement agreement without you paying a cent in lawyers' fees!
Get Your Fort Bend County Settlement Agreement From DoNotPay!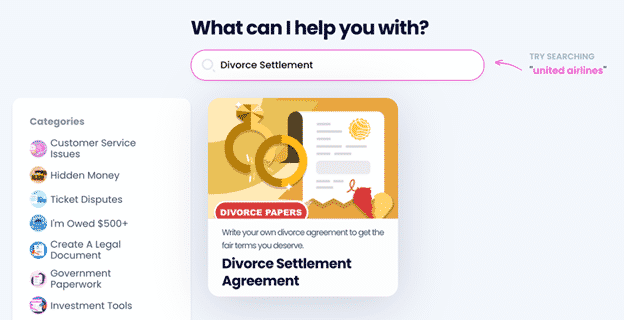 DoNotPay wants your divorce to be quick, cheap, and pain-free!
Our Divorce Settlement Agreement product is the perfect way to achieve this—no need for lawyers' expenses or cut-and-paste exercises. You get a tailor-made, watertight agreement that will pass muster with the judge at your divorce hearing.
Setting your agreement up with DoNotPay is easy:
Search for the Divorce Settlement Agreement product
Answer the short questionnaire to provide the details of your settlement
Once we have all the terms you have agreed on, we will create your settlement document in a flash. You and your spouse will need to sign it in the presence of a notary.
Don't know where to find a notary in your area? No need to worry—you can use our online notarization service to get your agreement signed and sealed!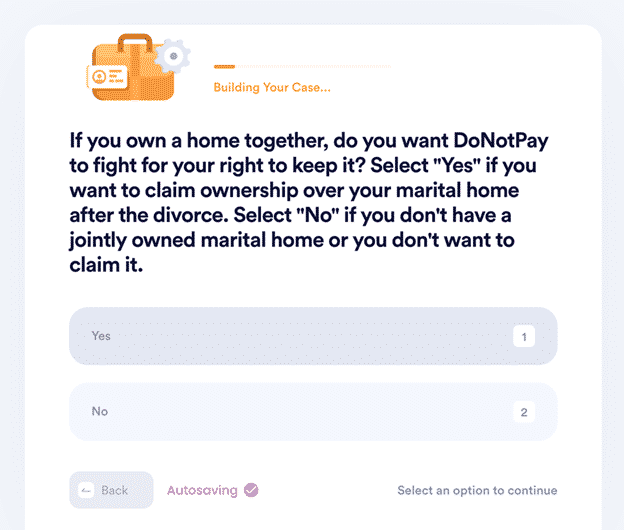 DoNotPay Has You Covered Wherever in Texas You Are!
DoNotPay has all the facts you need on divorce in other Texas counties and cities—here are a few examples:
If you are a member of the military stationed in the Lone Star State, we can also offer help with Texas military divorces! DoNotPay also provides invaluable assistance if you're considering divorce while pregnant or if you already have children.
Learn How To Solve Legal Issues in Minutes!
Do you need to draft a legal document? Spending hundreds of dollars on lawyers is not the answer. We came up with a faster and more affordable solution. Not only can our app draft child consent forms, divorce settlement agreements, and powers of attorney for you, it can also provide legal assistance by helping you take anyone to small claims court!
Drafting numerous documents is not all DoNotPay does for you! Aside from drawing up contracts and agreements, we can also assist you in getting them notarized online from the comfort of your home or office!
Explore DoNotPay's Other Nifty Features
There is more assistance on the way! You can use DoNotPay's features to handle various tasks with ease, including:
We can also help you protect your safety. If you don't know how to deal with copyright infringement, stalking and harassment, work discrimination, sex offenses, and disputes with annoying neighbors, DoNotPay has got you covered.