How To File Foremost Insurance Claims and Avoid Administrative Issues
Foremost is an insurance company—a subsidiary of Farmers Insurance—located in Michigan, U.S. The company prides itself on being the leading mobile home insurer in the USA, but it provides coverage for other products as well.
If you need to file an insurance claim with Foremost, be it for an accident, a natural disaster like a hurricane, or a general insurance claim, you can do it with our help. With DoNotPay, you will avoid the tiring bureaucratic processes.
What Does the Foremost Insurance Cover?
The list of what Foremost covers is extensive, but this is not what makes the company stand out. Foremost insures old homes, including those that have cosmetic damage. It also provides insurance for customers with a history of unpaid bills or debts.
Check out the table below for more information about what Foremost covers:
Foremost Coverage
Coverage Type

Home

Old

Mobile

Vacant

Seasonal

Landlord and rental

Renters

Liability

Personal property

Additional living expenses

Actual cash value

Condominium

Owner-occupied

Vacant and landlord

Flood

Low-risk areas

Moderate-risk areas

High-risk areas

Vehicle

Auto

Collectible auto

Motor home

Snowmobile

Motorcycle

Scooter

Travel trailer

Golf cart

Off-road

Fifth-wheel

Luxury motor coach

Neighborhood electric

Personal watercraft

Boat
What Can You Expect From the Foremost Insurance Claim Process?
Foremost will assign you a claim professional who will collect all the necessary information about your case. The insurance claim representative will also inspect and document damage, possibly interview any witnesses or other involved persons, and take photos, videos, and samples to assess your claim.
The company will contact you to discuss the terms of your policy and resolve the claim fairly.
How To File Foremost Insurance Claims by Yourself
You can file a claim with Foremost insurance 24/7, and you can do it in two ways:
Online

Over the phone
How To File a Foremost Insurance Claim Online
To file an insurance claim with Foremost online, you'll need to have an account on the website. You should also have your policy number close by so you can immediately type it in.
Follow the steps below to file a Foremost insurance claim through your user account:
Visit Foremost's homepage

Tap on the sandwich bar in the top right corner

Select

Claims

Click on

File a Claim Online

Indicate if you are a Foremost customer by clicking on

Lookup by Policy Number

(or you can file a

third-party insurance claim

by clicking on

Continue as a Guest

)

Tap on

Let's Get Your Claim Started

Enter the Foremost insured policy number and full name and hit

Search

Provide information about what happened and include additional evidence, such as photos, documents, or a police report

Wait for a claim representative to contact you
Contact Foremost Over the Phone To File an Insurance Claim
You can call Foremost's call center to file your insurance claim. Follow these steps to do so:
Call

1-800-527-3907

Tell the agent you want to file an insurance claim

Provide the policy number and full name of the policyholder

Explain why you're filing an insurance claim—detailed description of the event

Follow the agent's further instructions
What Can DoNotPay Do About Your Foremost Insurance Claims?
Insurance policies are there to protect their holders, but the process of filing insurance claims is so complicated that most of the holders give up halfway through. Insurance companies try to do their best to avoid covering the damages, making it almost impossible for you to get what's yours. Even when your claim gets accepted, most companies will take around 30 days to pay you out.
DoNotPay created a feature that will help you file an insurance claim without any mistakes that a company can use to deny it. Our platform will also make the process of filing claims easy and straightforward. You only need to open DoNotPay in any web browser and follow a few simple steps to submit your insurance claim.
You can use DoNotPay to file any of these insurance claims:
Medical and

health

Home and property

Auto and vehicle
With our app, you can reach any company in the U.S. Another issue DoNotPay can help you with is filing an unemployment insurance claim if you've recently lost a job.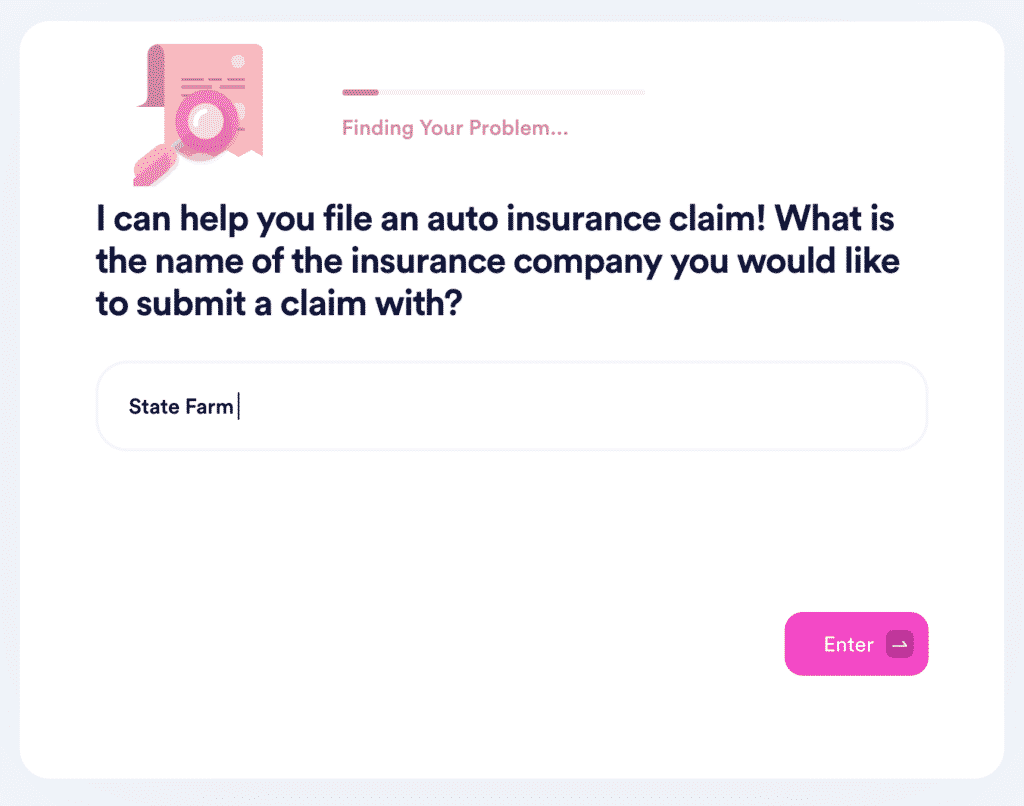 How To File a Foremost Insurance Claim With DoNotPay's Help
Filing an insurance claim with DoNotPay is a simple process consisting of five steps. Here are the steps you need to take to submit an insurance claim via DoNotPay:
Open DoNotPay in any

web browser

and log in

Find the insurance type by entering the keyword into the search box

Type in general information, such as your full name, contact information, policy number, etc.

Provide a detailed description of what happened and the reason why you're filing the claim

Submit your claim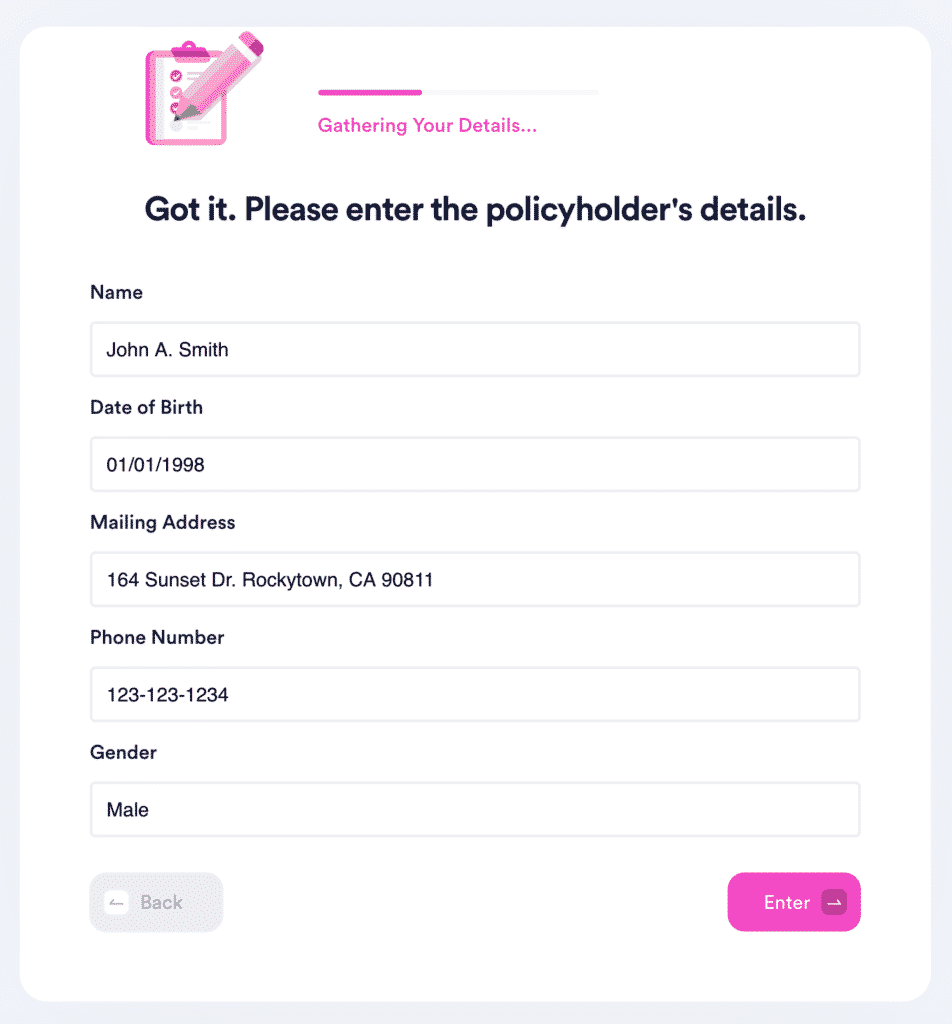 After you complete all the steps, DoNotPay will generate a letter to the insurance company for claim settlement and send it on your behalf. Foremost will contact you directly if it has any further questions.
DoNotPay Helps if Foremost Rejects Your Insurance Claim
In most cases, the company will deny your first-time insurance claim and it will base the decision on a small mistake you might have made. It will do this to prolong the process as much as possible, but there's a way to fight it.
You can use DoNotPay's tips to write the perfect insurance appeals letters and our Appeal a Denied Insurance Claim feature to maximize your chances of getting the money you deserve!
DoNotPay Is Here To Stay
Our platform offers a vast range of services where anyone struggling with bureaucracy can find a ready-made solution. 
DoNotPay's power is no child's play—with our help, you will be able to demand compensation for canceled or delayed flights, nail difficult government-issued tests, and sue people and companies in small claims court!
Our constantly-growing portfolio includes features like finding the best clinical studies in your area or drafting all kinds of legal documents without hiring expensive lawyers!
Our App Makes Internet a Safer Place
DoNotPay understands how important it is to avoid dangers lurking on the web. We have come up with numerous easy-to-use features for fighting scam emails, shady SMS texts, and malevolent robocalls. 
With our Virtual Credit Card generator, you can sign up for any free trial without compromising your finances. The Burner Phone feature protects your privacy by hiding your real phone number on various websites. Scared of online stalking? Prevent it with DoNotPay!
When online shopping turns into a nightmare, we will help you get your money back, contact customer support without hassle, or cancel any subscription that didn't live up. 
All that browsing doesn't come for free. If you need help with your internet bill, check out what DoNotPay has in store.