The Best Way To Find and Apply for Foreign Language Scholarships
Going to college brings a massive financial strain. Without any financial aid, thousands of students end up with college-related debts, unable to pay them off decades after they graduate. Even worse, some students have to drop out because they can't afford tuition fees.
Universities, the government, and various organizations and companies know about this, which is why they offer scholarships and grants to help students become assets in the workplace. This guide will show you where you can find foreign language scholarships and how to apply for them.
We'll also introduce a new way to find all the available scholarships personalized for your needs—using DoNotPay.
Why Choose a Foreign Language Scholarship?
As there are thousands of scholarships out there, it's only normal they focus on different fields of study. For instance, you can find scholarships for:
What's good about foreign language scholarships is that you don't have to choose a language major to get one.
While English is the global language, speaking another one can be an advantage in the workplace, regardless of your profession. That's why some of these programs provide students from other fields of study with an opportunity to learn a foreign language.
Another advantage is that many of these scholarships cover the fees of going abroad to the country whose language you're studying.
Who Offers Foreign Language Scholarships?
You can split foreign language scholarships into three groups, depending on the source, as follows:
Federal and state scholarships
College and university scholarships
Private scholarships
Federal and State Scholarships
State institutions run scholarship programs for several fields of study, including foreign languages. They cover popular languages, with an emphasis on critical languages for students who want to pursue a career in the military or national security. Critical languages include:
Russian
Korean
Arabic
Persian
Turkish
Japanese
The good news is that you don't have to be a college student to apply for some of these scholarships. Institutions also offer foreign language scholarships for high school students, regardless of whether you're a senior or junior.
Check out this table for more info on some of the federal and state scholarships:
Scholarship Name
Application Deadline
Supported Languages
Award
Boren Awards
February 2

Arabic
Swahili
Russian
Chinese
Korean

$20,000–$30,000
Critical Language Scholarship
Mid-November

Arabic
Bangla
Chinese
Azerbaijani
Punjabi
Russian
Turkish
Urdu
Hindi
Indonesian
Korean
Portuguese

Fully-funded academic program overseas
NSLI-Y
November 1

Chinese
Arabic
Hindi
Indonesian
Korean
Russian
Persian
Turkish

Fully-funded academic program overseas
Killam Fellowships
January 31
No language restrictions
$10,000
Gilman-McCain Scholarship
October 31
No language restrictions
$5,000
College and University Scholarships
If you're already attending college and need a scholarship, you should ask your university for help. Most universities in the U.S. run scholarship programs based on both merit and need. If you're looking for need-based aid, you will have to prove your financial status by filling out the Free Application for Federal Student Aid (FAFSA) form.
Colleges give merit-based scholarships to exceptional students who:
Prove academic excellence (by having consistently high GPAs)
Excel in their field of study or show great talent
Have an extensive list of extracurricular activities
These programs cover college scholarships, as well as graduate school ones.
Private Scholarships
Private scholarships are granted by non-government organizations, companies, and private funds. Most companies use scholarships to invest in their future workforce.
These organizations usually have a certain group in mind, so make sure you fit the description before you apply. For instance, you'll find scholarships dedicated to:
Where Can You Find Foreign Language Scholarships?
It's good to hear there are so many scholarships you can apply for. The problem with them is that they're not easy to find. Information about different scholarships is all over the place, and a simple Google search won't help you a lot. Here are some starting points:
Talk to your school's financial aid officer—Most high schools and colleges have a financial aid office to which you can turn if you don't know where you should start looking. They will help you understand how the process goes and what you can look for
Visit your states' Department of Higher Education website—You can find information about local scholarships there
Go to your college website—Universities run programs on their own, and you will be able to learn more about them on the website
Use DoNotPay—You can use our app and get a list of all scholarships you're eligible for instantly
The Application Process for Foreign Language Scholarships
The application process will vary depending on the scholarship you're applying for. Before you turn in your application, you have to make sure you're:
Eligible for the scholarship
Able to meet the deadline
In possession of all the required paperwork
While the necessary paperwork usually depends on the scholarship, most providers require some of the following documents:
DoNotPay Can Help You in Your Search for a Foreign Language Scholarship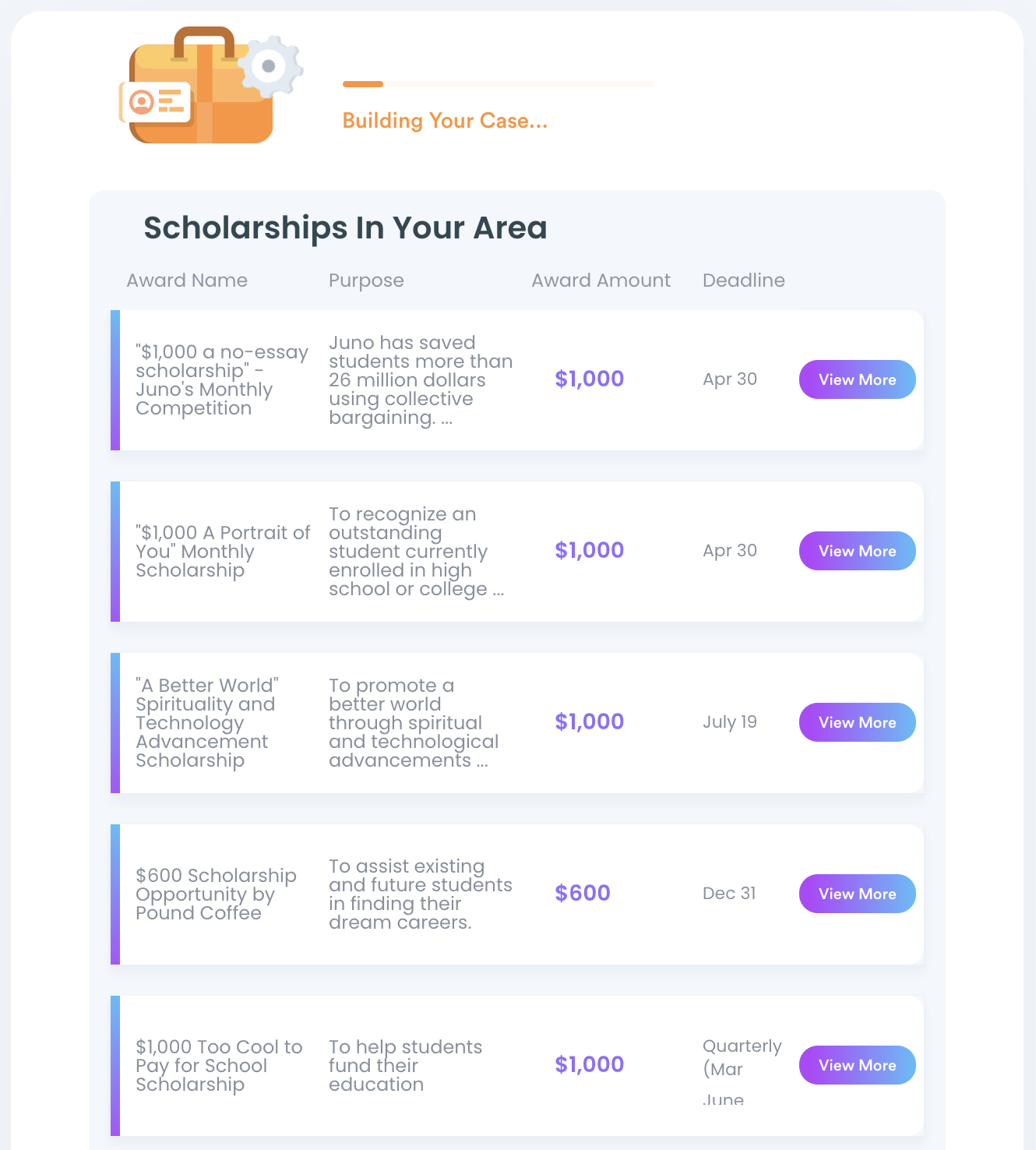 Do you wish to give up on applying for scholarships because you don't feel like spending months researching your options? Are you afraid you could miss the opportunity to apply for a scholarship you'd be eligible for because you didn't know it existed in the first place?
You can bypass these issues with DoNotPay! Our app helps you run a personalized search based on your level of study and academic excellence. All you need to do is the following:
Select the Apply for Scholarships feature
Answer a few questions from our chatbot
Choose a type of scholarship you'd like to apply for
We'll provide you with a list of all available scholarships that you're eligible for.
If you want to apply for a no-essay scholarship, you can do so with DoNotPay. You only need to select the option to apply automatically, and we will do the rest for you.

Use DoNotPay To Complete a Variety of Tasks at Any Time
Why waste time and money completing mundane tasks on your own when you can let DoNotPay assist you? Take a look at the table below to find out what our AI-powered app can do for you:
| DoNotPay Can | Services |
| --- | --- |
| Protect your safety and privacy | |
| Draft legal documents | |
| Help you get your money back | |
DoNotPay Has More in Store for You!
Since communication is key, you'll appreciate our feature that helps you get in touch with customer service reps quickly! We'll also show you how to send faxes online and have your documents notarized by an online notary with ease!
Going on vacation? Use DoNotPay to take a valid passport photo at home or get a tourist visa!