Do You Need a Forbearance Agreement? Here's What You Should Know
Life is unexpected and full of uncertainties—events like the Global Financial Crisis of 2008 and the COVID-19 pandemic have made that clear. When a global or personal crisis causes you to lose your job and experience financial hardship, it can lead to other problems, like being unable to pay your mortgage.
This article will explore a mortgage forbearance agreement as one of the most viable solutions for dealing with late mortgage payments.
What Is a Forbearance Agreement,
and How Does It Work?
In special circumstances, banks and clients can come to an agreement about late mortgage payments. The agreement is made if a client has valid proof of financial difficulties that caused them to be late with mortgage payments.
According to its definition, a forbearance agreement is a legal agreement made between the mortgage lender and the borrower. In this legal document, the lender agrees not to exercise their right to initiate foreclosure proceedings against the borrower.
The forbearance agreement is a temporary financial relief—the borrower is obligated to make up for the payment deficits sometime in the future.
What Do You Need for a
Mortgage Forbearance Agreement
?
Mortgage forbearance agreements are not automatically available to everyone. Every mortgage lender has specific rules and requirements. Usually, the requirements include:
Proof of financial hardship

Evidence that financial hardship is temporary

Guarantee that the borrower will be able to continue payments regularly

Assurance that the borrower will repay all missed payments and interest at the end of the forbearance period
If you don't qualify for a forbearance, you should consider some other options if you want to avoid foreclosure:
Debt settlement

Loan modification

Loan refinancing plan

Debt management programs

Forfeiting the property to the lender
Alternatives to the
Mortgage Forbearance Agreement
If you know that you won't be able to make a mortgage payment, you should consider every other available option to keep your property. In the following table, you can see the differences between a forbearance agreement and other options:
| | |
| --- | --- |
| Option for Avoiding Foreclosure | How Does It Work? |
| Forbearance agreement | The lender agrees to reduce or suspend the borrowers' payments for a set amount of time |
| Loan modification | The loan owner changes the terms in the existing loan. Changes may include a reduction of the interest rate, an extension of the repayment time, a different type of loan, or a combination of these options |
| Repayment plan | The lender temporarily increases the monthly payments to compensate for the unpaid mortgages so that the borrower can catch up on the loan |
Can I Create a
Forbearance Agreement
on My Own?
Yes, you can. There are various forbearance agreement templates available on the internet. Most of these templates are free, but they're not the most reliable. If you need a valid contract template or want to learn how to write a contract, DoNotPay is happy to help!
What Happens After the
Forbearance Agreement
Ends?
Forbearance is a temporary financial relief that cannot last more than 12 months. By that time, you should be able to continue with regular mortgage payments. You are also obligated to cover the delinquent payments.
Usually 30 days before the forbearance period ends, you and your servicer get to discuss the agreement and assess the situation. You can work out an option for you to repay the previous mortgage payments without disrupting your finances too much.
The mortgage lender should never ask you to repay your previous mortgages at once.
Need Help With Creating Legal Documents? Get Assistance From the Best Robot Lawyer—DoNotPay
Leases, divorce papers, business agreements, prenuptial agreements, and other legal transactions are a part of everyone's life. Having to deal with legal documents without any legal knowledge is difficult, and inadequacy can lead to some real problems.
Of course, there are always lawyers, but not everyone has the resources to pay them as their services are not the most budget-friendly.
The American Bar Association (ABA) awarded DoNotPay the Brown Award for a reason!
We created a feature that generates legal documents for you!
What Kind of Legal Assistance Does DoNotPay Offer?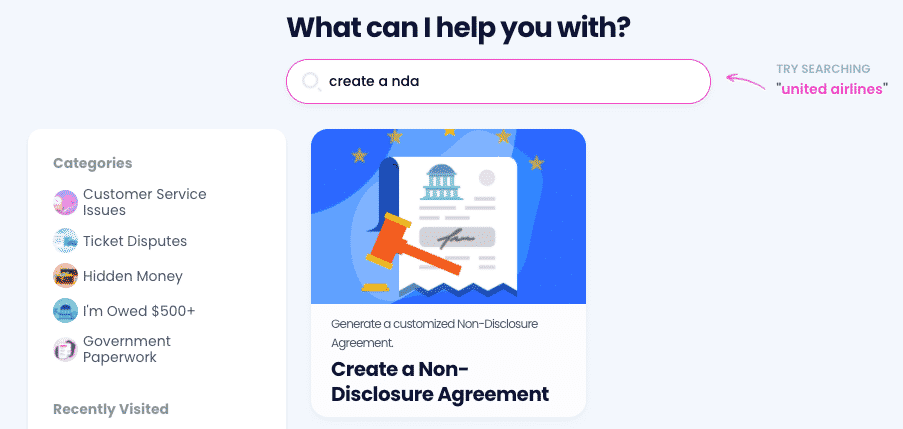 's creative and convenient feature allows you to:
Choose from various business, real estate, finance, and personal documents

Personalize terms, clauses, and conditions to fit your needs

Generate an unlimited number of legal documents
The Standardized Legal Documents service can create a variety of legal documents, including:
Quitclaim Deed

Promissory Note

General Affidavit

Estoppel Certificate

General Business Contract

Intent to Purchase Real Estate
How To Generate a Legal Document With DoNotPay
Creating contracts and other legal documents with DoNotPay is easy and straightforward. Here's everything you need to do:
Access DoNotPay from a

Type the name of the document in the search bar

Answer several questions from our chatbot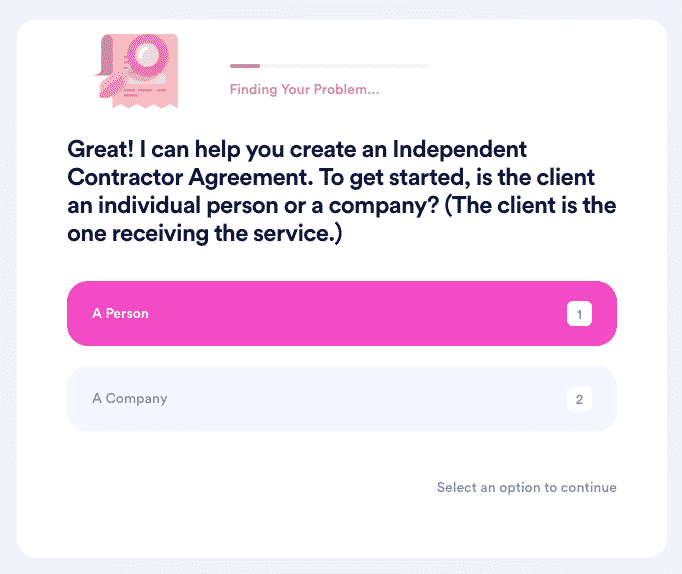 Our app will automatically create a personalized legal document. You can notarize it and send it to other parties to sign.
Keep Your Money Safe With DoNotPay
Don't let greedy companies threaten your consumer rights by holding back refunds, refusing to cancel your subscriptions, or charging you after your free trial ends.
DoNotPay helps you try out different services without providing your credit card info or phone number—you will never again have to deal with unexpected post free trial charges!
Our app also helps you avoid paying unnecessary parking tickets, delay challenging bills, or waive your college application fees.
If any company refuses to issue you a refund or an airline won't compensate for canceled flights, we can help you sue them in small claims court.
DoNotPay Is a Time-Saving App
How many customer service reps do you have to deal with only to file an insurance claim or book your DMV appointment?
DoNotPay helps you sort out these tasks and much more in only a few clicks.
Get your revenge on robocallers, report text scammers, find validated clinical trials, claim your warranties, get in touch with your loved ones in prison, and protect your creative content—all in less than five minutes.
No more hours-long phone calls, emails, or in-person visits.
We cover everything from freeing your inbox from spam to providing excellent prep tests for government exams! Save time with your all-in-one app!