Sell a House Without a Real Estate Agent Using For Sale By Owner Contract
A real estate agent can be pricey. That's why people choose to sell their houses without an intermediary. If you want to skip expensive middlemen, make sure you get a legal document or contract to make the process safe and transparent. We'll explain the process of drafting a contract for sale by owner, so you won't have to search for any additional info.
What Is a For Sale By Owner Contract?
The For Sale By Owner (FSBO) contract allows you to sell a house without the help of an agent or broker. People use it to avoid paying the real estate agent a commission on the sale. 
With a real estate agent's fees of around 6% of the sum total, the biggest advantage of selling directly is the amount of money you'll save.
What Should For Sale By Owner Contract Form Contain?
Drafting an ironclad contract can be difficult. Here's a list of essential details to put in your FSBO contract:
Names of the buyer

and seller

Property description

Payment terms—Make it clear when and how much the buyer should pay

Easements—State if the seller granted another person the right to use a part of the property 

Any

restrictions

Description of what is included in the sale—List the plumbing, kitchen cabinets, heating, doors, windows, sheds, or any other item that comes with the property

List of the contingencies—Make a list of conditions to be fulfilled before the contract becomes legally binding. For buyers, it is usually inspection contingency. He/she can buy a house after it passes the pest inspection. For sellers, it is financial contingency, proving the buyer got the loan or other types of financing to purchase the house

Termination policy

Down payment amount

Escrow—State if a third party will temporarily hold the deposit money

Signatures

of both parties
Pros and Cons of a Real Estate Contract for Sale by Owner
The process of selling your house directly brings several advantages and disadvantages. Take a look at the summary of the most important pros and cons in the table below.
Benefits

Drawbacks

Not paying the agent's commission

Determining the price

Having control of advertising and negotiations

Lack of expertise in the local real estate market

Lengthy process of creating the contract 

Handling the paperwork

Paying the commission of the buyer's agent (typically 3%)

Coordinating home tours

Limited buyers' network 
Should I Hire a Real Estate Agent To Sell My House?
By selling a house independently, you save some money, but real estate agents are professionals, and sometimes they can get a better price for your house. The choice is yours. We have selected some benefits of hiring a real estate agent to do the selling for you:
Real estate agents usually do business with clients represented by other real estate agents

—Even if someone wants to see your house, their real estate agent might discourage them by stating the risks of buying a house without a professional representative

There are no emotions in the selling process

—An owner is emotionally attached to the property and can make mistakes like overpricing the house 

Selling a house is a full-time job

—You may not always have the time or energy to rush home from work to show your house to a potential buyer. A real estate agent is always available for the buyer

You'll get access to extensive networks of buyers

—Agents have relationships with other agents or real estate agencies, and this helps them attract many potential buyers

Agents will filter serious buyers

—Showing your house takes a lot of work and energy. Limit those hassles by allowing real estate agents to select serious buyers, so you'll maximize the chances of selling your property

Price negotiations are easier for agents

—Even if you have sales experience, a real estate agent has been negotiating hundreds of times, and they can recognize a disingenuous buyer. You may get a better price for your house with a professional agent

You won't overlook your home's flaws

—Since you are accustomed to living in the house, you may not see its flaws. A real estate agent can spot them easily and help you eliminate them to sell the house faster

An agent can help you with overwhelming legal paperwork

—A real estate expert can efficiently finish all the paperwork, while you may struggle with it
Make Contracts With the Help of DoNotPay
uses AI to generate contracts in a matter of seconds! If you need a legal document and don't want to pay a lawyer to draft one, use the world's first robot lawyer! All you should do is:
Open DoNotPay in your

Enter the name of the contract you want to make

Give the necessary information to our chatbot
We'll use the information you give us to make a contract in no time. Don't forget to sign or notarize it to make it official.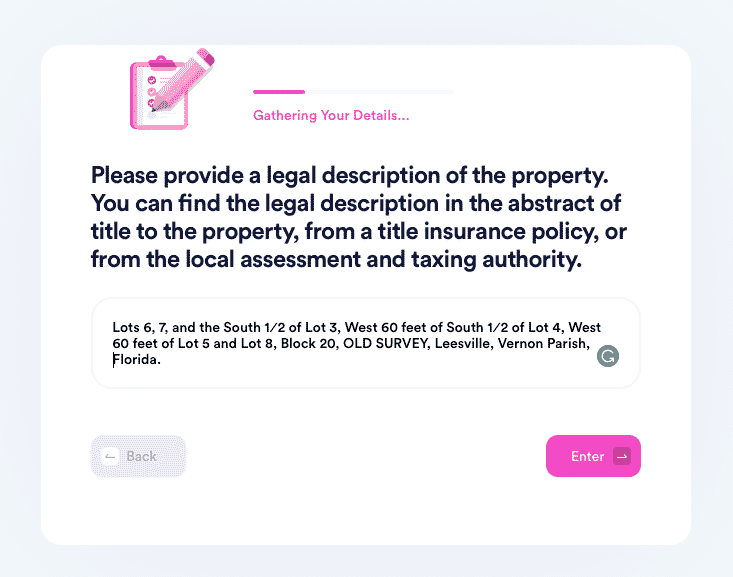 Check out the list of customizable contract templates, currently available on DoNotPay's platform:
Promissory Note

Estoppel Certificate

General Affidavit

Intent To Purchase Real Estate

General Business Contract

Quitclaim Deed
Can Your Virtual Assistant Do This?
Hey, Siri! Make me ready for my upcoming small claims court appearance. No luck? Ok, Google! Prepare a DMCA notice for that website that uses my photos without authorization. Still nothing?
DoNotPay is the virtual assistant that won't back away from issues that require legal expertise. Our lawyer bots work around the clock to get you due date extensions for utility bills, reduce your property taxes, or stop stalking and harassment before it gets ugly.
The world's first robot lawyer will provide assistance even with securing compensation for victims of crime!
DoNotPay Breaks Down Communication Barriers
Communication and new technologies walk hand in hand, and DoNotPay can smooth out any bumps on that road. On our platform, you can find useful tools for avoiding phishing emails and text messages, sending faxes online, stopping annoying robocalls, or signing up for new services without phone verification.
Contacting customer support is no party, but DoNotPay can make the process so much easier, whether you need to request a refund, demand compensation for a canceled flight, or file a warranty claim.
You can even use our platform for locating your loved ones in prison and sending them letters the proper way!