The Ins and Outs of a
FOIA Search
The Freedom of Information Act of 1966 brought the idea of government transparency to life. It stipulates that the general public has access to all federal agencies' information except for the FOIA exemptions (e.g., trade secrets, private information, or attorney-client communication).
With the meaning of FOIA—transparency—in mind, one may think that it's easy to get your hands on government records, but this isn't always the case. The FOIA search for the documents you seek can be lengthy and complicated. This is why we have created our FOIA feature—to help you file FOIA requests easily.
We'll guide you through the FOIA search and FOIA requesting process!
Is There a
FOIA Database
?
While a central government database of public-access information doesn't exist, the government's central website for FOIA is a resourceful tool in your FOIA search journey. Besides general FOIA info, the website allows you to search government websites and identify the agency you need.
Search FOIA Requests
Before Filing Your Own
Before you decide to submit a FOIA request, you should know that someone may have already requested it. FOIA requests are public, and every agency posts them on its website. Typically, agencies have a FOIA library or FOIA requests section where you can search all FOIA requests people have made.
Where Can I Search for
FOIA Documents Online
?
The records or documents you want to access by filing a FOIA request may already be available online. If this is the case, there is no need to submit the request.
You can use FOIA's Search feature to browse government websites and check whether you are able to find the information you need without filing a FOIA request.
The
FOIA Lookup
and Other FOIA Search Tips
When performing a FOIA search, you can look up a specific FOIA case if you type the exact case number in the search field, for example, F-2006-03464. Check out other useful tips that will streamline your FOIA search process:
Tips
Details

AND

Type in AND if you want to find documents containing two terms

E.g., Michigan AND police will generate only documents with both words

NOT

Add NOT before a term you want to exclude from your search

E.g., City NOT New York

OR

Include OR between two terms if you want to find one or the other or both

E.g., DHS OR USCIS

Exact phrase

Search for the exact phrase by putting it inside quotation marks

E.g., "Foreign relations"
Filing FOIA Requests Goes Faster With DoNotPay
Most agencies require FOIA request letters, and few of them offer other options. If filling in a FOIA request form or filing a FOIA request online is what you'd prefer to writing a FOIA request letter, DoNotPay is a perfect choice.
Our AI-powered app will ask you a few questions and submit the FOIA request on your behalf. Check out how easy it is:
Access DoNotPay from your

web browser

Enter

FOIA

Type in the

agency you want to send the request to

Indicate whether you want a fee waiver or

expedited processing
Once you answer all our questions, we'll get to work, draft your FOIA letter, and send it to the agency in question.
The usual time limit when agencies should respond to your request is 20 days, but this may vary. If you don't receive any response, you can check the status of your FOIA request by:
Contacting the agency in question

Checking on the agency's website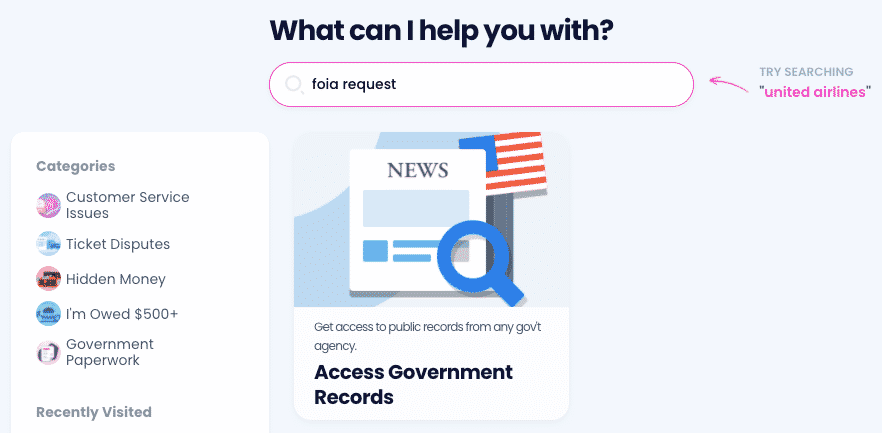 DoNotPay Answers All Your FOIA Questions
During your FOIA search or FOIA requesting process, you may have some more questions. We'd be happy to break down any part of the process and alleviate any concerns, such as:
Do DoNotPay's FOIA Requests Work in Every U.S. State?
Yes, they do! Our FOIA feature can generate requests for federal, state, and local agencies and departments in all U.S. states. Aside from using our app to send your FOIA requests, you can find useful info and tips on the FOIA request process in different states, including: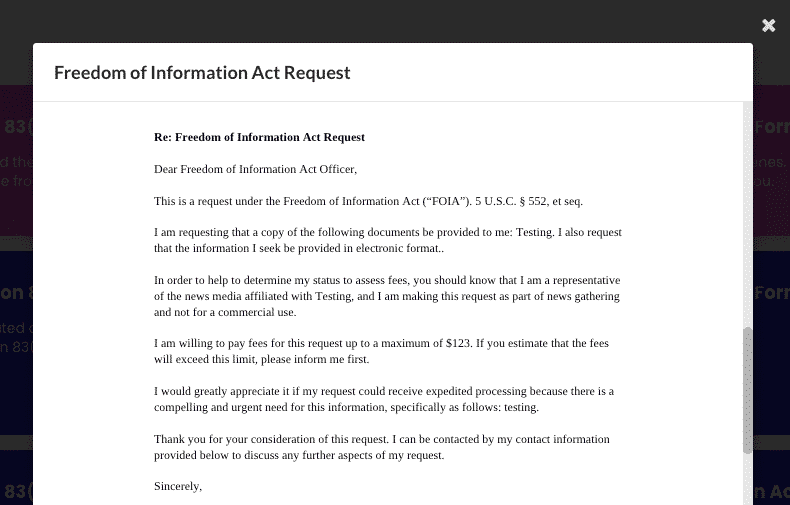 Which Agencies Can I Send a FOIA Request to Using DoNotPay?
Any agency that offers public access to its info, documents, or records can receive FOIA requests from DoNotPay. You can check out our articles on different agencies and departments so that you better understand their systems and handling of FOIA requests:
Fighting Administration Is Easier With DoNotPay 
Bureaucracy is a disease of the modern world, and we finally have a cure. Thanks to artificial intelligence, DoNotPay knows how to handle numerous rules and regulations and make your life so much easier. 
Our bots ask you a few questions, gather the necessary info, and off they go! Filing warranty and insurance claims, requesting property tax reductions, getting access to public records, or claiming unclaimed funds under your name—you can deal with these bothersome tasks from the comfort of your home and within minutes!
If you need to get in touch with customer service representatives to ask for refunds or contact airline companies regarding compensation, our platform will make the process painless and care-free.
Don't hesitate to put our app into service if you need to contest parking tickets or avoid long lines at your local DMV!
How Else Can We Help?
Not only does DoNotPay handle bureaucracy, but it also saves you money in the process. Whether you're looking for the best learning materials for government tests or planning to comb through and cancel streaming subscriptions you don't use, DoNotPay can give a helping hand.
Our platform grows every day and comes with user-friendly features that will help you manage unpaid bills, stop copyright violation, or solve problems with credit cards faster than ever!