Freedom of Information Act Explained In Simple English
The Freedom of Information Act (FOIA), a federal law dating back to 1966, served as a great example for numerous similar state acts across the USA. The meaning of the FOIA is based on the transparency of the government. Such a law helps people gain insight into the federal agencies' activities and be better informed in general.
Our guide will focus on the purpose of a FOIA guide and explain why such a resource is irreplaceable when submitting FOIA requests for public information.
What Is a FOIA Guide?
Each U.S. state has a specific FOIA handbook. It's a manual that contains the essential explanations and procedures related to the state-specific FOIA laws.
What Does the FOIA Manual Contain?
The contents of FOIA guides depend on how thorough the state is. Some guides hardly have ten or 20 pages, while others—Florida's Sunshine Law manual, for example—have more than 300 pages.
All guides follow a basic outline, which includes the fundamental information on the particular freedom of information laws. The table below represents an example of the structure:
Section
Details

Introduction

Definitions

Explanations of unknown terms

Public records

Types of public records

Agencies that provide public information

Categories of requesters who can ask to access public records

on themselves

or someone else

Types and details of all existing exemptions

FOIA requests

Content of the request

Purpose of the request

Request response time

Appeal procedures

—if applicable

Criteria for request denials or approvals

Instructions for

checking the status of your request

Request submission methods—by fax, mail, phone, email, online forms, etc.

Fees

the chosen agency charges you for accessing, examining, and copying the necessary records

Additional
Who Can Use the FOIA Guide?
Anyone can use the FOIA manual, but it's particularly useful for people who are planning to request public records for various purposes. The most common requesters are:
Journalists

TV reporters

Commercial intermediaries

People who are planning to file lawsuits

Sellers who want to pinpoint their target groups

People who want to locate someone or verify someone's identity
Benefits of the FOIA Guide
Without FOIA guides, it would be difficult to understand all the essentials of the law in question. They are better than all the blogs and articles you can find on the internet because they:
Can be verified—

A FOIA handbook is an official document, which means that all the information it contains must be true

Are available online

—Each state has a specific FOIA PDF manual, which is available to everyone with internet access

Provide complete information

—FOIA guides are usually detailed, and they contain the entire lists of rules and stipulations of the state FOIA variation

Simplify the complicated parts of the law

—FOIA manuals are simpler than the original text of the Act. That makes them more approachable to the general public
How Can I Benefit From DoNotPay When Submitting a FOIA Request?
FOIA handbooks are practical, but they can be less understandable to people who don't know much about law. Future requesters can easily get confused in the vast sea of information and make wrong steps while submitting their FOIA requests.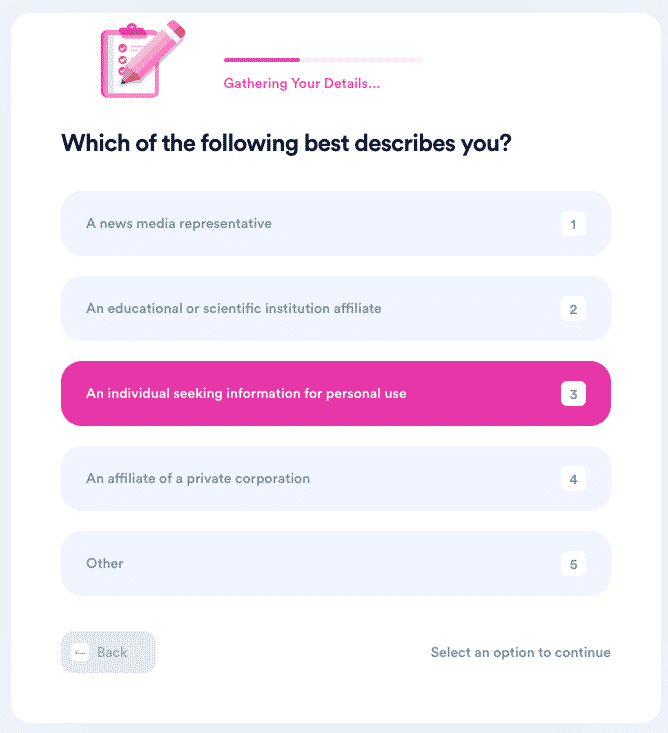 If you can't cope with the instructions from the manual, DoNotPay brings some great news. Our advanced AI system saves you time and money by composing a FOIA request in your stead. Forget about contacting the agency directly or writing the petition on your own—we do all the work!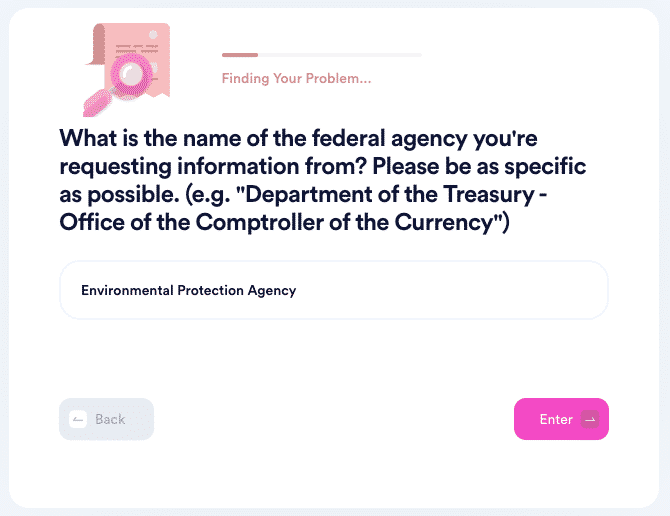 To send a FOIA request using our service, open DoNotPay in your and proceed as follows:
Find our FOIA feature by using keywords such as

FOIA, public records, Freedom of Information Act,

etc.

Tell us whether you are demanding public information from a state or federal institution

Disclose the name of the institution and provide more details on the records—titles, authors, descriptions, etc.

Pick the format and specify whether you want a fee waiver or an

expedited process
We will use all the details provided to create a request letter and submit it to the institution as soon as possible.
Use Our App To Send Multiple FOIA Requests Safely and Efficiently
is a great way to find out more about FOIA laws in any state, including Texas, Arkansas, Maryland, Pennsylvania, Massachusetts, and West Virginia.
Does requesting Navy, Army, or Air Force records seem complicated? We can help with our easy-to-follow guides! Our extensive knowledge base provides practical tips for requesting the necessary records from:
Need Help Fighting Bureaucracy? Use DoNotPay!
As the world's first robot lawyer, DoNotPay can help you resolve a plethora of tedious administrative issues. Our app will assist you in getting justice in small claims court, getting refunds from merchants, reporting annoying spam emails and text messages, reporting copyright infringement, bypassing phone number verification, and so much more!
You can also rely on DoNotPay's help when it comes to subscriptions. If you want to sign up for a free trial, cancel a service you no longer use, and skip the phone queue when doing so, our app will provide its assistance.
Our App Saves You Time and Money
Are you unable to pay your bills? Use the world's first robot lawyer app to cover them! Do you want to appeal your traffic or parking tickets? DoNotPay will help you appeal them in the blink of an eye.
Our app can do so much more than that, though—with DoNotPay by your side, you can sign up for clinical trials, ace government tests, claim any type of warranty, schedule an appointment with the DMV, and handle any other bureaucratic task.