Everything You Should Know About the FOIA Documents

The United States government tends to keep important information and documents far away from the public eye. While these documents are invaluable to the government, citizens should also be allowed to know about their government's business.
In this article, you can learn more about FOIA documents and the process of filing FOIA requests.
What Is the Purpose of the FOIA?
To learn about the FOIA documents and requests, you need to understand the meaning of the FOIA.
The Freedom of Information Act (FOIA) is a federal law enacted in 1966. The act enables citizens and organizations to access federal agencies' public records. 
Federal agencies are obligated to disclose every record unless it falls under one of the nine exemptions or three exclusions. Agencies are not allowed to disclose any kind of information that can jeopardize national security, personal privacy, or law enforcement proceedings.
How Much Does It Cost To Access FOIA Documents?
Filing a FOIA request won't cost you anything, but if a federal agency approves your request, you will have to pay the appropriate fee. The fee is calculated based on a couple of details:
Requester type

Type of agency's service

Complexity of the request
You can include a statement in your request specifying how much you are willing to pay, and the agency will narrow down the search for you. In certain situations, you can request a fee waiver, but your request must meet certain requirements.
FOIA guidelines state that the fee waivers are restricted to those situations where the disclosure of the requested information is in the public interest—the disclosed information should contribute to the understanding of the activities and operations of the government. The FOIA does not approve fee waiver requests when the disclosed information is for personal purposes.
What Freedom of Information Act Documents Can You Request?
With FOIA requests, any U.S. citizen is allowed to obtain any federal agency's record, which includes a vast range of documents and other materials—prints, photographs, and electronic documents—that the Federal agency created or acquired. You can even request public records about yourself.
FOIA Exemptions and Exclusions
The following table shows a brief overview of the nine FOIA exemptions:
| | |
| --- | --- |
| FOIA Exemption | Description |
| Exemption One | Information that is classified to protect national security |
| Exemption Two | Private details related to the agency's practices and personnel rules |
| Exemption Three | Information that is prohibited by another international law |
| Exemption Four | Confidential commercial or financial information and trade secrets |
| Exemption Five | Privileged communication between or within federal agencies |
| Exemption Six | Details that can violate someone's privacy, if disclosed |
| Exemption Seven | Information compiled for law enforcement purposes |
| Exemption Eight | Information regarding the supervision of financial institutions |
| Exemption Nine | Geological information about wells |
FOIA exclusions are more closely oriented towards law enforcement and national security records. They include:
First exclusion

—protects the documents that could prove the existence of the ongoing criminal investigation if disclosed

Second exclusion

—keeps the law enforcement agencies documents from being disclosed to the general public

Third exclusion

—protects the classified information of the

Federal Bureau of Investigation (FBI)
Who Can Ask for Freedom of Information Act Documents?
The insight into the federal documents is available to any civilian or organization, including:
Journalists

U.S. citizens

Foreign nationality citizens

Universities

Businesses

State governments

Local governments
If the record is not in the exemption or exclusion category, it can be disclosed to anyone who requests it.
Journalists, especially those working for established media organizations, can get faster access to any public record.
How To Request FOIA Documents on Your Own
It is possible to file a FOIA request by yourself. If you're not sure where to begin, many online request forms and templates can show you what to focus on.
Every federal agency has its regulations that you should follow to ensure your FOIA request is approved.
Here's what you need to file a FOIA request on your own:
Include agency's information

—name and address of the agency

State the law that authorizes your request

—specify that you're filing a request under the FOIA and the Privacy Act

Specify what information you are looking for

—include as many details as you can

Provide your contact and personal information

—name, date and place of birth, address, Social Security number, copies of IDs, legal resident number, phone, and email address

Specify the purpose of the request

—whether it is for personal or other use

Sign the request form under penalty of perjury
In case the agency denies your request, you can file an appeal.
Request Freedom of Information Act Documents Fast With DoNotPay
If you can't bother to write a FOIA request on your own or want to make sure the request is as perfect as it can be, you should use DoNotPay's assistance.
Our comprehensive database enables us to work with federal and state agencies.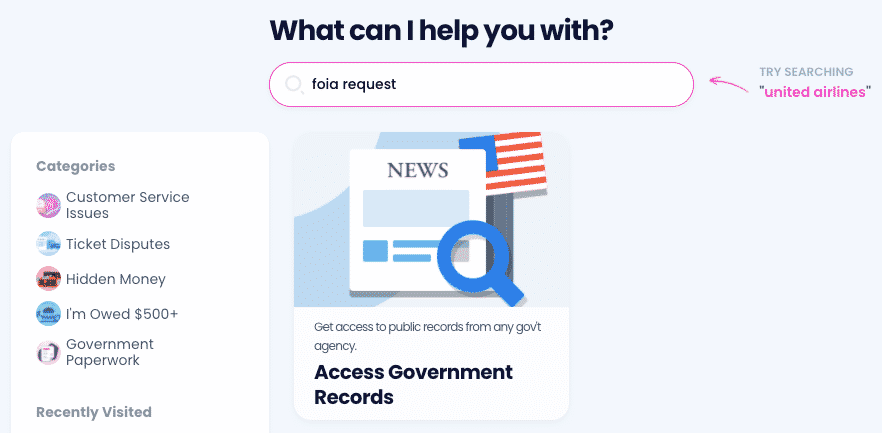 With our app, you can access any agency's record on your own by following these simple instructions:
Access DoNotPay from your

web browser

Search for the

FOIA

service

Input the agency's name and documents names

Specify if you want a fee waiver or

expedited processing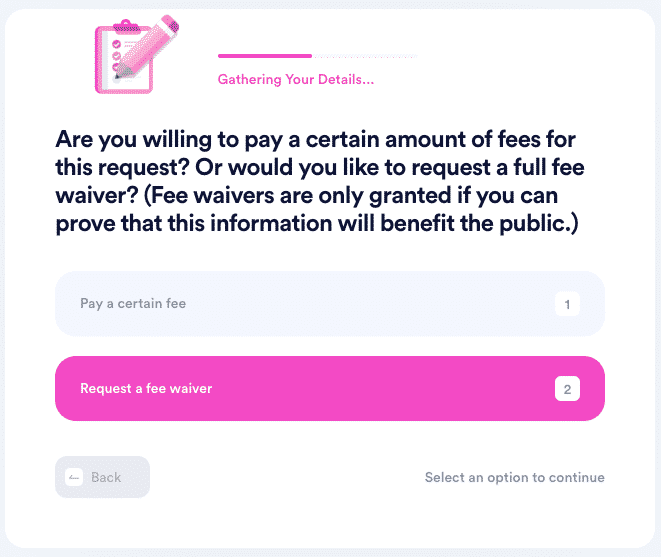 You can use our app's learning center to find out how to check your FOIA request status. If you are looking for a certain agency's documents, you should consult our app regarding the CIA, DHS, FBI, IRS, or military records.
Your Online Safety Is Our Priority
The benefits of the internet are numerous, but so are the opportunities for scams of all kinds. DoNotPay can help you fight scammers left and right with easy-to-use features, highly customizable to match your needs. 
Our app can provide invaluable resources for fighting:
If you're an avid online shopper, we have your back. In case something goes wrong, we will help you contact customer service without holding, request a refund, or even sue the company in small claims court.
Diversity Is Our Middle Name
DoNotPay doesn't stop at online safety. Do you need to set up an appointment at the local DMV, but keep procrastinating because you know how awful the lines are? Are you a prospective college student trying to save on application fees? Have you lost track of all unnecessary subscriptions and memberships that keep draining your bank account?
If the answer is yes, DoNotPay is the right platform for you. Whether you're preparing for government-issued tests or looking for ways to lower your bills, our app will be of assistance.