A Beginner's Guide to Florida's Veterans Benefits
Veterans who have served our country deserve all the help they can get when it comes to transitioning back into civilian life. That's why Florida offers a variety of benefits and services specifically for veterans.
The VA is responsible for managing the programs and benefits available to veterans. Veterans are eligible to receive many benefits provided by the VA under specific conditions. Not all veterans are eligible for every benefit, however, so it is important to understand which program you may qualify for before applying.
If you don't have the time or patience to look for this information on your own, DoNotPay can help you find and understand all of these important programs. By filling out one simple form, you can get answers to all of your questions about veterans' benefits in Florida.
Benefits for Veterans in Florida
Veterans living in Florida should be aware of the benefits that are available to them, which may include:
Compensation Benefits
The VA offers compensation to veterans who are disabled by an injury or disease that was incurred or aggravated during active duty in the military. Veterans must have received an honorable discharge, and their disability must be officially rated by the VA at 10% or higher for a single disability, or a combined rating of 20% or higher for multiple disabilities.

Disabled veterans may qualify for additional compensation based on their need to use a wheelchair, a house-bound requirement, or the need for regular aid from another individual. There are three types of compensation: temporary, partial, and total.

Survivors Benefits
One important benefit for veterans in Florida is survivor benefits. Benefits are available to spouses, children, dependent parents, and dependent grandparents of deceased service members who were killed during active duty or died as a result of a service-related injury or disease. Veterans must have received an honorable discharge before death, and the surviving family members must have been financially dependent on the deceased veteran.
Financial Assistance for Education and Training
Veterans who have studied in a state college or university in Florida can qualify for free in-state tuition. These students must apply within a year of their discharge from the service and provide proof of honorable military service through DD-214 paperwork. This includes National Guard members and reservists, as well as active-duty personnel.

In addition to the free tuition, there are also several scholarship opportunities for veterans who are studying in Florida. The biggest of these is the Post-9/11 GI Bill which pays up to $26,042.81 per year if you attend a state university or college in Florida and can be used for private institutions as well. This money is available to both vets with an honorable or medical discharge, and spouses of vets who were killed in the line of duty. The state also provides full tuition for public universities to veterans with an Honorable Discharge and partial tuition to those with a medical discharge.

Help Finding a Job or Starting a Small Business
Public entities within Florida must follow a law that allows them to prefer veterans when hiring for many types of jobs, including civil service positions. This means that veterans can get an interview for a public sector job before non-veterans even apply. There are certain restrictions on the hiring process if you are not qualified, or if there is no open position, but this law helps to ensure that veterans have access to the right kind of jobs.
Low-Income Housing Assistance for Vets
The Florida Housing Finance Corporation offers several programs to veterans and active-duty personnel who find themselves in need of affordable housing. These include:

Veterans' Special Life Options — This type of loan is available to veterans and active-duty personnel and includes a special provision that allows the recipient to lock in a current interest rate and repayment plan.
Interest Rate Reduction Refinance Loans — These loans can reduce monthly payments for those who have an existing first or second mortgage from another lender. To qualify, you must have been on active duty within the last two years and have had your prior loan for at least three months.
Disabled Veterans' Special Life Options — The DVSLO allows qualified recipients to reduce their interest rates and monthly payments and can help with closing costs.
Housing Assistance Grants — Also known as veterans' grants, these funds can be used for a down payment or closing cost assistance for low-income applicants who qualify based on income and other factors.
Emergency Home Repair Grants — These grants are for very low-income applicants who have an emergency that requires urgent home repairs. Applicants must verifiably need the aid of a professional contractor to complete the work, and there is no age requirement for this program.

Health Insurance Assistance for Veterans
If you have been an active-duty member of the military, you may be eligible for coverage from Tricare, a free insurance program offered by the U.S. Department of Defense. You will need a copy of your DD-214 form to apply and must enroll within a year of leaving active duty.
How to Find Veterans Benefits in Florida on Your Own
Veteran benefits can be very complex and difficult to understand, especially if you have never done it before. As a result of this complexity, some veterans who could benefit from these programs choose not to apply. Before you decide not to apply, however, it's important to know what your options are and where to find the information. Some available resources include:
The US Department of Veterans Affairs offers a service known as eBenefits that provides several types of veteran benefits, including compensation for disabilities and pensions. This platform is free to use and can help you determine if you qualify for any existing VA programs or services. You can also upload your DD-214 form so that it is accessible from the site.
The Florida Department of Veterans Affairs provides a number of services that can be accessed from their website. You can verify your eligibility for state veteran benefits, including the Florida GI Bill and tuition-free enrollment in public higher education institutions.
The National Resource Directory is a Department of Veterans Affairs program that lists all the national, state, and local organizations that offer information on veterans' benefits and services. You can use this website to find assistance for a wide range of issues related to veterans' benefits, including housing assistance and employment opportunities.
Next Steps to Find Veterans Benefits in Florida If You Can't Do It Yourself
There are also a number of veteran service organizations that can help with making sure you have the right paperwork and submitting this to the proper agency. These include:
Locate Florida Veterans Benefits with The Help of DoNotPay
Locating veterans' benefits in Florida can seem like a daunting task, but the best way to get started is by speaking with an expert. The team at DoNotPay provides personalized guidance and will help you find all of the available veteran benefits in your state.
How to Find Veteran Benefits in Florida with DoNotPay
If you want to find veteran benefits in Florida with DoNotPay but don't know where to start, DoNotPay has you covered in 3 easy steps:
1. Search for and open the Military Protection product on DoNotPay.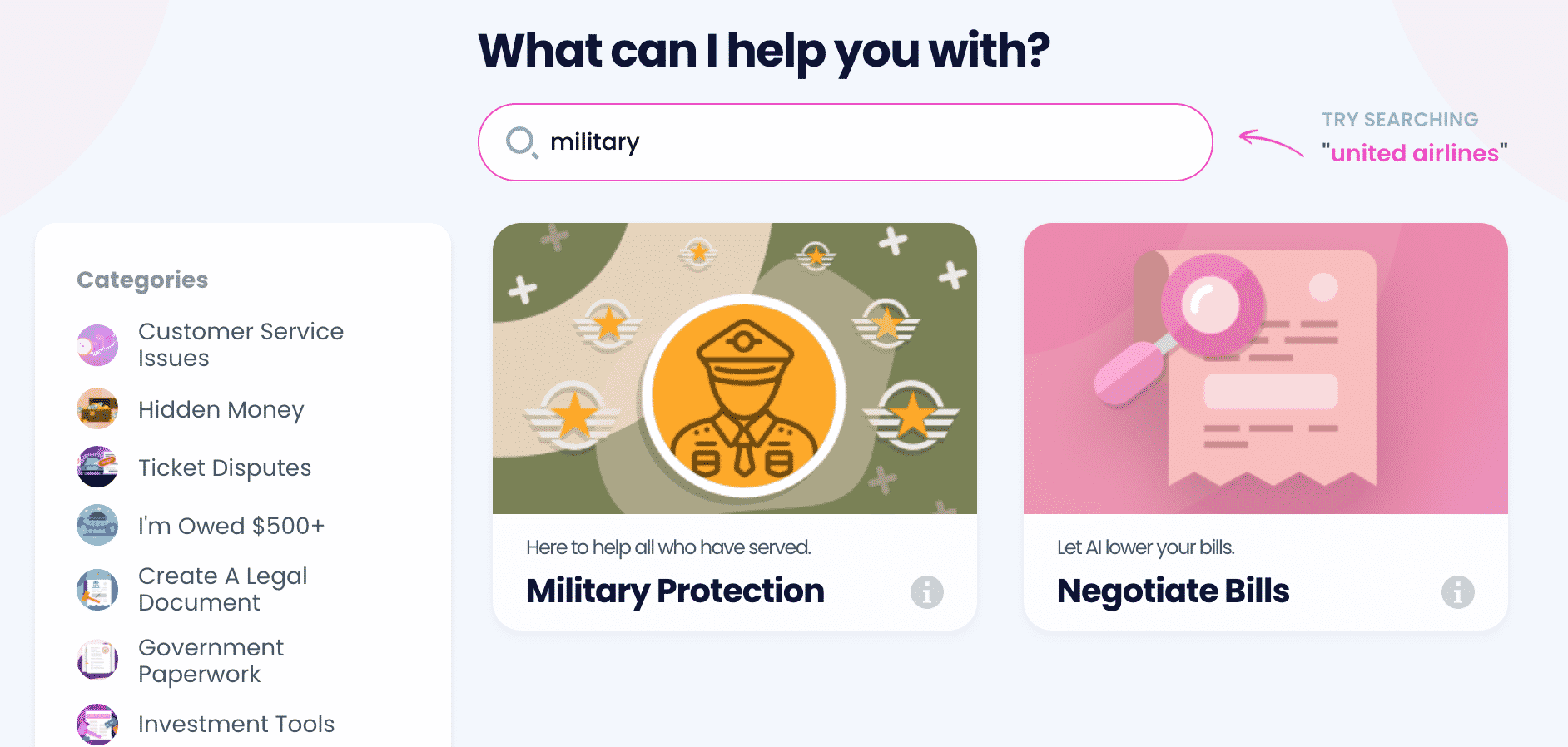 2. Select whether you want to 1) locate the nearest VA office, 2) access veteran benefits, or 3) locate service records.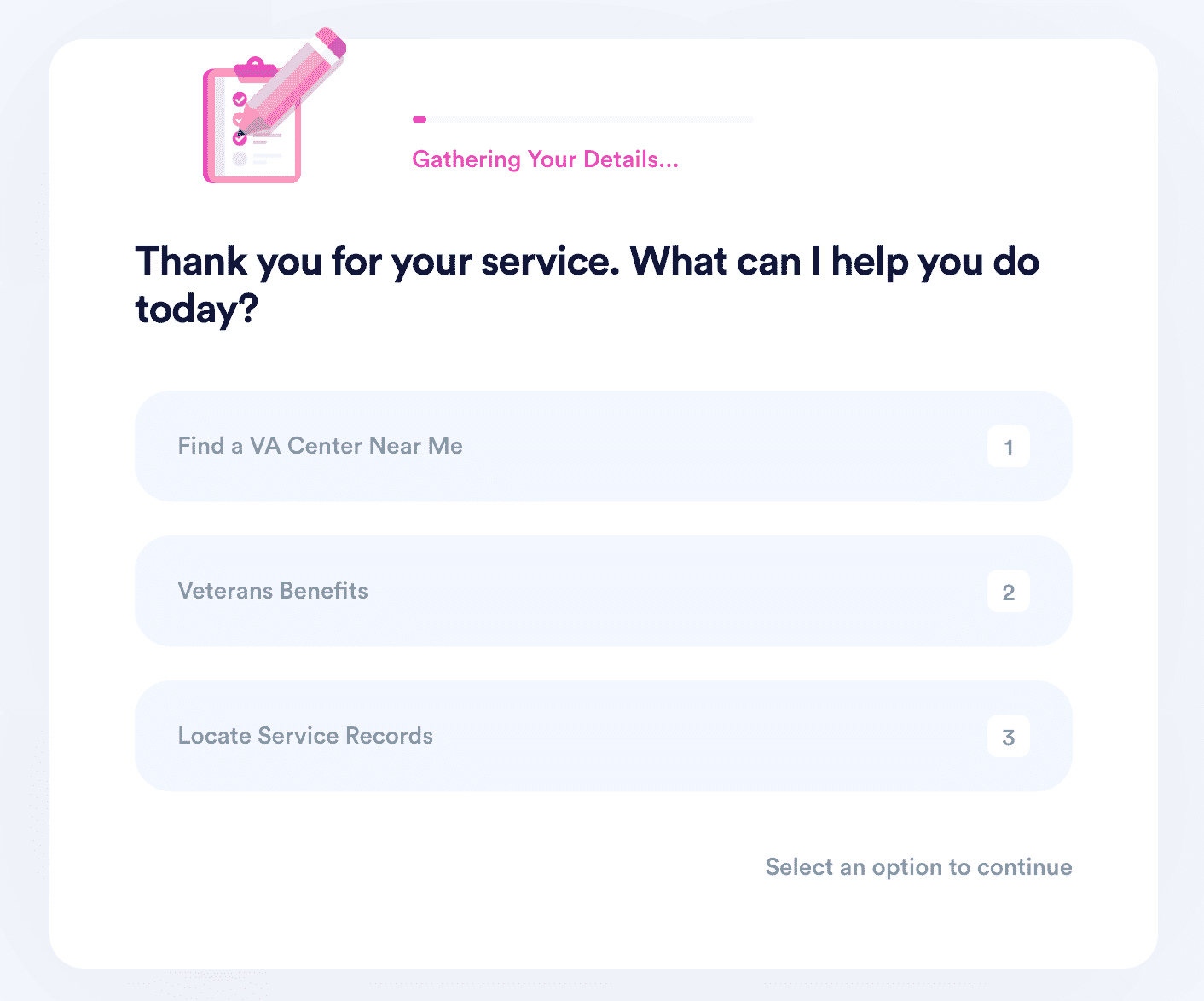 3. Answer a simple set of questions so our chatbot can collect the necessary information to help you find the nearest office or fill out the appropriate forms.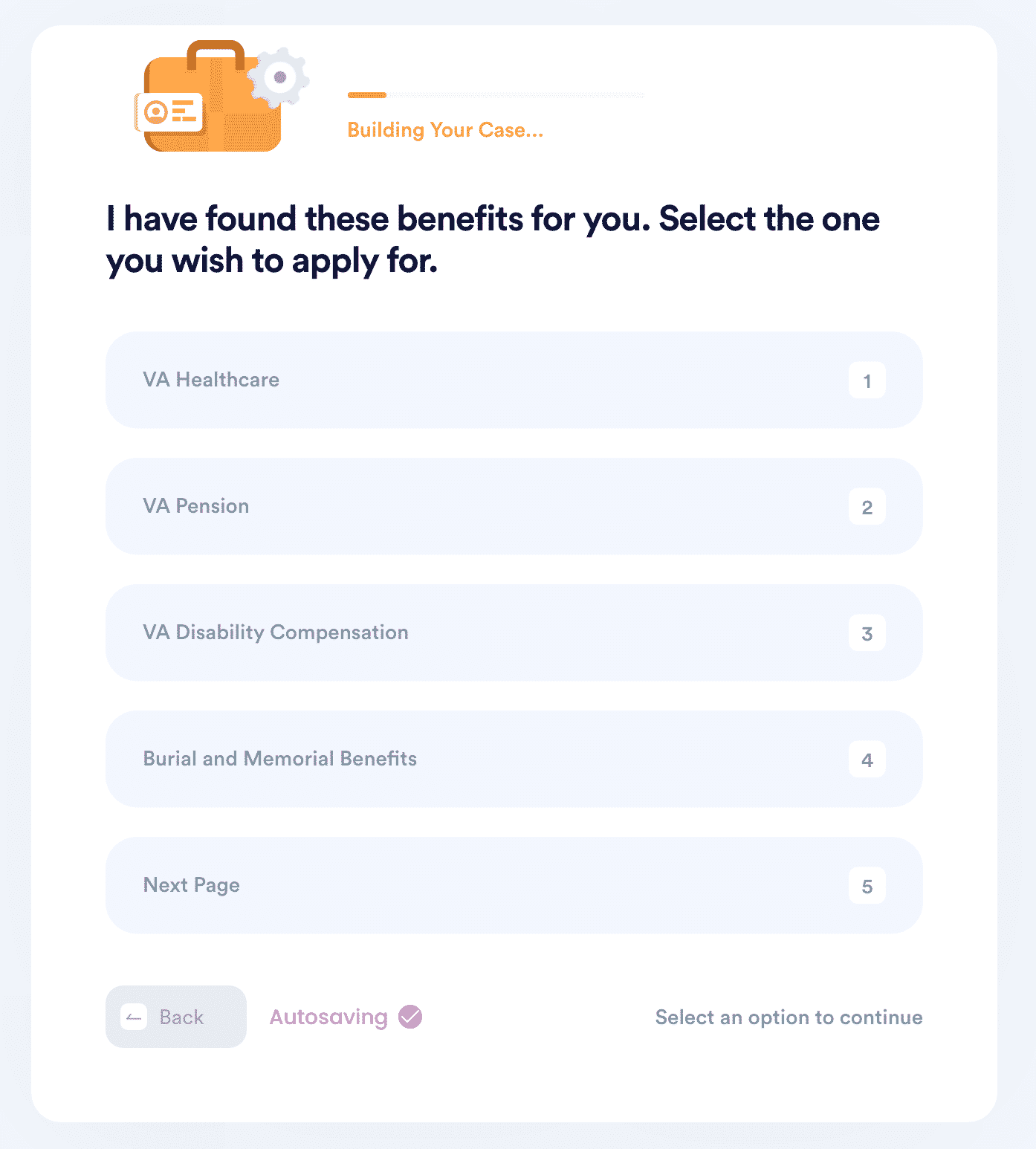 Why Use DoNotPay to Find Veteran Benefits in Florida
Whether you are searching for Veteran Benefits in Florida for the first time or have already filed an application but have experienced issues, DoNotPay can help.
Our chatbots are available 24/7 so that you never have to wait for assistance, and our quick three-step process will allow you to find exactly what veterans' benefits are available to you.
DoNotPay's Military Protection product is designed to show you how you can get the most out of your veteran benefits so that you can lead a productive, successful life after serving our country.
What Else Can DoNotPay Do?
DoNotPay's services extend beyond just veteran benefits in Florida. DoNotPay can show you how to handle issues such as:
Don't wait to find out what benefits you're entitled to. Get started with DoNotPay now!