Composing a Florida Vacant Land Contract Like a Pro
If you want to purchase quality vacant land in Florida but have a low chance of getting a mortgage, you shouldn't despair. You can still buy the desired property by signing a specific agreement with the seller and achieve optimal purchase conditions.
The Florida vacant land contract represents a solid alternative to any other standard real estate financing option. This article will guide you through the contract's basics, explain its benefits, and help you write it by using the best available scheme.
Vacant Land Contracts in Florida Explained
A vacant land contract is a legal document that outlines the terms for selling or buying vacant land. By signing it, the seller agrees to provide financing to the buyer and lets them pay the predetermined purchase price in installments within a specific period. They retain the title to the property until the buyer pays the total purchase amount.
The contract also ensures that both parties understand their responsibilities and that they have negotiated and agreed upon each section included. In Florida, a vacant land contract becomes legally binding once the parties sign it and get it notarized.
Benefits of Signing a Vacant Land Contract in Florida
Purchasing property in Florida by signing a vacant land agreement offers many benefits that regular real estate purchase agreements don't. Here's a list of the most prominent advantages that may persuade you to consider this contract:
It's easier for buyers to afford the property since they don't have to qualify for mortgages or other types of loans
Because of the specific conditions, sellers usually don't request a huge down payment
Sellers are less strict and demanding than banks and other lenders, which makes it easier for buyers to qualify for purchasing the desired land
Buyers can request interest deduction when calculating their personal income taxes
The parties will be aware of their duties and solve every potential dispute peacefully if they have all the terms and conditions of the deal clearly stated
What Components Should a Florida Vacant Land Contract Include?
Here's the table showing the standard structure of the vacant land contract recommended by the Florida Association of Realtors:
Clauses
Details
General information

Names of the parties (the seller and buyer)
Contact details of the signers
Effective date and time
Signatures of all the parties involved

Property condition and details

Property location and full physical address
Legal description of the property
Description of any other existing property
Land use
Flood zone clause

Price and financing

Total purchase price and currency in which it should be paid, including deposits and all other fees
Financing application details
Potential mortgage assumptions

Closing

End date of the contract (date of closing)
Closing procedure details
Costs of each party involved
Title evidence and insurance details
Prorations
Tax withholding

Title

Title evidence
Title examination

Additional clauses

Notices
Assignability and persons bound clause
Default and dispute resolution
Escrow agent clause
Professional advice and broker liability
Any other related terms the parties have agreed upon
Entrust the Creation of Your Legal Documents to DoNotPay
Are you tired of trying to write a contract but ending up failing because you don't know much about local laws? Think no more—give a chance to DoNotPay and get ready-made business, real estate, and personal agreements in the blink of an eye!
Our AI-powered app lets you pick the desired legal document and customizes it based on the information you provide. Bureaucratic issues and vague online templates remain in the past. You can generate any contract from the comfort of your home or any other location by using your smartphone or laptop!
Here's how you can use this product:
Access DoNotPay from any web browser and log in to your account
Type in the name of the document you need in the search box
Complete a short questionnaire provided by our chatbot
You will get a complete contract in less than five minutes. All you should do is print it, sign it, or have it notarized if the state laws impose it.
Here are some standardized documents we offer:
Child Care Authorization Form
Promissory Note
Quitclaim Deed
Intent To Purchase Real Estate
General Affidavit
General Business Contract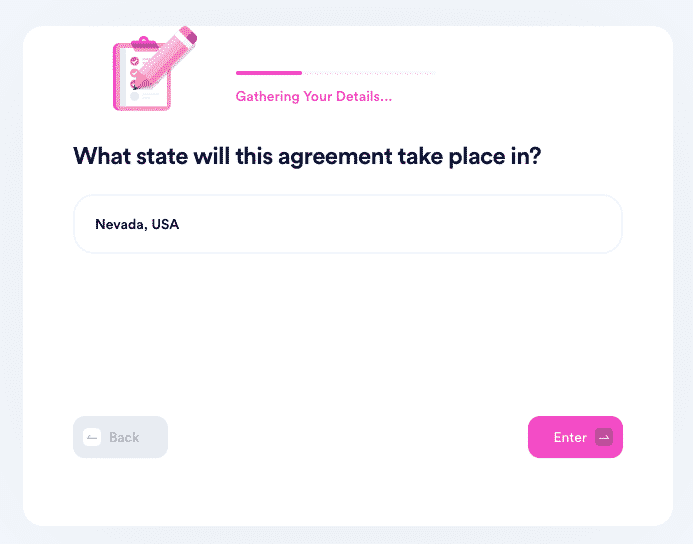 Get Tips for Writing Other Agreements From DoNotPay's Learning Center
Not only can we compose legal documents in your stead, but we can also teach you how to do it yourself with articles from our learning center. We have created detailed guides for many sought-after agreements to help you write valid documents whenever you need them!
Visit DoNotPay, explore our knowledge base, and discover the best tips for creating top-notch:
Rely on DoNotPay To Solve Your Administrative Issues
Getting your documents notarized, drawing up legal paperwork, appealing parking tickets, and similar activities usually require a lot of effort. DoNotPay offers various useful products that can help you deal with administrative problems quickly and save a lot of time. We can assist you with:
Protect Your Consumer Rights With DoNotPay
Companies complicate cancellation and refund processes intentionally, hoping that consumers wouldn't want to spend hours trying to solve the issue they're having. DoNotPay knows how important consumer rights are, and that's why we created numerous products that can help you:
Many people forget to cancel their free trials on time and end up paying for the services they don't even use. To prevent that, DoNotPay has developed a nifty virtual credit card that will allow you to enjoy free trials risk-free. Our virtual credit card will also help you avoid spam email notifications by generating a random email address that you can use when signing up for a free trial.