Florida Statute of Limitations for Breach of Contract Explained
When you experience a breach of contract, you should know what you can do about it. How long do you have to file a lawsuit to seek remedies and claim damages? DoNotPay will tell you all about the Florida statute of limitations for breach of contract—what it is, whether there are exceptions, and if you can avoid going to court in the first place.
What Constitutes a Breach of Contract in Florida?
A breach of contract in Florida happens if one contractual party fails to fulfill obligations spelled out in the agreement. In Florida, a breach of contract can entail a failure to:
Perform a service
Pay for performed services
Deliver goods on time
Deliver the right goods
To establish that there is a breach, the injured party has to prove the following breach of contract elements:
Elements of the Breach of Contract
Details
Existence of the contract
The plaintiff needs to prove that a valid contract exists by demonstrating that the agreement includes:

Offer
Consideration
Acceptance

Non-breaching party's performance
The injured party must show that they carried out their end of the agreement
Breaching party's failure to perform
The plaintiff must prove that the defendant failed to fulfill their contractual obligations
Losses the non-breaching party suffered
The non-breaching party must demonstrate the losses and damage that their business suffered due to the breach
What Does the Statute of Limitations for Breach of Contract Refer To?
A statute of limitations refers to the limited period during which a party can sue for breach of contract. Each state has a different statute of limitations, so before you file your lawsuit, check whether the statute of limitations allows it.
Failing to file a lawsuit within the specified timeframe may result in your claim being dismissed. In most cases, the statute of limitations begins when the breach occurs.
The purpose of the statute of limitations is to ensure that the case stays relevant because evidence can be lost and witnesses' memories can get distorted.
Breach of Contract Statute of Limitations in Florida
According to the Florida statute of limitations for breach of contract, you—i.e., the plaintiff—have the following timeframes to sue for the breach:
Written contracts—Five years
Oral contracts—Four years
Specific performance claims—One year
It is important that you respect the statute of limitations, especially since the defendant can use it as a defense if the period expires.
Are There Exceptions to the Florida Statute of Limitations for Breach of Contract?
There are certain situations when the deadline for filing a claim can be extended—it is called tolling a statute of limitations. The tolling occurs if the defendant:
Is not in the state when the breach occurs
Uses a false name the plaintiff is not familiar with
Cannot be found because they are hiding
Should You Send a Demand Letter Before Proceeding to Court?
If you are uncertain about filing a claim but don't want the statute of limitations to expire, consider sending a demand letter. A demand letter can help you seek remedies and claim damages out of court, which means it will save you both money and time since litigation can be expensive and time-consuming.
The breach of contract demand letter should contain the following:
Elements of the breach
Type of breach (whether it is material, anticipatory, fundamental, or similar)
Damages you seek
Proposition of a solution
Final deadline by which the breaching party needs to fulfill their obligation
If you decide to proceed with a lawsuit, sending a demand letter can be beneficial—the court will take it as a sign of your good faith.
If you sign up for DoNotPay, you can get a fully personalized demand letter in a few simple steps.
DoNotPay Drafts a Watertight Demand Letter in Mere Minutes
Forget expensive lawyers and unreliable demand letter templates because DoNotPay has everything you need. We have a product that is budget-friendly and easy to use. Our AI-powered app has knowledge of Florida contract law that will help us create a professional demand letter.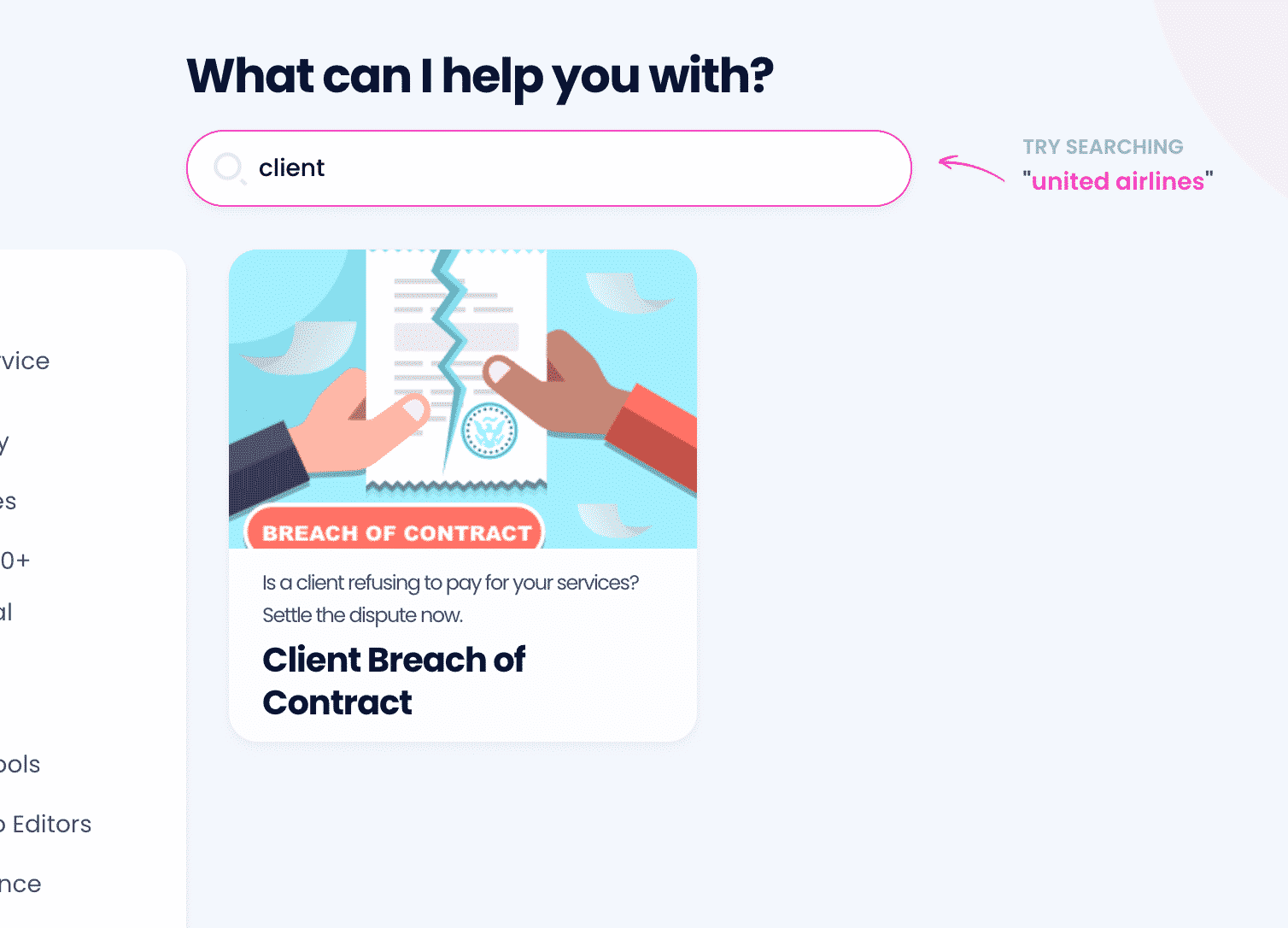 Follow the steps below to get your demand letter:
Register for DoNotPay and access the Client Breach of Contract product
Provide details about the case, including:

Information about your client
Date when the last payment was due
The amount that the client owes you
Services you performed for the client

Indicate the date by which you want your client to pay you before you proceed to court
Add photo evidence if you have any
Once you complete the questionnaire, we will generate your demand letter, which will comply with all the necessary laws and cover the specific aspects of your case.
If you get no answer to your demand letter, DoNotPay can also help you sue your client in small claims court.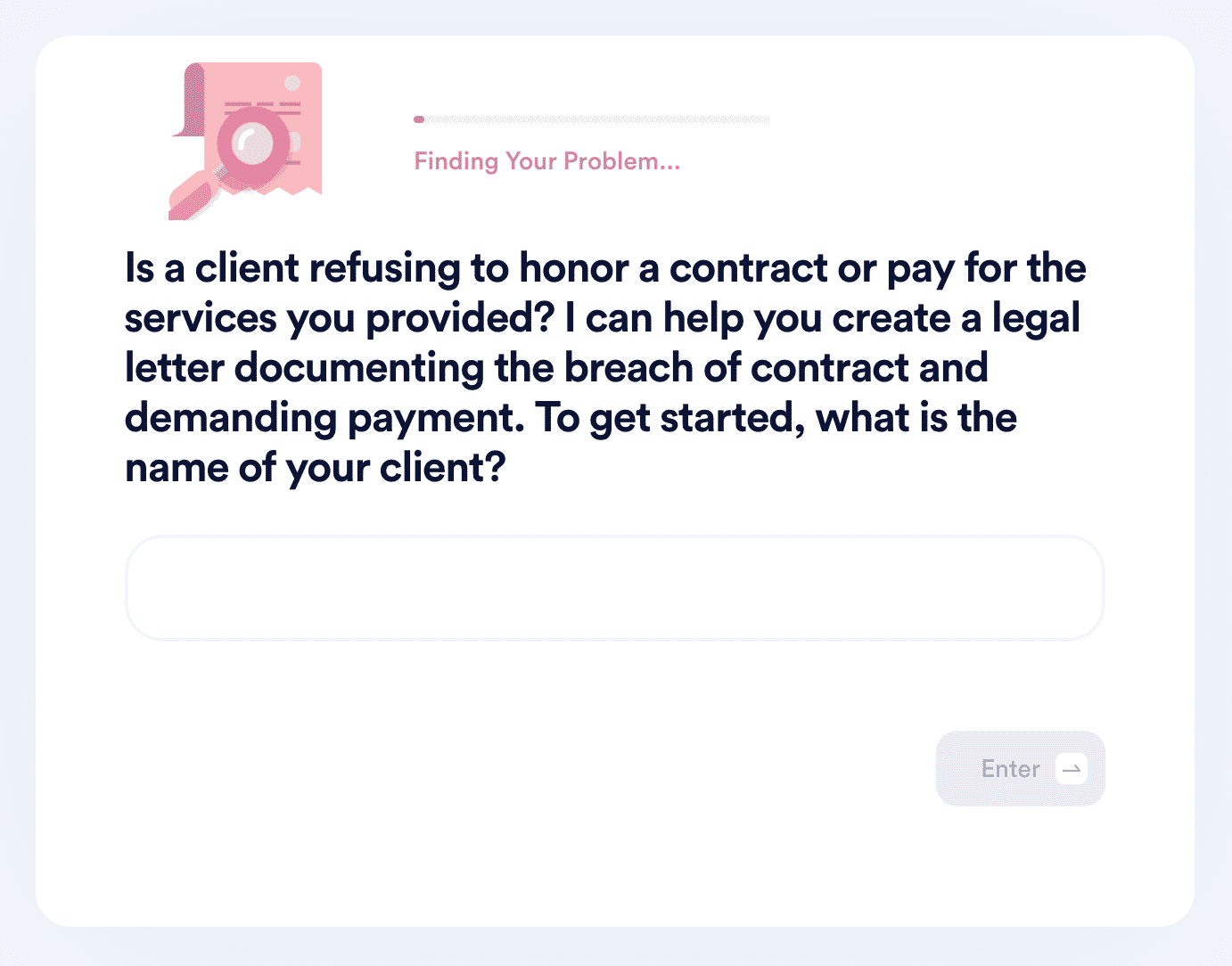 Get the Upper Hand With DoNotPay
The business world is extremely competitive—that is why it is always good to have some extra capital set aside when you need to invest in your company. You can leave the bureaucratic task to us—DoNotPay will draw up business loan request letters in your stead.
If your finances are taking a hit, rely on our app. With our assistance, you will be able to:
Fight fraudulent chargebacks
Remove fake negative reviews online
Register and protect your trademark
Send mail and faxes at no additional cost
Handle clients breaching contracts and get what you are owed
Whatever the task at hand, our AI-powered app will see it through successfully.
DoNotPay—The Assistant Every Business Needs
You cannot escape bureaucracy in business. What you can do is let DoNotPay deal with it. Whether you need to register a DMCA agent or complete an Employer Identification Number (EIN) registration, our app will lead the way.
Using DoNotPay, you will also not have to worry about 83(b) election forms or Privacy Shield self-certification. From generating to filing important documents and from dealing with employees to handling clients on your behalf, our AI-driven app is your go-to solution.
Grow and protect your business with the world's first robot lawyer!