Florida Sex Offender Registry—DoNotPay's Alerts as a Shortcut to a Safer Family
Currently, there are 31,831 registered sex offenders living in the State of Florida. Some of them are nearby, and they can creep up on your loved ones at any moment
Searching the Florida Sex Offender Registry is one of the essential safety precautions. Searching through the State Police Registry is tiring no matter how worried you are, though.
Make your safety screenings more efficient— and get automatic and personal reports without wasting your time on browsing.
Florida Sexual Offenders Search
Florida Sex Offender Registry offers several search methods.
Type of Search
Search Parameters Available
Offender search

First name
Last name
City
County
ZIP code

Neighborhood search

Address
City
ZIP code
Result type

List

Radius (¼–5 miles)

University/Campus search

University
Campus

Internet identifier search
Email address/Internet identifier
You can also set email notifications for new sex offenders and predators in your area. The problem with these alerts is even explained on the State Police website—they can get lost easily in your Spam folder, or your email service can reject them completely and leave you uninformed.
Florida Sex Offender Registry Laws
Florida sex offender laws are harsher than the equivalent sex offender laws in other states. Most states' sex offender registry regulations rely on Megan's Law, but Florida acts on Jessica's Law.
The differences lie in the registration timeframes. The same goes for the duration of the offenders' listing on the registry.
Florida Sexual Offenders and Predators—Registering Duties and Non-Compliance Punishments
Florida leaves little room for the offenders to be left out from the Registry. The law requires all offender levels (1, 2, and 3) to register. This rule applies to some juvenile offenders as well.
The offenders must report all changes in their personal data to the authorities as soon as possible. Here are the timeframes for the registration and verification of the registrants' data:
Timeframe for Reporting to the Authorities
Data Submissions and Changes Thereof
48 hours
Sex offenders have 48 hours to:

Register for the first time
Update the ID or driver's license after changing the address
Report any interstate travel

Out-of-state offenders staying in Florida for an extended period have to report the residence and apply for a Florida-issued driver's license within this period

21 days
International travel
3–6 months
Regular verification of the personal data—the frequency depends on the crime level
All sex offenders and predators remain registered for life on the Florida sex offender listing.
If they fail to register or are non-compliant in any way, they will be sentenced to a third-degree felony. The punishment includes electronic monitoring, as follows:
First offense—a minimum of six months
Second offense—a minimum of one year
Third offense or greater—a minimum of two years
Restrictions on Sex Offenders in Florida
There are certain things that Florida-registered sex offenders aren't allowed to do.
In case their victim was below 18 at the time of the crime, the offenders won't be allowed to be around children. The restrictions depend on the case and include:
Get All Urgent Updates on Florida-Registered Sex Offenders—Use DoNotPay!
Although Florida-based sex offenders are closely monitored, you shouldn't let your guard down. If you are a parent of a young child, you have the toughest task.
Keeping an eye on all adults—familiar or not—that come into contact with your child is paramount. Reporting any suspicious people you think show the signs of being a pedophile is another important step. Don't let the suspect's sex fool you—offenders can be both male and female.
The job of keeping your little one safe would be much easier if you didn't have to struggle with the Florida Sex Offender Registry issues.
DoNotPay saves you time on searching the sex offender database and also rids you of alert emails stuck in spam.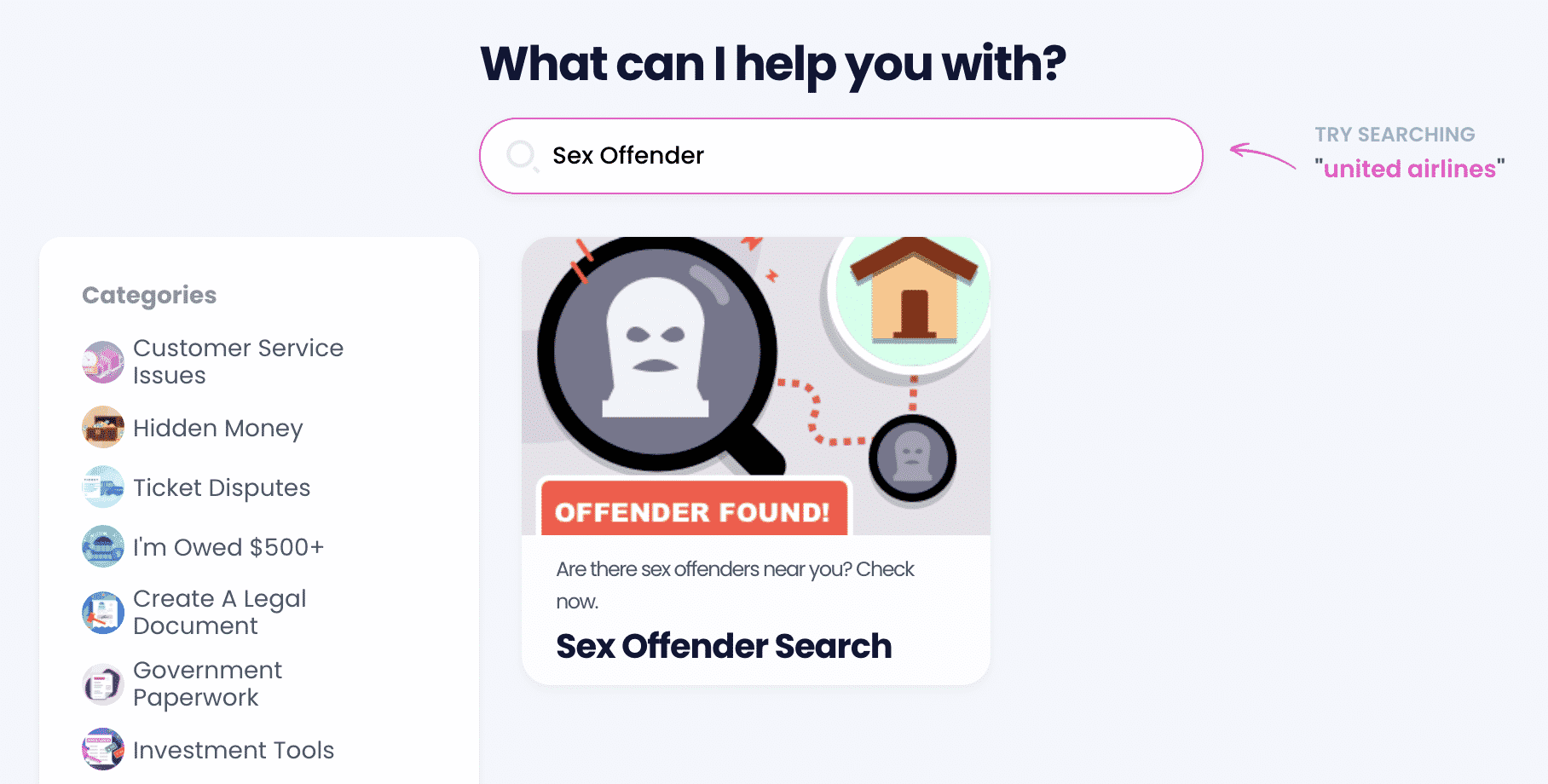 Our app has multiple advantages:
Performing a quick and easy search
Offering a choice between a name- and area-based search
Compiling weekly reports based on your search parameters and delivering them straight to your phone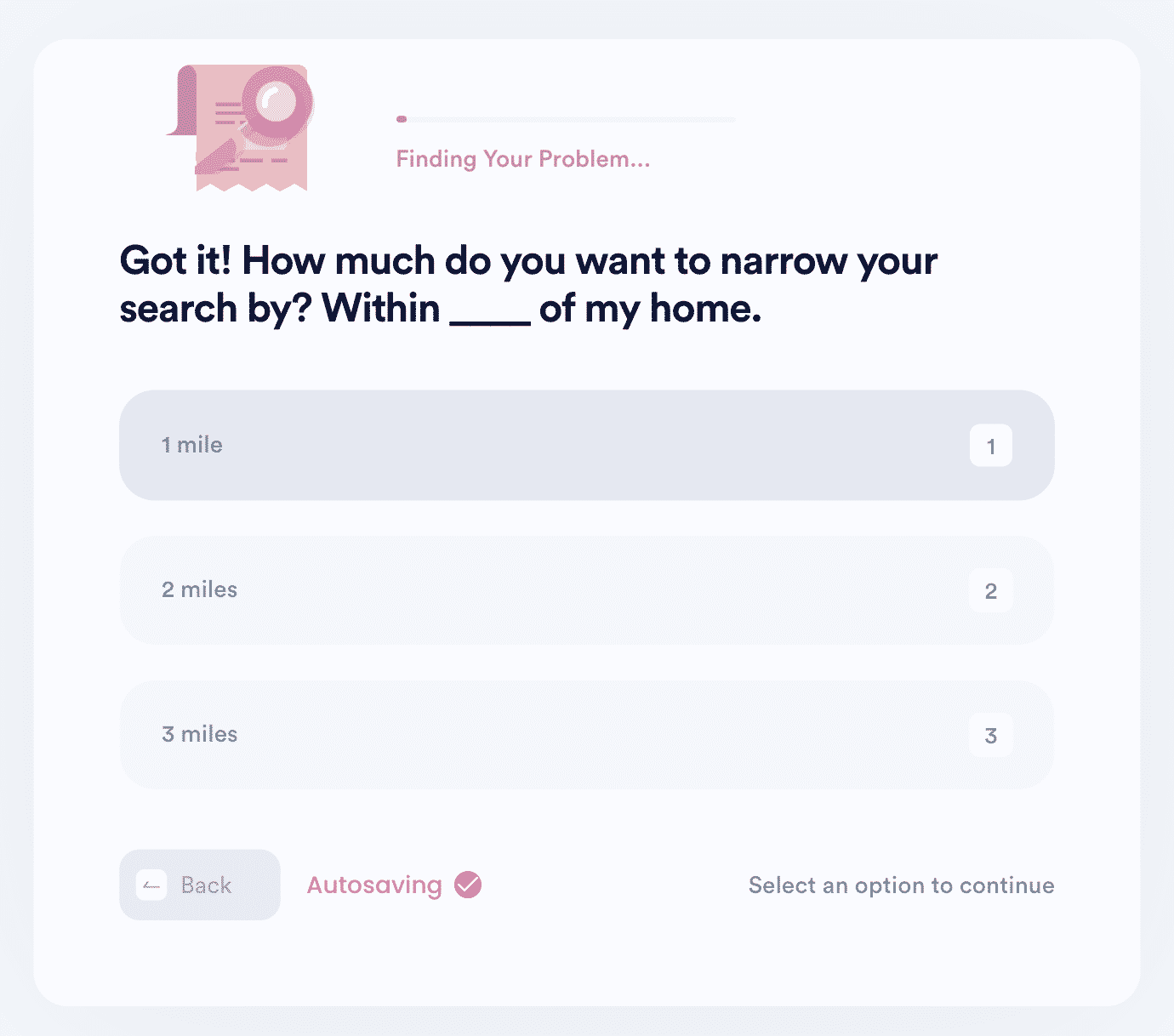 You can , and here are the steps to follow:
Find Sex Offender Search
Choose if you want to look for a specific offender or see all registered offenders whose residences are near you
Pick the search radius (one, two, or three miles)
Opt in or out of the weekly alerts option
DoNotPay will conduct your search regularly and send you detailed reports on all the issues that interest you automatically.
DoNotPay Makes Administrative Hurdles a Piece of Cake
If you ever needed to deal with an administrative task, such as drafting a valid legal document or paying property taxes, you know that it's a struggle. The good news is—it doesn't have to be!
With a bit of assistance, you can draft a POA document and learn how to reduce your property taxes in a jiffy!
DoNotPay will also show you how to tackle any of the following tasks like a pro:
We Offer More Helpful Tools!
Helping you deal with bureaucratic hurdles isn't everything we got in store for you! DoNotPay boasts various other nifty tools that you can use to deal with everyday tasks. You can: