Everything You Need To Know About Florida Scholarships
Some Florida students still struggle to afford education, despite having to pay a significantly lower average tuition fee than students in other states. Fortunately, institutional and state financial aid programs help reduce the educational expenses—and most of the financial support is distributed in the form of college scholarships.
Do you qualify for any of the Florida scholarships, though? This guide provides details on how you can utilize your financial need and academic achievements to find and apply for scholarships in Florida in no time!
How To Find Scholarships in Florida
Check out the following table for resources that can help you find scholarships in Florida:
| Resource | Description |
| --- | --- |
| Online search tools | These services offer a seemingly smooth scholarship search experience. In reality, you're likely to find outdated information about the scholarships you're interested in. An even worse outcome would be if you applied for fraudulent no-essay scholarships whose holders would then sell your information to unknown third-party companies |
| Your school's financial aid office | Financial aid counselors at your school usually have up-to-date information about available awards |
| Local and national organizations in your field of study | Organizations offer valuable connections, job positions, and scholarship opportunities to their members |
| Federal financial aid agencies | These agencies are the best source of information for federal scholarships and grants since they process student applications and distribute the prizes |
| Florida Department of Education, Office of Student Financial Assistance (OSFA) | You can reach out to OSFA to inquire about state scholarships |
Gathering information from these resources takes time, which you as a student most likely don't have—especially if you're involved in extracurricular activities and community service.
and answer a few questions about your education to save time on:
Looking for scholarships you qualify for because we deliver a list of awards catering to your qualifications
Applying for no-essay scholarships because we can automate the process
Florida Grants and Scholarships You Should Check Out
Take a look at some of the best grants and scholarships in Florida, organized by the following categories:
State grants and scholarships for students in Florida
Scholarships for high school students in Florida
College scholarships in Florida
State Grants and Scholarships for Students in Florida
If you're looking for state grants and scholarships in Florida, check the table below to learn about your options:
Scholarship
Eligible Candidates
Scholarships for Children and Spouses of Deceased or Disabled Veterans
Children and spouses of deceased or disabled U.S. Armed Forces veterans
Minority Teacher Education Scholars (MTES)
Native American, Asian American, Hispanic American, and African American students pursuing a teaching degree
Mary McLeod Bethune Scholarship Program
Students attending Bethune-Cookman University, Florida A&M University, Edward Waters College, or Florida Memorial University
José Martí Scholarship Challenge Grant Fund
Students with Hispanic roots
Honorably Discharged Graduate Assistance Program (HDGAP)
Veterans of the U.S. Armed Forces who served during or after 9/11
Florida Public Postsecondary Career Education Student Assistance Grant Program
Florida residents attending a postsecondary program in community colleges or career centers for a minimum of 450 clock hours
First Generation Matching Grant Program
Students of colleges and state universities in Florida
Florida Farmworker

Student Scholarship Program

Florida students who are farmworkers or children of farmworkers
William L. Boyd, IV,

Effective Access to Student Education Program

Students of private non-profit universities and colleges in Florida
Florida Bright Futures Scholarship Program
Academically brilliant graduating high school seniors
Benacquisto Scholarship Program
Graduating high school seniors who are also recipients of the National Merit Scholarship
Scholarships for High School Seniors in Florida
Some of the most rewarding scholarships for high school seniors in Florida include:
Arts for Life! Scholarship—for students demonstrating excellence in fields such as art, music, or creative writing
Salute to Education Scholarship—for students demonstrating financial need and attending a Miami-Dade or Broward County public or private high school
Selby Scholarship—for residents of Manatee, Sarasota, DeSoto, or Charlotte counties
Mahindra USA Women In Ag Scholarship—for women pursuing a degree in agriculture
College Scholarships in Florida
Check the following table to learn about different categories of college scholarships in Florida:
Category
Scholarship
Prize
Scholarships for undergraduate students in Florida
American Welding Society Scholarships
Up to $2,500 each
Bucknell University Campus Enrichment Scholarship
$20,000 per year for a maximum total of $100,000
UNF CSX Transportation Scholarship for incoming freshmen at the University of Florida
$8,000
Florida graduate school scholarships
Myra McDaniel Endowed Scholarship
$1,000
Florida Library Association MLS Graduate Scholarship
$3,000
Scholarships for out-of-state students in Florida
LTU Bulldog Out-Of-State Fee Waiver for transferring U.S. and international students
$6,000
Bellarmine University Out-Of-State Grant
How To Apply for Scholarships in Florida
The following table provides details on the documentation you typically need to apply for scholarships in Florida:
| Category | Documentation |
| --- | --- |
| Applications | |
| Proof of academic merit | |
| Supporting documents | |
DoNotPay Finds All Florida Scholarships You Qualify For!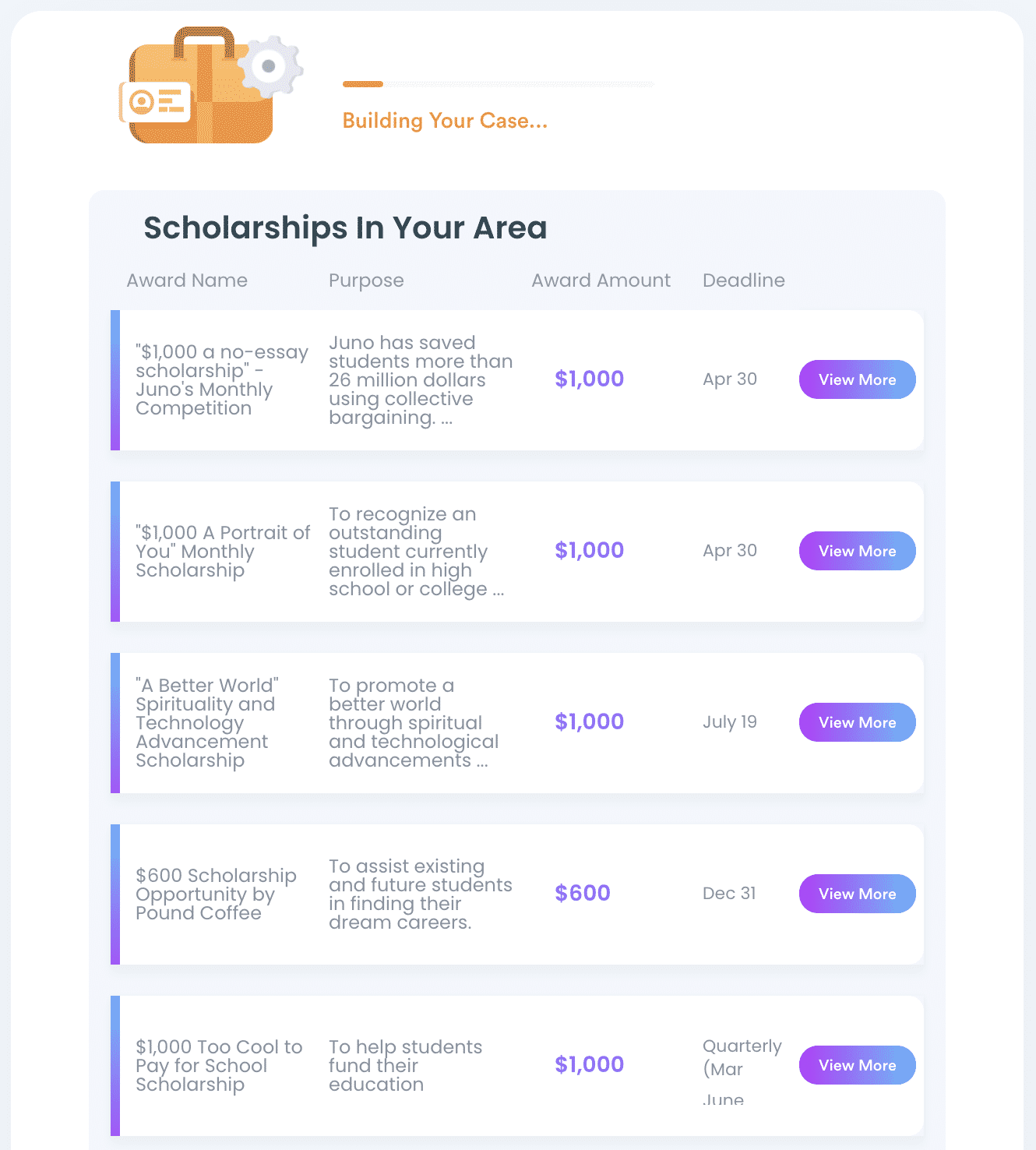 Searching for scholarships in Florida that match your field and level of study has never been easier! All you need to do is complete a short survey. Our app will then use your answers to analyze thousands of scholarships and create a list of those whose eligibility requirements you meet!
Follow these steps to get started:
Find our Apply for Scholarships product
Tell us about your field and level of study
If you select our Apply option, we will display an array of no-essay scholarships you are eligible for and apply for the ones you choose in your stead! You can expect a confirmation email that will help you keep track of the status of your applications.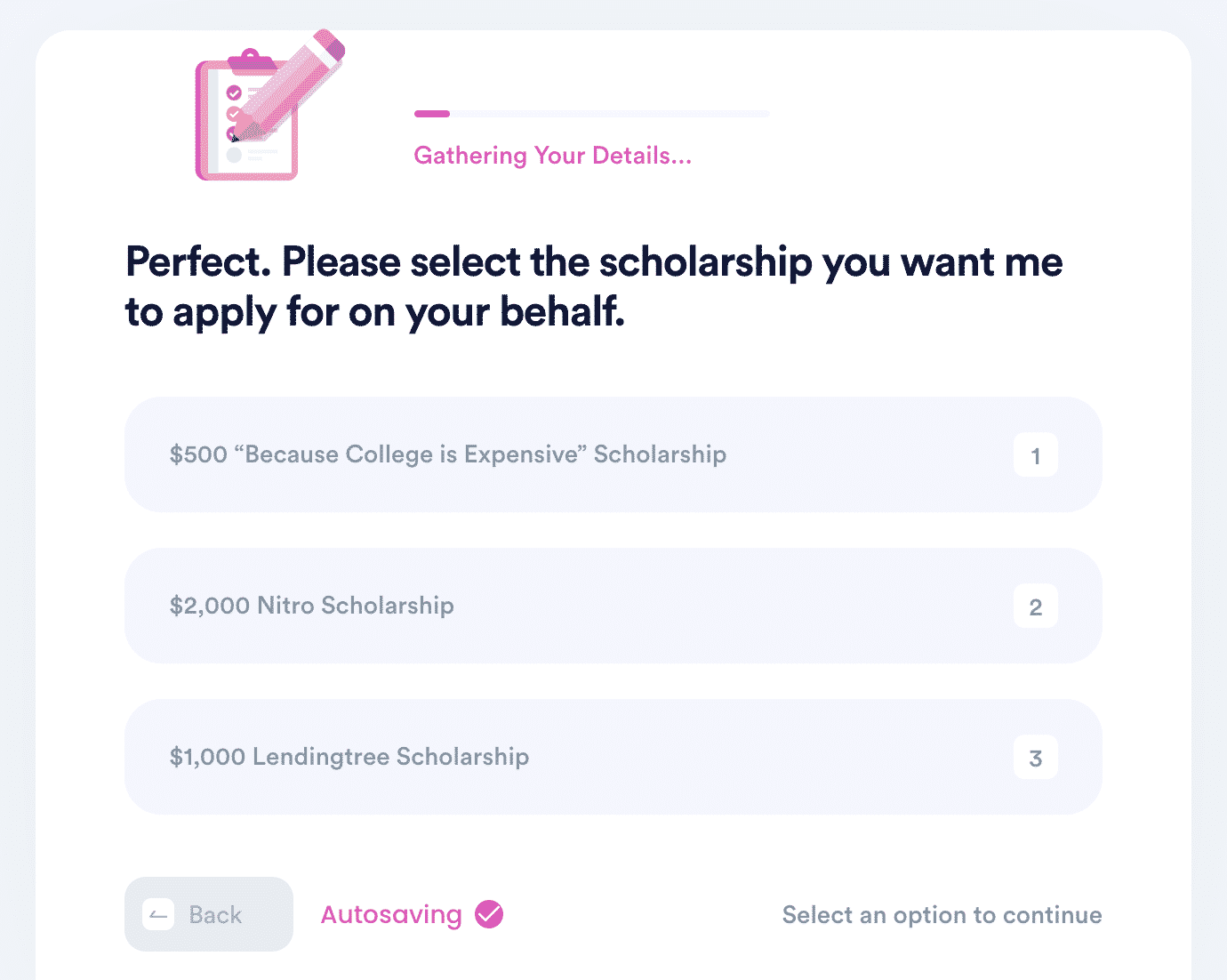 DoNotPay Offers Quick Solutions to Tedious Problems
Are you overwhelmed by your never-ending to-do list? We're happy to jump in with a perfect solution to deal with everyday tasks the easy way!
Once you subscribe to DoNotPay, you'll be able to schedule DMV appointments, lower your monthly bills, and contest parking tickets without breaking a sweat!
If you are looking for further assistance, our app will show you how to deal with the following tasks effortlessly:
Rely on DoNotPay's Legal Assistance Any Time!
If a company refuses to cooperate, use DoNotPay—the world's first robot lawyer—to sue it in small claims court! Getting the justice you deserve is only a few clicks away!
You can also use our app's various features to do the following:
Demand refunds

Reduce your property taxes